Exotic: India LPs
India, Pakistan, Bangladesh, Ananda Shankar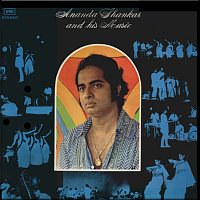 The Word: Indian music varies far beyond the sameness of ubiquitous Indian-classical records of Ravi Shankar. For one thing, the other side of the family (Uday and son Ananda Shankar) introduced Indian music to the rest of the world first, and it wasn't boring ragas! Indian music includes the far-out carnatic vocal (vocalese?) tradition of South India, the ever-astounding [hip, 1970s] Bollywood film soundtracks, and the endless folk variations expected of a vast, very populous, ancient region.
Ananda Shankar is the big name in modern Indian music for DJs. Way down from there are some pop-sitar records with more of an Indian aspect than most (other sitar records are listed on rock and pop pages). For more info on many other Indian records, please see the India page in our guide.
Links: are to artists bio/discog pages in the Hyp Records guide:

Images: accurately represent items but are not always the exact copy listed/purchased
Discount: ALWAYS try to buy more than one item at a time
---

Martin Denny: A Taste of India .... see Martin Denny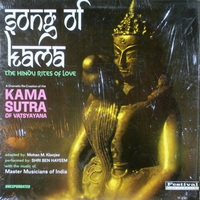 Shri Ben Hayeem: Song of Kama--the Hindu Rites of Love (Kama Sutra); Jubilee/Jay-Gee/Festival M-6701; 1966; N/E- shrink $60 -- sex ed/Indian; spoken "with the music of Master Musicians of India"; top performance and beautiful exotic jacket make it one of the very best records on sex in general and of course an exciting addition to your soon-to-be complete collection of Kama Sutra LPs (collect them all!); rare!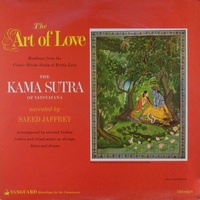 Saeed Jaffrey: The Art of Love--Readings from the Classic Hindu Study of Erotic Love: The Kama Sutra of Vatsyayana; Vanguard VSD-9228; 1966; E+/E- $20 -- sex instruction w/sitar; dig it straight or relish the archaic Hindi message of kinkiness!; worth it just for the jacket image but enjoy the poetry and music too; Dedication/Padmini--the Lotus Woman, The Tryst in the Pleasure Room, Signs of Love in a Shy Girl, How a Girl Can Win her Man, The Wooing of a Young Bride, In the Beginning/The Embrace, Kissing, Biting, Striking, Love Quarrels, The Woman in the Role of Lover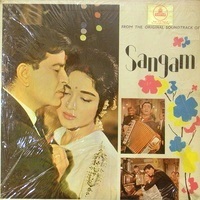 Shankar Jaikishan: Sangam ST; EMI/Odeon/India Gramophone 3AEX-5036; 1964; N/N shrink $30 -- good Bollywood ST (nice photos and songs) in top shape (perfect); with singers Lata Mangeshkar, Mukesh, Mahendra Kapoor, Mohd. Rafi, Vivin Lobo; I Love You, Bol Radha Bol, Mai Kya Karoon..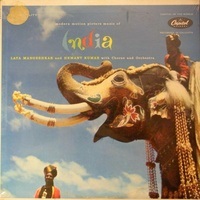 Lata Mangeshkar & Hemant Kumar: Modern Motion Picture Music of India; Capitol T-10090; sealed cutout $30 -- one of the best in the scarce series; 1 side per artist (from 1956 films "Nagin" & "Anarkali"); great elephant jacket; standouts include "Oh Zindagi Ke Denewale" & "Zamana Yeh Samja Ki Ham Oeeke Aye" (hiccupping drunken girl!); "Love makes my feet falter and everybody thinks I am dunk. Fancy the weeping heart ordered to laugh and entertain!"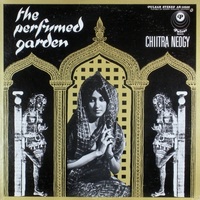 Chitra Neogy: The Perfumed Garden; Mercury/Pulsar AR-10600; cutout E+/N- S $30 -- sex instruction/spoken/sitar/psyche; terrific update of ancient tales for moderns (it beats even the great Kama Sutra LPs); Neogy lived in psychedelic, swinging Chelsea (London) at just the right time to make this artifact of gender, cultural, and sexual liberation on the adventurous, weirdbeard Pulsar label; one of the hippest highlights of the sex-ed idiom typified by "How to Become the Sensuous Woman" (Neogy's Indian accent and sultry voice --on topics rarely dealt with even in Bollywood films-- is indeed a rare treat); The Invocation, The Hymn of Praise, Advice to the Lovelorn, Woman Is Like a Fruit, The Encouragement of the Lusty Wife, The Blue Sari, Leilla the Flatterer, The Story of Mocailama & Chedja, Krishna & the Lovely Cowgirls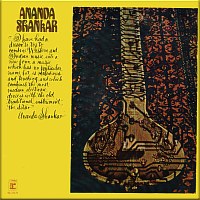 Ananda Shankar; Reprise RS-6398; 1970; white-label promo V+/E+ S $50 -- Indian/Moog/sitar/rock/psyche/funky drums; his first LP is the only one made in the USA; long a rare psyche and Indo-rock legend, it's world-famous for Moog/sitar/tabla Doors/Stones covers ("he's excited by Led Zepplin and Janis Joplin and electronic music"), but his own tunes are best, particularly one in which he speaks(!) about getting in touch with the spiritual (Buddha, Allah, Jehova, whichever); ideal starting point if you're just getting into hip, modern Indian music and a must-have if you are at all hip to Ananda Shankar!; Light My Fire, Jumpin' Jack Flash, Snow Flower, Mamata (Affection), Metamorphosis, Sagar (the Ocean), Dance Indra, Raghupati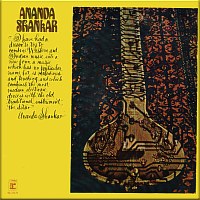 Ananda Shankar; Reprise RS-6398; 1970; tan-label Indian pressing (lic. Gramophone of India) N-/N S $150 (or 1st/tri-color N-/E- S $100, specify) -- RARE!; yes, we still have it --flawless!-- imported by hand for us several years ago (we sold all the lesser copies long ago); here you get both the full sound of a perfect original (rare!) and the added scarcity of an Indian pressing--all at a great price; the heavier tri-color is the only one we got out of India and its inner sleeve shows wonderful Bollywood and other Indian LPs of the time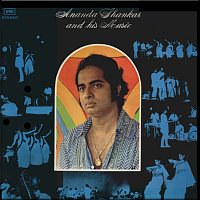 Ananda Shankar & his Music; EMI Gramophone India ECSD-2528; 1976/1975; N/N S $1,000 -- "the big one" by him; for years we've held on to two original pressings (we'll still keep one!), both perfect, which is the hardest thing with this title (inferior copies do turn up, so please don't bug us about cheap "vg" copies, late pressings, or bootlegs--we sold plenty of sub-$200 copies years ago)--this is for the fan/DJ/collector who demands the very best and has the resources to acquire it; Streets of Calcutta, Dancing Drums, Renunciation, The River, Vidai (Parting), Cyrus, The Lonely Rider, Back Home, Dawn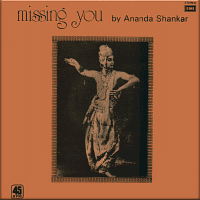 Ananda Shankar: Missing You; 12" 45 rpm (about 35 minutes); EMI S-45NLP-2001; 1977; E+/E+ S $150 -- Indian/sitar/vibes/psyche; rare; mellow psyche-exotica (rarely do we dig the downtempo, but we really like this underappreciated beauty); beautifully romantic, sentimental tribute to the great Uday Shankar (a photo shows 4-year-old Ananda & father); gorgeous cuts, several w/vibes (as well as sitar, etc.): Missing You, Lonely, Dreams Forever, I Remember, Togetherness, Baba, Almora. Note: appears flawless but slight noise in intros starting each side, an unavoidable fault of the pressing. One copy only.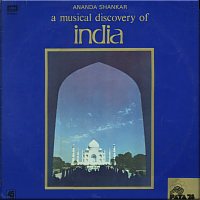 Ananda Shankar: A Musical Discovery of India; 12" 45 rpm (about 35 minutes); EMI Gramophone India S-45NLP-2002; 1978; E+/E+ S $100 -- Indian/Moog/sitar/tabla; Made for India Tourism Development Corp. but definitely his own; a beautiful album, not as fierce as the first two but essential; Kaziranga Beat (a terrific long jam highlighting the tabla--Indian drums; played on WFMU & on WBAI's midnight rare-disco set to great response), Namaskar, The Hill Train, Akbar's Jewels, Brindavan Revel, Dawn at Varanasi, Discovery of India. Note: appears flawless but slight noise in intros starting each side, an unavoidable fault of the pressing.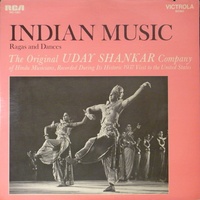 Uday Shankar & his Company of Hindu Dancers & Musicians: Indian Music--Ragas & Dances; RCA Victrola VIC-1361; 1968/1937; E+/N- shrink $25 (or cutout N-/N- $25, specify) -- reissues on LP the first [and only major 78-era] album of Indian Music released in the U.S., recorded during the historic 1937 tour; Uday was older brother to Ravi and father to Ananda Shankar (Uday and Ananda are the exciting, groundbreaking, theatrical side of the family) -- Anoushka Shankar says her old man was first to introduce Indian music to the US but that's wholly false and a huge slight to her uncle Uday, who took America by storm in 1931 and dazzled all who saw his troupe); mono, great sound, wonderful liner notes & jacket photo; Raga Tilanga, Raga Bahar, Danse Gandharva: Raga Malkauns, Danse Ramachandra: Ragas Sinhendra-Maddhyama/Hansaddhwani, Tabla-Taranga: Raga Adana, Danse Kartikeyya: Raga Malkauns, Danse Indra: Raga Bhairava, Danse Snanum: Ragas Durga/Khamaj, Bhujana (religious song), Raga Mishra-Kapi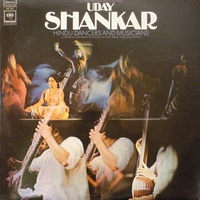 Uday Shankar: Hindu Dancers & Musicians; Columbia Masterworks MS-7205; E+/E+ S $25 -- the first stereo recording of Uday Shankar follows close on the heels of 1968's Victor LP reissue of the historic 1937 tour LP; Uday was older brother to Ravi and father to Ananda Shankar (Uday and Ananda are the exciting, groundbreaking, theatrical side of the family -- Anoushka Shankar says her old man was first to introduce Indian music to the US but that's a huge slight to her uncle Uday); extensive liner notes tell more, but suffice it to say it's the OTHER wonderful Uday LP; conch shell and other instruments make it far more interesting than even most other great Indian LPs
© Hip Wax