Soul-Jazz Flute: Original LPs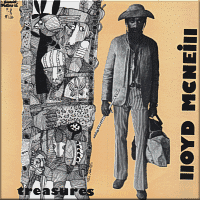 The Word: The first name in soul-jazz flute is Lloyd McNeill, who never compromised his art for commercial reasons. Top names accompanied him on six self-produced, private-press masterpieces of "spiritual soul jazz." Moe Koffman, Jeremy Steig, Frank Wess, and other flutists of note are listed here, too.
Links: are to artists bio/discog pages in the Hyp Records guide:

Images: accurately represent items but are not always the exact copy listed/purchased
Discount: ALWAYS try to buy more than one item at a time
---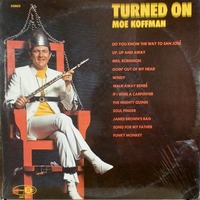 Moe Koffman: Turned On; Jubilee JGS-8016; N/N- shrink-partial S $25 -- mod soul-jazz flute/funky mod-soul-jazz-rock; nothing beats a scarce Jubilee in top shape, stereo; the swinging shepherd's gotten into a hip, brand new bag with this one (one of three groovy-era LPs that DJs need), as titles indicate: Mrs. Robinson, Up Up & Away, Soul Finger, If I Were a Carpenter, Goin' Out of My Head, Funky Monkey (great original), Do You Know the Way to San Jose, The Mighty Quinn, Windy, Song for My Father (Horace Silver!), Walk Away Renee, James Brown's Bag (an original)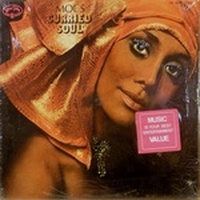 Moe Koffman: Curried Sole (a.k.a. Moe's Curried Soul); Buddah/Kama Sutra KSBS-2018; cutout E/N- S $25 -- soul-jazz flute/sitar; his hippest and best, not just for the bongo-break-featuring, funky-sitar original "Curried Soul" (jacket even gives a food recipe!) but also for wonderful covers of Sunshine Superman, Cantelope Island, High Heel Sneakers (seriously funky!), etc., plus such worthy originals as Anteaters Dance; plenty here for DJs, weird-world-hybrid collectors, jacket fetishists, etc...(YOU!)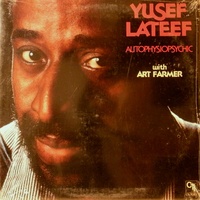 Yusef Lateef: Autophysiopsychic; CTI-7082; 1977; sealed gatefold S $20 -- Robot Man, Look on Your Right Side, YL, Communication, Sister Mame
Lloyd McNeill Items for Sale
For further information, photos, and discography see the Lloyd McNeill page in the Hyp Records Guide. This section is limited to items available.
All items created and privately pressed by Lloyd McNeill except as noted.
EXCLUSIVE: [Spiritual] soul-jazz flute records--original stock! We are very pleased to offer the very limited stock kept by the flute master himself all these years; all-original, self-produced, private-press, soul-jazz legends at irresistible prices (less than the typical $80-150 price for used copies); every fan of jazz, flute, or Andrew White (McNeill's longtime DC cohort and co-producer) should have these records!


Lloyd McNeill: Treasures; Baobab 1; 1976/1975
Lloyd McNeill, flute

Dom Salvador, piano

Cecil McBee, bass

Brian Brake Portinho, drums

Ray Armando, percussion
Griot
As a Matter of Fact
Salvation Army
You Don't Know What Love Is
Comment: Very much in demand now thanks to sampling (or use) of "Griot" which you can listen to now on YouTube. We consider it a natural pair with Tori; both are highly recommended.
Availability/terms: The remaining original stock was acquired directly from Lloyd McNeill and remains in "as new" (N/N shrink) condition with the following caveats. Each sealed LP was opened by us so that the first few seconds of each side could be played to check for quality, as a few copies turned out to be warped or otherwise defective (long since removed from sale). What we have left are one or two remaining in first condition ($100, inquire) and fewer than 40 in second condition ($60, N/E-), which means you'll hear a little something at the start of one or both sides, but it's very slight and brief, nothing to worry about. Rock-bottom price: $60 + s/h.
Also available: one spare Treasures jacket, perfect/in the shrink; inquire


Lloyd McNeill: Tori; Baobab BE-654; 1978
Lloyd McNeill, flute
Dom Salvador, Buster Williams, Victor Lewis, Howard Johnson, Dom Um Romao, John La Barbera, Amaury Tristao, Nana Vasconcelos w/thanks to Andrew White & others
O Mercado (Brazilian Market)
Tori (in 3 parts)
Tzigane
Sambinha
Time Still/Passaro--Pifaro (Flute Bird)
Tranquil
Comment: Sampled illegally by a Philly DJ several years ago. Same vintage as Treasures but a little funkier (good for DJs) and as yet not as well-known to collectors and fans. All copies are fine and remain sealed (only some copies of Treasures had problems!).
Availability/terms: Sealed original stock, very few left! $60 + s/h.
© Hip Wax