Avant-Garde & Production LPs
avant-garde, production (sound library), misc.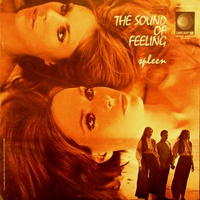 The Word: A subpage of Moog, this one offers avant-garde, electronic-composer, experimental, and miscellaneous production (also called "sound library") LPs. In addition to Stockhausen, you may even find the odd strange-instrument LP by a Harry Partch or the like.
The main page favors the classic Moog period (primordial electronica), from super-organs (proto-synthesizers) to 1967-1975 Moog and Arp, particularly rock-pop-funk Moog. Other esoteric and vintage electronica, such as theremin, ondioline, and the like, as well as all things related to space (rock, electronic, orchestral) and science fiction (soundtracks) may be here but see the main page first.
Other page: Moog LPs | Moog 45s (space, electronic, theremin, etc.)
Image: may not be the exact copy listed/purchased (but usually is)
Discount: usually free mailing offered; possibly more for multi-item orders
---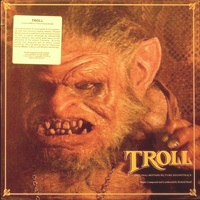 Richard Band: Troll ST; Restless 72119-1; 1985 sealed cutout S $35 -- "elements of avant garde Euro-progressive rock and haunting musical themes...evocative electronic and orchestral score for Troll is superb...for fans of Tangerine Dream, Magma, Il Balleto di Bronzio, and the like."; we don't know it to listen to, but it comes highly recommended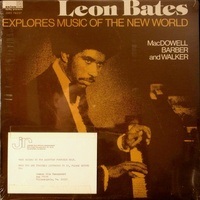 Leon Bates Explores Music of the New World; Orion [Master Recordings of Malibu, CA] ORS-76237; 1976; sealed promo S $50 (or V+/E- S $20, specify) -- avant/classical; still-performing, distinguished "musical genius" Philly pianist --winner of 1969 National Assn of Music Teachers Collegiate Artists Competition, Natl Assn of Negro Musicians Competition, Symphony of the New World auditions, and the presitigious Philadelphia Orchestra Competition, & Settlement alumnus-- plays MacDowell (Sonata #4--The Keltic), Barber (Excursions for Piano), & Walker (Sonata #3); sealed copy has distributor's note taped to the shrink (shown)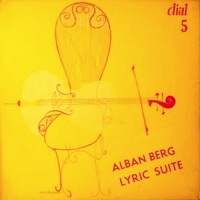 Alban Berg/Pro Arte Quartet: Lyric Suite; Dial 5; deep groove V+/V+ $50 -- avant garde (two violins, viola, cello); quartet in residence at University of Wisconsin; looks and plays well tho brief slight noise occurs in a few places; it may not be Charlie Parker on Dial, but it could be rarer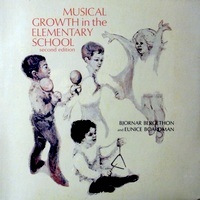 Bjornar Bergethon & Eunice Boardman: [Record to Accompany] Musical Growth in the Elementary School--second edition; CBS Special Products for Holt, Rinehart & Winston, Inc.; 1970 sealed $30 (or N/N shrink $25, specify) -- education/avant garde; 18 excerpts of important works of interest to bright children, some from LPs we'd love to be able to offer on this page; intended to accompany a classroom book (at least the LP is rare): Composition for Synthesizer (Babbitt/RCA Electronic Sound Synthesizer), Banshee (Henry Cowell), Tinga Layo, Prince of Denmark March (E.Power Biggs), See Saw Margery Daw, Roumanian Folk Dances, Greensleeves, Fourth String Quartet Opus 37 Third Movement, Poor Bird, Rain Song, Parade (Morton Gould), Chebogah..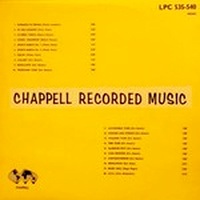 Chappell/Various [Production Music]; Chappell LPC 535-540; E/E+ $25 -- production (sound library)/orchestral/space; Melodi Light Orchestra/Telecast Ensemble/Roger Roger; 20 rare & interesting pop confections, the highlight of which may be Clive Richardson's 3:15 tune "U.F.O." (good orchestral space/sci-fi)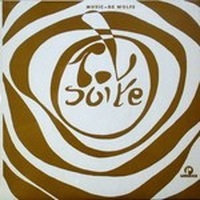 De Wolfe/The London Studio Group: T.V. Suite; De Wolfe DWLP-3164; 1970; E+/N- S $35 -- production (sound library)/drama/suspsense/crime/production; 2/3 John Hawksworth, 1/3 P. Fenn; lots of great odd short cues as well as several nice sets w/variations & links; groovy jacket among the best for production records; Mantari, Magic Mirror, Highway Robbery, Dark Deeds Afoot, Search & Survival, Through the Forest, Ethereal Theme, Scaffold Drum..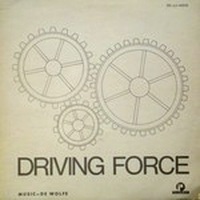 De Wolfe/The London Studio Orchestra: Driving Force; De Wolfe DWLP-3055; 1967; E/N- $40 -- production (sound library)/industry/suspense/orchestral; Jack Trombey fans will want if for the swinging "World of Strategy" (2 versions); otherwise it's by Keith Papworth, J. Reids, H. Granville; the theme throughout is industrial & in 1967 that meant high drama (orchestra with additional sounds for impact); if you like the music of the old "The Avengers" TV show, you'll like this; jacket shows 3 gears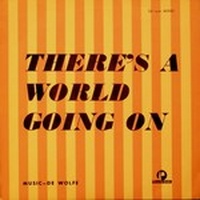 De Wolfe/London Studio Orchestra cond. by Jack Trombey: There's a World Going On 10"; De Wolfe DWLP-3039; 1967; E+/N- $35 -- production (sound library)/industry/suspense/orchestra (high-impact dramatic orchestra w/additional sounds), like the old "The Avengers" TV show & other Britpop; industrial yet expansive/exotic mood w/plenty of interesting ideas, mod horns, drums, etc.; Future of Industry, Assembly Line, Excavation, Rescue Squad, Commotion, Conviction, Rhythmical Interruption #13..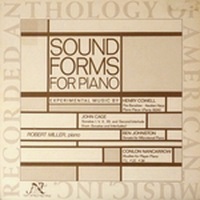 Robert Miller: Sound Forms for Piano--Experimental Music by Henry Cowell, John Cage, Ben Johnston, & Conlon Nancarrow; New World NW-203; 1976; gatefold w/inner leaves E+/N- S $30 -- avant garde/piano; worth it just for the extensive liners on each composer; Cowell: The Banshee/Aeolian Harp/Piano Piece (Paris 1924); Cage: Sonatas I,V,X,XII & Second Interlude; Johnston: Sonata for Microtonal Piano; Nancarrow: Studies for Player Piano #1,#27,#36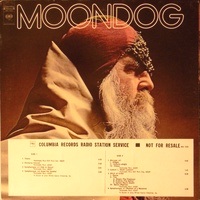 Moondog; Columbia MS-7335; gatefold; promo w/timing strip E+/E S $50 -- avant-garde/percussion by Luis Hardin, the legendary, blind "Viking of 6th Avenue" outsider-artist musician who influenced Charlie Parker & many others; glorious jacket photo of Moondog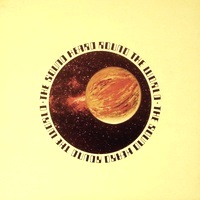 Muzak: Stimulus Progression Number Four; Muzak SLP-8980; 1972; gatefold E/E+ S $25 -- promotional-only/private-press; scarce, revealing artifact of the Muzak phenomenon; "space jacket" (of planet in space) with title "The Sound Heard Round the World"; extensive liners (in 4 languages) include photos & chart documenting the 6 original cuts on Side 1 (incl. "Muzak on the Move"); the 6 covers on Side 2 are perhaps an even better reason to get it, however: "Godfather" theme, Sugar Daddy (mod, uptempo), American Pie (Don McLean!), Diamonds Are Forever..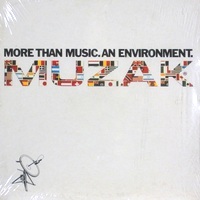 Muzak: More than Music. An Environment.; Muzak AA1-81; N/N shrink S $20 -- promotional-only/private-press; we're not saying it's good (even with some Bowie and disco tunes covered), just rare; Dick Hyman: Kiss Me in the Rain; Double Dozen: Daydreamer; Midland Radio Orchestra: I Don't Want to Walk without You; New Edition: Sailing, Fame, Guilty, Take Your Time (Do it Right), Funky Town; Syd Dale Orchestra: Magic, Do That to Me One More Time; Strings Unlimited: Middle of the Night; Opus Strings: Here's Love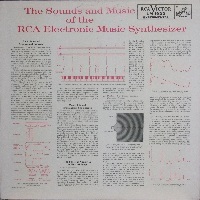 Harry F. Olsen: The Sounds & Music of the RCA Electronic Music Synthesizer; RCA Red Seal LM-1922; 1955; E+/E+ $75 -- Moog/avant-garde; "Experimental"; it's the first synthesizer LP (unless you want to quibble about tape cut-ups, super-organs, and other also-rans) and the first of several iterations of the RCA machine, which continued or even continues to be developed; and it's a rare record--especially in such top shape!; there is some narration on Side 1 at least; The Physical Characteristics of Musical Sounds - Synthesis by Parts - Excerpts From Musical Selections Produced by the RCA Electronic Music Synthesizer (Experimental) The Synthesis of Music, The Well-Tempered Clavier: Fugue No. 2 (Bach), Hungarian Dance No.1 (Brahms), Oh Holy Night (Chas. Adams), Home Sweet Home, [Hillbilly] Medley (Stephen Foster), Nola, Blue Skies (Irving Berlin)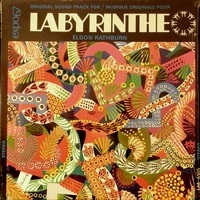 Eldon Rathburn: Expo '67 Labyrinthe ST; Labyrinthe LAB-650S; 1974; Canadian; deep groove N/N shrink S $50 -- cond. by Louis Applebaum, it's an original work for a very popular Expo 1967 exhibit, the Labyrinthe, for which this is the ST (rare outside Canada); electronic (Mooglike) but more avant-garde than pop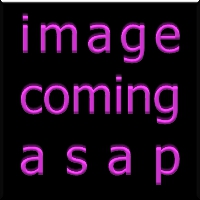 Steve Reich: Music for 18 Musicians; Warner Bros./ECM 1-1129; 1978; E+/N S $40 -- avant-garde; perpetually top-selling at surprisingly high prices--usually $50-100 (except here, where it's in top shape) so you know it's a biggie (important, great, very high demand); also doesn't hurt that it's nearly an hour long!; Pulse (Sections I-IV), 26:55; Sections V-X - Pulse (32:00)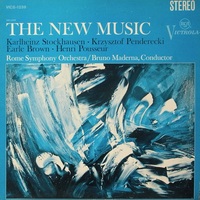 Rome Symphony Orchestra/Bruno Maderna: The New Music; RCA Victrola VICS-1239; 1967; E+/E S $25 -- avant garde; music by Karlheinz Stockhausen (Kontra-Punkte--for 10 instruments), Kryzystof Penderecki, Earle Brown, Henri Pousseur; jacket painting by Jon Henry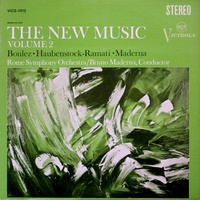 Rome Symphony Orchestra/Bruno Maderna: The New Music Volume 2; RCA Victrola VICS-1212; 1968; N-/N- S $25 -- avant garde; music by Boulez Haubenstock-Ramati, Maderna; jacket painting by Jon Henry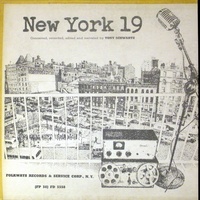 Tony Schwartz/Various: New York 19; Folkways FD-5558; 1954; w/booklet; E/E+ $30 -- worth it just for Moondog from the Mars recording and kids playing bongos; unique collection of found sounds from the streets of "NY 19," zip code of the world's greatest concentration of commercial music production (at the time); taped jacket edges/former school library copy but it's the real thing, rare as it is, and only twice the cost of a cheesy CDR from the gummint (if even available)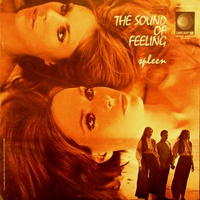 Spleen: [Leonard Feather Presents] The Sound of Feeling; Mercury/Limelight LS-86063; yellow-label promo E+/E+ S $90 -- avante/out/psyche/strange; with Fred Katz, Emil Richards..; legendary voice-led strangeness!; dramatic enough if you can find a clean original like this, but this one's even a promo; the name "Spleen" comes from Baudelaire's "Flowers of Evil" (title of another LP on this label) rather than, oh, the Paul Reubens character in the wonderful movie "The Mystery Men" (ALL POWER TO PEE WEE!)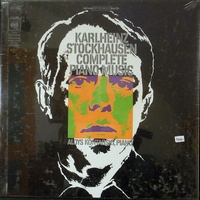 Karlheinz Stockhausen: Complete Piano Music; Columbia 32-21-0007; 2-LP BOXED SET sealed S $100 -- Aloys Kontarsky, piano; "first recording supervised by the composer"; probably comes w/a booklet (the jacket doesn't indicate and we don't know, as it's the only copy we've had)
Karlheinz Stockhausen: Prozession for Tamtam, Viola, Eleftronium, Piano, Filters, & Potentiometers (1967); Candide CE-31001; w/insert (notes by Stockhausen) E+/N- S $60 -- avant garde/electronic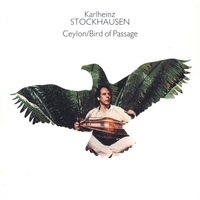 Karlheinz Stockhausen: Ceylon/Bird of Passage; Chrysalis CHR-1110; 1975; E+/E+ S $30 -- avant garde/electronic; more than 47 minutes worth of stuff based on Singhalese music he heard in a Hindu temple in 1970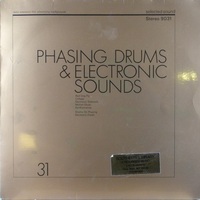 Gerard Trede & his Electronic Instruments/Joe Ufer & his Drums: Phasing Drums & Electronic Sounds; Gema/Southern Selected Sound 9031 (#31); E-/E S $100 -- production/Moog/space/drums; what dreams are made of in the production field: extremely hot and happening breakbeat drums that are PHASED!!! (great effect) within a set that's more about Moog and space electronica (either of which would put it at the top of the list, but the added drum section makes this one of our favorite titles in all of "library" records); Side 1 has 11 cuts with 23 on Side 2!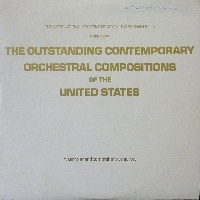 Various: The International Contemporary Music Exchange, Inc. Presents The Outstanding Contemporary Orchestral Compositions of the United States--a sampler & comprehensive survey; ICME 1; 1975/1974; 2-LP gatefold w/inserts [promotional only] E/E+ S $150 -- avant garde; 21 varied works (instrumental, orchestral, voice), magnificently presented in a rare private-press anthology (probably never sold commercially); inserts are a letter from ICME Director Igor Buketoff and a wonderfully illuminating 12" booklet-guide to composers, with photos, bios, and in some cases recommendations for further listening: Barber, Cowell, Druckman, Harrison, Hovhaness, Riegger, Rochberg, Schuller, Thomson, Varese, Wuorinen, Babbitt, Gershwin, Bernstein, Riley, Brant, Brown, Cage, Carter, Copland, Crumb, Foss, Harris, Ives, Ruggles, Schuman, Sessions (most are represented on the discs)

more like these .... Moog
Wanted in Trade:

KPM #s 1035, 1044, 1056, 1067, 1070, 1130, 1131, 1166, 1233

Michel Magne: Musique Tachiste; Paris (France)

© Hip Wax