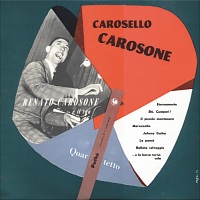 The Raymond Scott and Ross Bagdasarian of Italy in the 1950s and 1960s, and with a face not unlike that of the character Pee Wee Herman, "Father of Neopolitan Singing" Renato Carosone obviously loved fun and romance (probably in that order). Carosone and quartet performed Italian standards, Hollywood themes, and even boogie-woogie rock and roll, but almost always with a twist (or two!): whistling, baby noises, theremin-like electronic effects, even gargling! But most often he used the speeded-up voices made famous by the Chipmunks, a.k.a. David Seville, a.k.a the Armenian wacko Ross Bagdasarian. And it worked.
Born January 3, 1920 in Naples, he studied piano at the conservatory, started playing professionally at seventeen, and formed his group twelve years later (1949). Neopolitans enjoyed his antic clowning and he soon had hit records on the Pathé label. He did stage music for Gracie Fields, and by 1951 he was a best seller playing in Rome at the Open Gate and other places. Radio and records led to a huge international following in places as diverse as Cuba, Brasil, and Japan.
Carosone's reputation was solidified in 1956 with the release of the smash hit "Tu vo' fa' l'americano" ("You want to play the American"), about post-war Italy. The song was featured in the "The Talented Mr. Ripley" soundtrack of 1999. Carosone sold more records in Italy in 1957 than any other artist, and this was the period his records were released internationally. His U.S. and Canadian hit "Torero" was was covered by Machito and Ralph Marterie. Some of his tunes were featured in Martin Scorcese's film "Mean Streets." A biography, "Un Americano a Napoli" ("An American in Naples") was published in 2000.
Buying: Renato Carosone records almost always slip under the radar and can be had cheaply in the U.S.; at any price, they are the first Italian records of the era to seek. The Columbia LP is the rarest and one of the best. Capitol reissues Pathe for the world market.