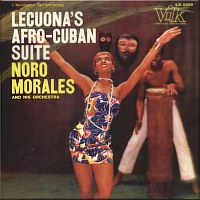 Norberto Morales was an immensely popular pianist-composer-leader who, like his predecessor Ernesto Lecuona, both came from a family of talented musicians and wrote many of the standards of uptempo dance music. Key to his success were pride in his native Puerto Rico, lyrics by Rafael Hernandez, and doing business by handshake only, which explains the plethora of budget-label Morales LPs. (The good stuff is scarcer.) Throughout the 1940s only Machito's orchestra came close in popularity, and Morales was the act other performers went to see after their own gigs were finished.
Morales started his New York carerr with Alberto Socarras' orchestra in 1935 and made his first recordings in 1936 for Columbia. He was the first artist to record on Oller's new label Coda in 1945. His signature tune, Puerto Rican anthem, and smash hit of the 1940s, "Serenata Ritmica," was just one of many contributions to New York's leading Latin label of the day, Seeco, as well as Decca. His dance orchestra was so well-liked that annually he performed for the Harvest Moon Ball at Madison Square Garden in New York City. His albums on Tico are as notable for their creativity as his ground-breaking, pre-War music.
Buying: When an artist of Noro Morales' stature passes away, every label tries to issue his material. Typically the budget-label efforts are ubiquitous and frequently disappointing, while the great albums are more elusive. In between are 78s and always enjoyable 10" LPs on major labels.