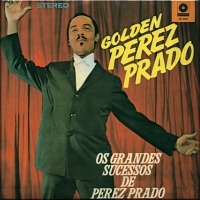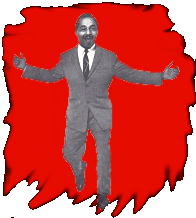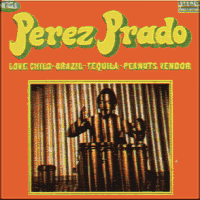 Damaso Pérez Prado is hip, period. No other artist gets as many rock fans' feet in the door to explore old popular music. Almost all of his legitimate releases (Victor, United Artists, Orfeon, Victor Japan) are indispensable. But beware the ubiquitous, budget-label dreck. A handful of early, public-domain sides proliferated on hundreds of albums, and they do nothing for his reputation.
As a child in Matanzas, Cuba, Prado learned classical piano before getting his professional start in 1941 Havana. While his journeyman performing career was unexciting, his own music combined tightly arranged rhythm with brass-heavy jazz. This early "mambo" style was ahead of its time in Cuba, so Prado headed for Mexico City in 1947. There, he began an association with fellow ex-Cuban, singer Benny Moré. Both men were signed by RCA Victor, and in 1949 Prado's first mambo hits (minus Moré) broke over U.S. airwaves. The next year he came to the United States and stayed for nearly two decades.
A pop success, Prado always had difficulty impressing New York's Latino community. One early New York supporter was famous dancer/anthropologist Katherine Dunham; she and his music appear in the 1954 movie, Mambo. Apart from his string of hits, Prado was praised for his unique mambo-jazz suites. But his most enduring work led to his fall from grace among U.S. pop fans. Always ahead of his time, Prado blended Latin and rock repeatedly in various ways. Why it did not succeed probably has more to do with the times than the music. In any case, Prado's mambo-rock is more innovative and exciting than Latin soul (boogaloo), and he was the only one who did it on a large scale, for decades.
A flamboyant showman, Prado revamped the exotic chestnuts in unique ways: "Caravan," "Taboo," "Flamingo," "Hawaiian War Chant," even "Hava Nagila." Later he toyed with such mod, 1960s hits as "Goin' Out of My Head" and "The Monkees" theme. On an Orfeon LP he even slowed down the quintessential mambo-rock tune "Tequila," making it so incredibly dark and funky it became all but unrecognizable.
The Prado orchestra and sound are refreshingly, timelessly spare, but nothing gets spared by that blaring trumpet. Latin percussion, heavy use of organ, and deep bass --and no strings-- put him in the "groove" category early on. Underrated, Prado constantly pushed Latin music forward in his own way. He deserves his title, "El Rey del Mambo," but also should be credited for creating mambo-rock.
Damaso vs. Pantaleon:There are those who would scare off the tentative Damaso Perez Prado fan with the caution that some "Perez Prado" recordings may actually be those of his brother, Pantaleon Perez Prado. Pantaleon did record in Europe, and there is a record (listed here) that has quite a few Damaso tunes. But it is both rarer than just about any record by Damaso and clearly is not trying to pass as Damaso (cannot be confused). If there are other European versions or recordings, there is no real danger of mistaking the two brothers for at least the U.S. Damaso collector.
Buying: The U.S. records taken as a whole (Seeco, RCA, and UA) or in part are very impressive and reliable; avoid only the budget-label dreck. The wildest thrills and surprises may come from the funky Italian and Mexican recordings and a few oddballs on odd formats. You really cannot go wrong with any of the legitimate records.