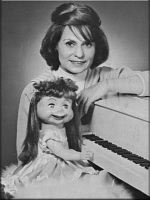 Ventriloquism + evangelism = religion for dummies. Scariest is the notion that the target is innocent children, just as with kiddie-porn. Insidious or ridiculous, puppets indeed have been used to lure the too-young-to-resist into the ways of blind faith. This is not okay. Baby Lulu, Geraldine & Ricky, and Little Marcy are examples of an entirely gratuitous abuse of America's freedom of religion and from religion. Just think of the poor children!
What is Little Marcy?
a. Failed trombonist & singer Marcy Tigner
b. Evangelical, child ventriloquist act
c. Star of Word, Zondervan records & film
d. Model for a doll, hand puppet, etc.
e. All of these
A native of Wichita, Kansas, Marcy Tigner studied piano and trombone as a child, eventually making it to the Portland, Oregon Junior Symphony (there are two trombone LPs). She attended Multnomah College in Portland and the University of Oregon. An avid Christian, she determined to sing gospel and went through three voice teachers before her husband Everett suggested she exploit, rather than try to improve, her "child-like" voice. Her debut record was a hit within her church circuit, but she felt a little weird singing with her child's voice. With help from Miss America 1965 Vonda van Dyke, she developed the kiddie-ventriloquism act.

She appeared on radio programs such as Marcy Tigner's Hymntime & Sing with Marcy and television, including a commercial with Smokey the Bear. She appeared with Miss van Dyke in "Teenage Diary" and made at least two Little Marcy films. Past residences include Eugene, Oregon and North Hollywood, California. At this writing she lives in North Carolina.

Some Little Marcy LP premiums & merchandise:
Autographed Photograph (with Marcy)
Book: Songs for Kids ("Over 200 Great Songs")
Doll
Hand Puppet
Jigsaw Puzzle
Movies:

"Let the Sunshine In"; color 16mm; 12 mins.
"Learning to do God's Work"; color VHS; 1988; 30 mins. (via Tyndale Christian Video of Wheaton, IL)
"Learning God's Love"; color VHS; 30 mins.
What is the latterday appeal of Marcy records? She has her ups and downs, ranging from the boring readings of Ken Taylor's versions of Bible stories to the barely sublimated psycho-sexual mania of the romp in the woods with Smokey the Bear. Like Heino, popular voice of Germany as the rest of the world would rather it not be, Marcy has something scary and repressive to say. That she ever inspired real children is irrelevant, at least compared to the sneakiness of using a childlike device to evangelize. The medium is the message, and the medium is nightmarish.
Compared to the Maranatha crowd and other "shepherding" churches (really cults, mostly on the West Coast), Marcy records are fairly harmless. But one has to wonder the effect on children of material that never fails to clear a room of sentient, critically thinking adults. It's creepy and horrible. Sure, other albums of this type are even worse, but Marcy is the most prevalent--the Connie Francis of scary puppet evangelism. Approach with caution.
Of course, things had to get a little better in the hip, groovy late '70s (hey, these people were a solid decade behind, what can you do?). And so we find the actual daughter of Marcy Tigner, one Lauri Khodabandehloo (there's a name to give the TSA goons some work) contributing songs & undoubtedly singing on the 1977 "Moses Story" LP. Fast forward to this age of "Glee" and "Sing Off" and other musical-loving pop culture and be thankful it's not much, much worse...so far.
Buying: Marcy albums rarely turn up in normal record channels; thrift stores are the usual sources. The Christmas and Smokey the Bear LPs are "best." Unnecessary are Tigner's initial, instrumental, trombone LPs Some Golden Daybreak (Whitney MT-1001) and Marcy Tigner Trombone (Christian Faith MT-1351). Between the first five LPs on Corner Stone and the later ones on the Word label, first presses are Zondervan, second are Singcord (parent company of Zondervan), and third are Sunshine Mountain. "Don't forget to ask for your free picture of Marcy!"
Some song titles:
When Mr. Satan Knocks at My Heart's Door
Kiddies with the Curl on Top
God is Always Near Me--The Bible is Precious to Me
Jesus is My Shepherd
If You're Saved and You Know it--Little Helpers for Jesus
I'm Glad I'm a Christian
We're More than Conquerors
Jesus Loves the Little Children
The Lord is Counting on You
His Sheep am I
Everybody Ought to Love Jesus
Pharoah, You're Gonna Be Sorry