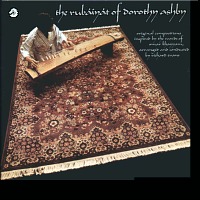 Harp goes back a fairly long way in jazz, all the way to Oscar Reardon with the Jack Teagarden Octet of 1934. Duke Ellington added Betty Glamann to his orchestra, and several other ladies made "swing harp" more than a novelty. The leading harpist in the 1950s was Dorothy Ashby, who later made a couple of the most coveted soul-jazz rarities for the Cadet label. Her European counterpart in hip, soul-jazz harp was Jonny Teupen (sometimes spelled "Johnny").
There are those who have heard some Dorothy Ashby and say they just don't "get it." First, the heyday of swing harp was the 1950s, when a weirdbeard like Fred Katz could take Harpo Marx under his wing. And jazzbos took the Downbeat poll seriously when it asked for "best jazz harpist." The only soul jazz is found on Ashby's later Atlantic and Cadet records and spottily on Teupen's European-only releases. Of these, The Rubaiyet of Dorothy Ashby is the best, primarily because she also plays the koto. While not especially "funky," it is great, exotic, unique, beautiful stuff.
Buying: Harp generally is harder to find the later it is. Avoid Corky Hale's atrocious disco LP.