Pop 45s
oldies, vocal, groups 45s & EPs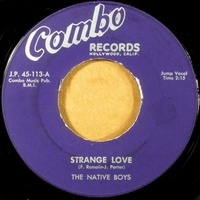 The Word: Top singles priced under book value. First-rate older stuff (vocal groups & related '50s-early'60s singles) mainly from one stellar local collection. Picture sleeves & EPs as noted and/or shown.
Image: may not be the exact copy listed/purchased (but usually is)
Discount: free mailing or more for multi-item orders
---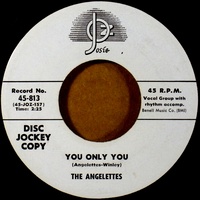 The Angelettes: You Only You/Mine and Mine Alone; Josie 813; white-label promo N $150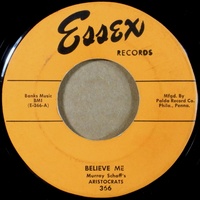 Murray Schaff's Aristocrats: Believe Me/I'm Waiting for Ships; Essex 366; N $60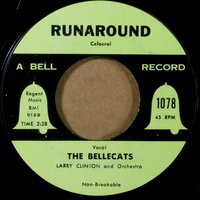 The Bellecats: Runaround/That's What I Like; Bell 1078; E+ $50 -- w/Larry Clinton Orchestra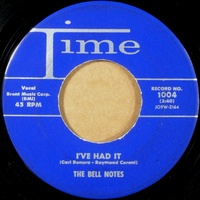 The Bell Notes: I've Had It/Be Mine; Time 1004; N $30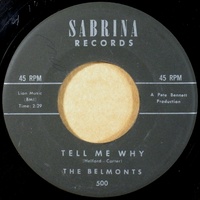 The Belmonts: Tell Me Why/Smoke from Your Cigarette; Sabrina 500; N- $25 (or E- $10, specify)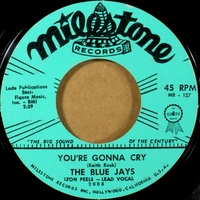 The Blue Jays: You're Gonna Cry/Lover's Island; Milestone 2008; N- $30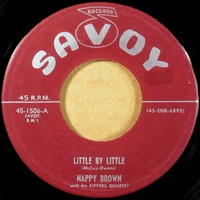 Nappy Brown: Little By Little/I'm Getting Lonesome; Savoy 1506; E+ $20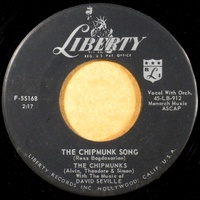 The Chipmunks: The Chipmunk Song/Almost Good; Liberty 55168; E+ $10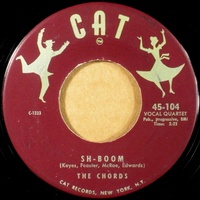 The Chords: Sh-Boom/Little Maiden; Cat 104; E+ $30 -- sticker on label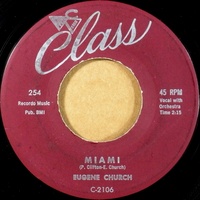 Eugene Church: Miami/I Ain't Goin' for That; Class 254; 1959; N- $10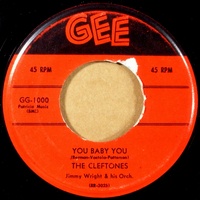 The Cleftones: You Baby You/I Was Dreaming; Gee 1000; E- $20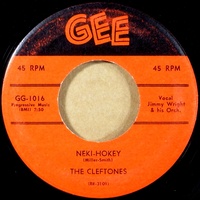 The Cleftones: Neki-Hokey/Can't We Be Sweethearts?; Gee 1016; E- $20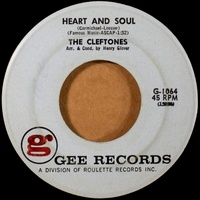 The Cleftones: Heart & Soul/How Do You Feel; Gee 1064; E $15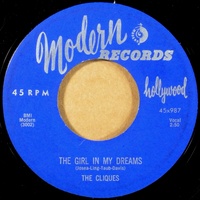 The Cliques: The Girl in My Dreams/I Wanna Know Why; Modern 987; E+ $40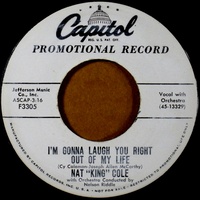 Nat "King" Cole: I'm Gonna Laugh You Right Out of My Life/Toyland; Capitol F3305; white-label promo E+ $30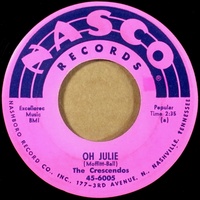 The Crescendos: Oh Julie/My Little Girl; Nasco 6005; E+ $25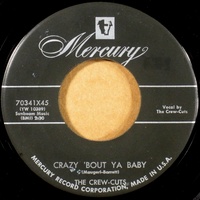 The Crew-Cuts: Crazy 'Bout Ya Baby/Angela Mia; Mercury 70341; N- $12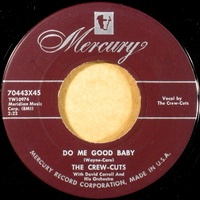 The Crew-Cuts: Do Me Good Baby/Oop-Shoop; Mercury 70443; N $10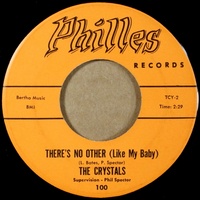 The Crystals: There's No Other (Like My Baby)/Oh Yeah, Maybe Baby; Philles 100; E+ $30 -- Phil Spector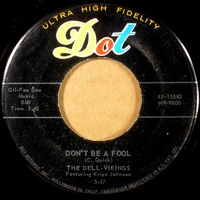 The Del-Vikings: Don't Be a Fool/Whispering Bells; Dot 15592; 1957; E+ $20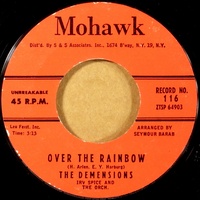 The Demensions: Over the Rainbow/Nursery Rhime Rock; Mohawk 116; N- $50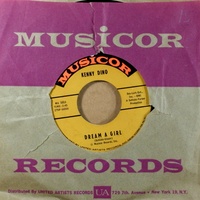 Kenny Dino: Dream a Girl/Your Ma Said You Cried in Your Sleep Last Night; Musicor 1013; E+ $15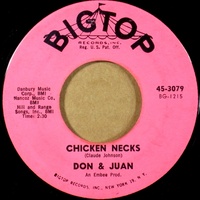 Don & Juan: Chicken Necks/What's Your Name; Big Top 3079; E $15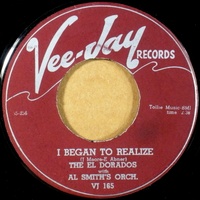 The El Dorados: I'll Be Forever Loving You/I Began to Realize; Vee-Jay 165; E+ $50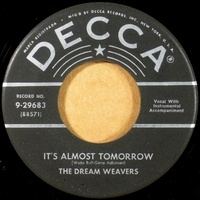 The Dream Weavers: It's Almost Tomorrow/You've Got Me Wondering; Decca 29683; E+ $10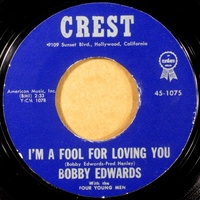 Bobby Edwards w/the Four Young Men: I'm a Fool for Loving You/You're the Reason; Crest 1075; E $10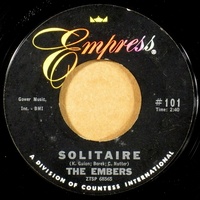 The Embers: Solitaire/I'm Feeling All Right Again; Empress 101; N- $30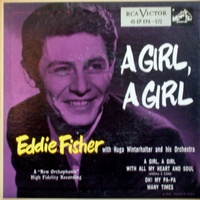 Eddie Fisher: A Girl, A Girl EP; RCA Victor EPA-572; E+/N- $10 -- A Girl A Girl, With All My Heart & Soul, Oh My PaPa, Many Times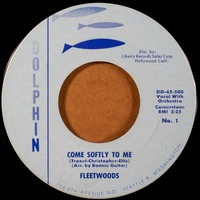 Fleetwoods: Come Softly to Me/I Care So Much; Dolpin 1; N $25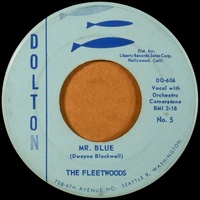 Fleetwoods: Mr. Blue/You Mean Everything to Me; Dolpin 5; N- $15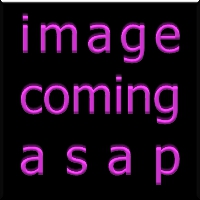 The Fortune Tellers: Song of the Nairobi Trio/Camel Train; Music Makers 45-105; NYC 1961; E- $15 -- odd pop/celebrity/twist; harp superstar Robert Maxwell's legendary initial hit single, the original theme from the Ernie Kovacs show
Four Aces featuring Al Alberts: Honey in the Horn/Ogran Grinder's Swing; Decca 28691 N- $15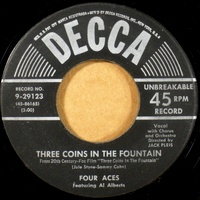 Four Aces featuring Al Alberts: Three Coins in the Fountain/Wedding Bells; Decca 29123 N- $15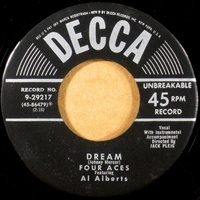 Four Aces featuring Al Alberts: Dream/It Shall Come to Pass; Decca 29217 N- $15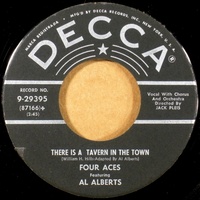 Four Aces featuring Al Alberts: There is a Tavern in the Town/Melody of Love; Decca 29395 N- $15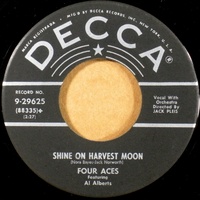 Four Aces featuring Al Alberts: Shine on Harvest Moon/Love is a Many-Splendored Thing; Decca 29625 N- $12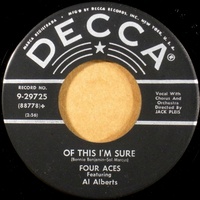 Four Aces featuring Al Alberts: Of This I'm Sure/A Woman in Love; Decca 29825 N- $12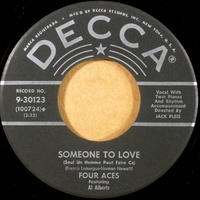 Four Aces featuring Al Alberts: Someone to Love/Written on the Wind; Decca 30123 N- $12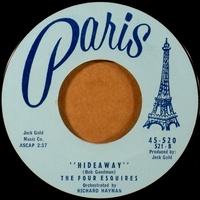 The Four Esquires: Hideaway/Repeat After Me; Paris 520; N $20
Four Lads: Skokiaan/Why Should I Love You; Columbia 40306; E $10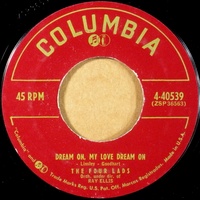 Four Lads: Dream On, My Love Dream On/Moments to Remember; Columbia 40539; E $10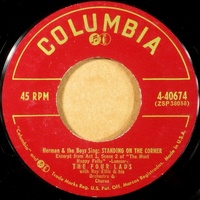 Four Lads: [Herman & the Boys Sing:] Standing on the Corner/My Little Angel; Columbia 40674; E $10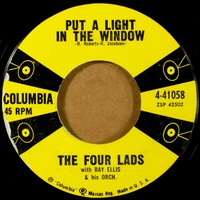 Four Lads: Put a Light in the Window/The Things We Did Last Summer; Columbia 41058; N- $10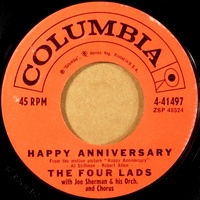 Four Lads: Happy Anniversary/Who Do You Think You Are?; Columbia 41497; E+ $10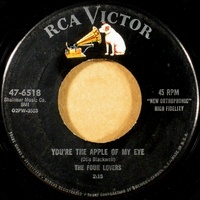 The Four Lovers: You're the Apple of My Eye/The Girl in My Dreams; RCA Victor 6518; E $20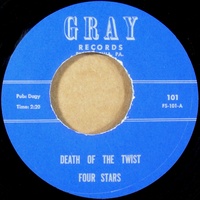 Four Stars: Death of the Twist/When We Meet Again; Gray 101; N $200 -- Philly; rare!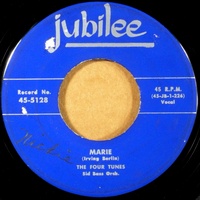 The Four Tunes: Marie/I Gambled with Love; Jubilee 5128; E- $15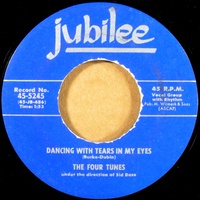 The Four Tunes: Dancing with Tears in My Eyes/Far Away Place; Jubilee 5245; E $20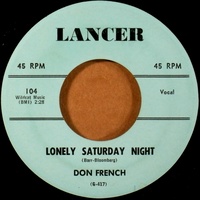 Don French: Lonely Saturday Night/Goldilocks; Lancer 104; E $50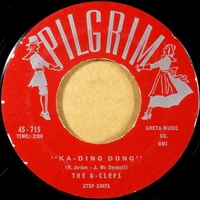 The G-Clefs: Ka-Ding Dong/Darla, My Darlin'; Pilgrim 715; E- $10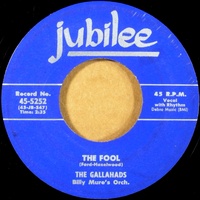 The Gallahads w/Billy Mure's Orchestra: The Morning Mail/The Fool; Jubilee 5252; E $15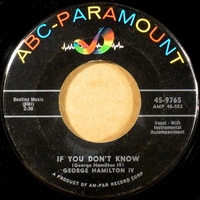 George Hamilton IV: If You Don't Know/A Rose & a Baby Ruth; ABC-Paramount 9765; N $30
The Harptones: What is Your Decision/Gimmie Some(sic); Andrea 100; N- $30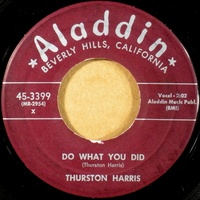 Thurston Harris: Do What You Did/I'm Asking Forgiveness; Aladdin 3399; N- $25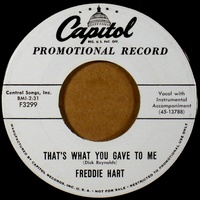 Freddie Hart: That's What You Gave to Me/Hiding in the Darkness; Capitol F3299; white-label promo E $15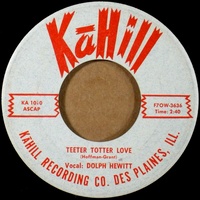 Dolph Hewitt: Teeter Totter Love/One Block Back of Basin Street; Kahill 1010 E $20 -- Illinois label (2 copies available)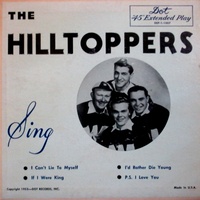 The Hilltoppers Sing EP; Dot DEP-1-1007; 1953; E/E $15 -- I Can't Lie to Myself, If I Were King, I'd Rather Die Young, P.S. I Love You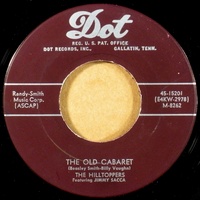 The Hilltoppers featuring Jimmy Sacca: The Old Cabaret/Sweetheart; Dot 15201; N- $12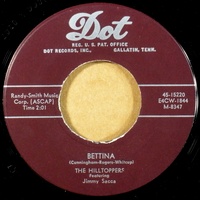 The Hilltoppers featuring Jimmy Sacca: Bettina/If I Didn't Care; Dot 15220; E+ $15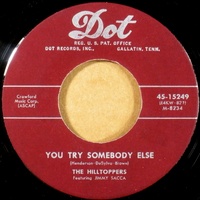 The Hilltoppers featuring Jimmy Sacca: You Try Somebody Else/Time Waits for No One; Dot 15249; E+ $15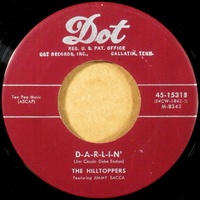 The Hilltoppers featuring Jimmy Sacca: D-A-R-L-I-N'/Frivolette; Dot 15318; N- $15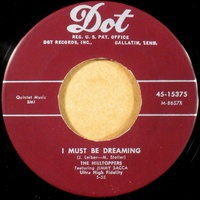 The Hilltoppers featuring Jimmy Sacca: I Must be Dreaming/The Kentuckian Song; Dot 15375; N- $15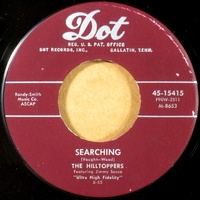 The Hilltoppers featuring Jimmy Sacca: Searching/All I Need is You; Dot 15415; N- $15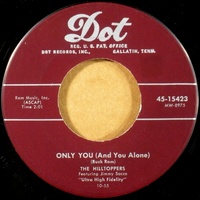 The Hilltoppers featuring Jimmy Sacca: Only You (And You Alone)/Until the Real Thing Comes Along; Dot 15423; N- $15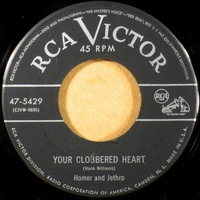 Homer & Jethro: Your Clobbered Heart/Gamblers Git Box; RCA Victor 5429; E $10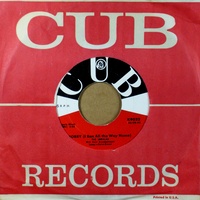 The Impalas: Sorry (I Ran All the Way Home)/Fool, Fool, Fool; Cub K9022; N- $20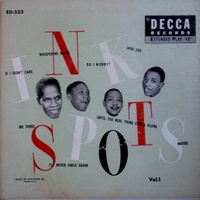 Ink Spots Vol. 1 EP; Decca ED-553; 1953; 2-disc E/N- $215 -- 8 songs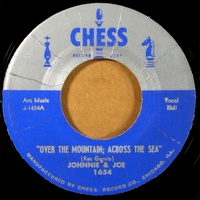 Johnnie & Joe: Over the Mountain, Across the Sea/My Baby's Gone, On, On; Chess 1654; V+ $15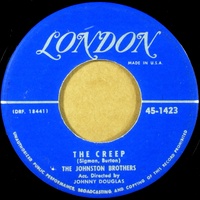 The Johnston Brothers: The Creep/Crystal Ball; London 1423; N- $15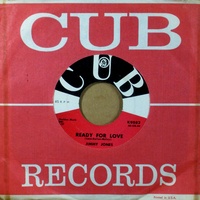 Jimmie Jones: Ready for Love/For You; Cub K9082; E+ $12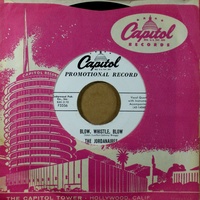 The Jordanaires: Blow, Whistle, Blow/A House of Gold; Capitol F3356; white-label promo N- $20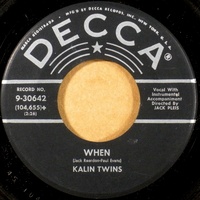 Kalin Twins: When/Three O'Clock Thrill; Decca 30642; E- $10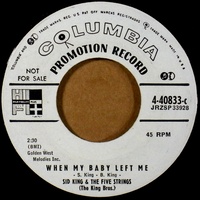 Sid King & the Five Strings: When My Baby Left Me/It's True, I'm Blue; Columbia 40833-c; white-label promo N- $75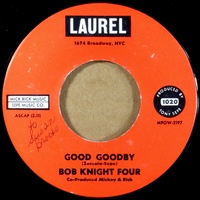 Bob Knight Four: Good Goodby/How Old Must I Be; Laurel 1020; E+ $25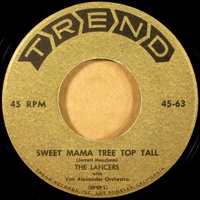 The Lancers: Sweet Mama Tree Top Tall/Were You Ever Mine to Lose; Trend 63; 1954; N- $25 -- LA label; w/Van Alexander Orchestra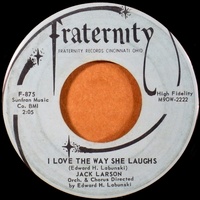 Jack Larson: I Love the Way She Laughs/The Hammer Bell Song; Fraternity 875; E $30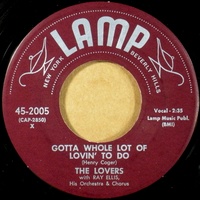 The Lovers: Gotta Whole Lot of Lovin' to Do/Darling It's Wonderful; Lamp 2005; N $50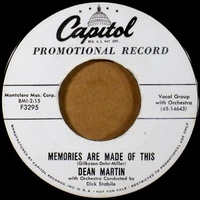 Dean Martin: Memories Are Made of This/Change of Heart; Capitol F3295; white-label promo N- $10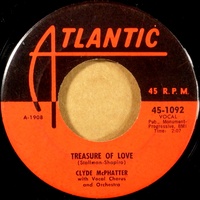 Clyde McPhatter: Treasure of Love/When You're Sincere; Atlantic 1092; E $20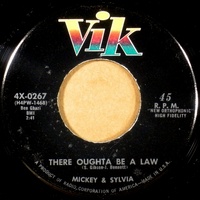 Mickey & Sylvia: There Oughtta Be a Law/Dearest; RCA Vik 4X-0267; N $25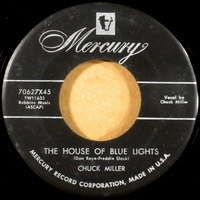 Chuck Miller: The House of Blue Lights/Can't Help Wonderin'; Mercury 70627; E $10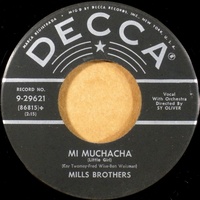 Mills Brothers: Mi Muchacha/That's All I Ask of You; Decca 29621; N- $10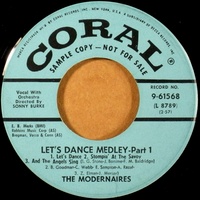 The Modernaires: Let's Dance Medley Parts 1 & 2; Coral 6156; N- $10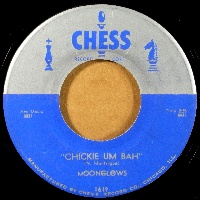 Moonglows: We Go Together/Chickie Um Bah; Chess 1619; E+ $35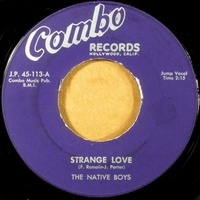 The Native Boys: Strange Love/Cherrlyn; Combo 113; N- $75 -- Hollywood label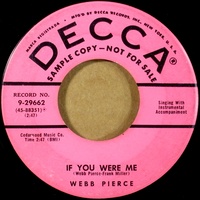 Webb Pierce: If You Were Me/Love, Love, Love; Decca 29662; pink-label promo V+ $10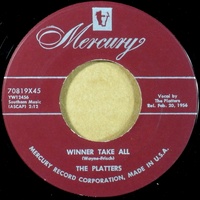 The Platters: Winner Take All/(You've Got) the Magic Touch; Mercury 70819; 1956; maroon label N $30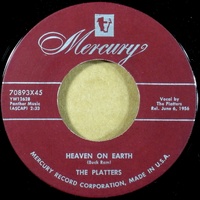 The Platters: Heaven on Earth/My Prayer; Mercury 70893; 1956; maroon label; 1956; N- $30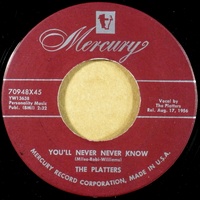 The Platters: You'll Never Know/It Isn't Right; Mercury 70948; maroon label; 1956; N $20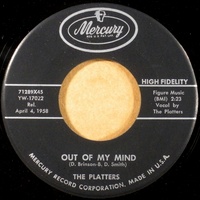 The Platters: Out of My Mind/Twilight Time; Mercury 71289; 1958; black label; N $20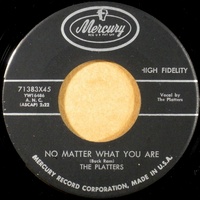 The Platters: No Matter What You Are/Smoke Gets in Your Eyes; Mercury 71383; black label; N- $25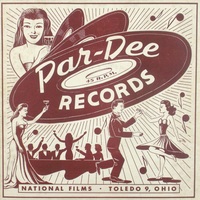 Reta Ray & the Al DePaulis Quartet: Par-Dee Records EP box set; National Films/Par-Dee; 4 discs N-/N- $20 -- novelty/stag songs; super-rare, top-shape, unusual set of 8 songs from a Toledo, Ohio movie company that no doubt made stag films; presumably from the '50s, similar to early Ruth Wallis and the like; I Hate T.V., Woman on the Couch, Sort of In Between, Why Should a Girl Say No, No Help Wanted, Rum & Coke, The Sniffing Song, Mr. Babbitt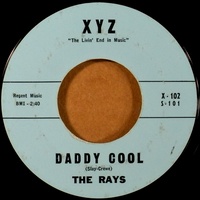 The Rays: Daddy Cool/Silhouettes; XYZ 102; N- $60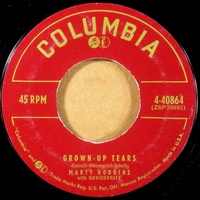 Marty Robbins: Grown-Up Tears/A White Sport Coat (& a Pink Carnation); Columbia 40864; E $10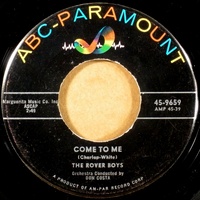 The Rover Boys: Come to Me/Love Me Again; ABC-Paramount 9659; E- $10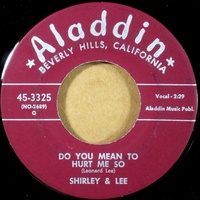 Shirley & Lee: Do You Mean to Hurt Me So/Let the Good Times Roll; Aladdin 3325; E $40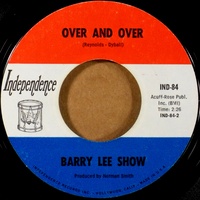 Barry Lee Show: Over & Over/I Don't Want to Love You; Indepedence 84; N- $10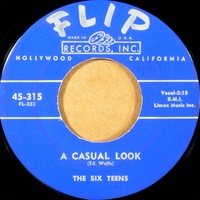 The Six Teens: A Casual Look/Teen Age Promise; Flip 315 E+ $15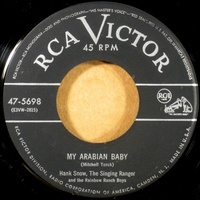 Hank Snow, the Singing Ranger & the Rainbow Ranch Boys: My Arabian Baby/I Don't Hurt Anymore; RCA Victor 5698; N- $20 -- A-side by Mitchell Torok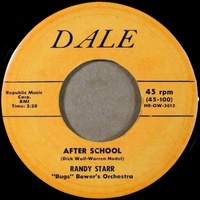 Randy Starr w/"Bugs" Bower's Orch.: After School/Heaven High (Man So Low); Dale 100; N- $10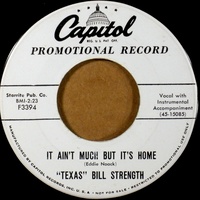 "Texas" Bill Strength: When the Bright Lights Grow Dim/It Aint' Much but it's Home; Capitol F3394; white-label promo E+ $15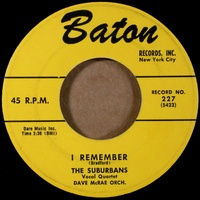 The Suburbans: I Remember/TV Baby; Baton 227; N- $75 -- NYC label; vocal quartet w/Dave McRae Orchestra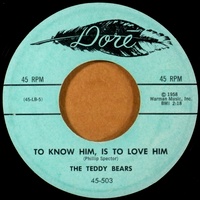 The Teddy Bears: To Know Him is to Love Him/Don't You Worry My Little Pet; Dore 503; 1958; N- $25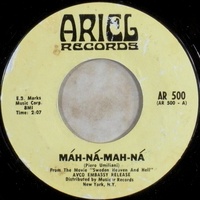 Piero Umiliani: Mah-Na-Mah-Na/You Tried to Warn Me; Musicor/Ariel AR-500; E+ $15 -- mod; hit remake of "Mah-Na-Mah-Na" not on LP!!! (same as Musicor MU-1960, from 1971 we think); again, this is not the original ST version, which is really thin, but an improved, richer-bass version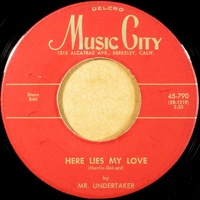 Mr. Undertaker: Here Lies My Love/The 4 Deuces: W-P-L-J; Music City 790; N $100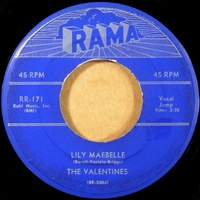 The Valentines: Lily Maybelle/Falling for You; Rama 171; E+ $100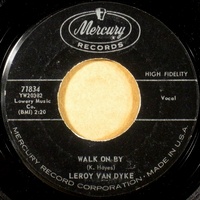 Leroy Van Dyke: Walk On By/My World is Caving In; Mercury 71834; E+ $10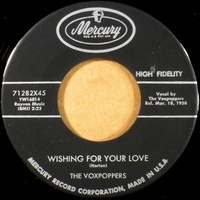 The Voxpoppers: Wishing for Your Love/The Last Drag; Mercury 71282; 1958; N- $20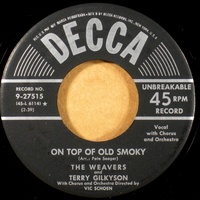 The Weavers & Terry Gilkyson: On Top of Old Smokey/Across the Wide Missouri; Decca 27515; N- $15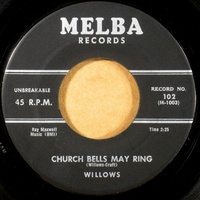 Willows: Church Bells May Ring/Baby Tell Me; Melba 102; V $50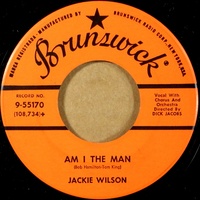 Jackie Wilson: Am I the Man/Alone at Last; Brunswick 55170; N $15

rock 45s .... and 45s at ends of other pages
© Hip Wax