Mod Mexicali Brass: Original LPs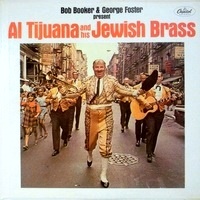 The Word: What are we, nuts? No one buys Herb Alpert LPs anymore. But there are no Herb Alpert LPs here! (Also no Chet Baker, Trumpets Ole, Guadalara Brass, etc.) Instead, it's the better, rarer, more desirable goofy riffs on, tributes to, and cashings-in-upon, the flash trend that took the mod, mod '60s a little south of the border. Dare to dive into the cool, shallow water.
You can expect groovy jacket art, no one taking himself too seriously, and even some decent tuneage. And a great price if you clean us out. Tequila!
Links: are to subpages or artists bio/discog pages in the Hyp Records guide:

Images: accurately represent items but are not always the exact copy listed/purchased
Discount: ALWAYS try to buy more than one item at a time
---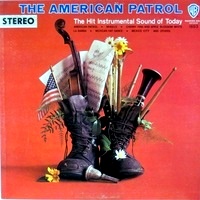 [The] American Patrol; Warner Bros. WS-1653; gold label E/E S $20 -- Mexicali brass ("Ameriachi") by James Last!; "the hit instrumental sound of today" is a Herb Alpert cash-in but a GOOD, swinging one, as you'd expect from WB and a young James Last; definitely rare, rarer still in stereo; American Patrol, Tico Tico, Delicado, Cherry Pink, La Bamba, Greensleeves, Passion Flower, Granada, Wheels, Mexico City (w/car sounds!), La Paloma, Mexican Hat Dance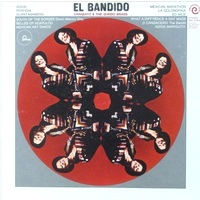 Chaquito & the Quedo Brass: El Bandido; Philips/Mercury/Fontana SRF-67604; 1969; white-label promo E+/N- S $20 -- Mexicali; indispensable, first-rate record in an idiom that doesn't have much at the very top (unless you're nuts about Herb Alpert), and the reason for the interest, effort, and success of this nice import is it's some of the better work of the UK's John Gregory ("Chaquito"), who doubled and dabbled in both spy/crime themes and the Latinate sound of Mexicali brass/percussion; O Cangaceiro (The Bandit), What a Diff'rence a Day Made, Guantanamera, South of the Border (Down Mexico Way), Belles of Acapulco, Mexican Hat Dance, Mexican Marathon (good original!), La Golondrina, So Nice (Summer Samba), Perfidia, Adios Mariquita, Adios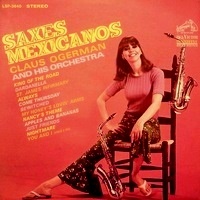 Claus Ogerman: Saxes Mexicanos; RCA Victor LSP-3640; 1966; E/E- S $20 -- mod; "Guaranteed Danceable"; great series of 4 LPs, all essential!; THE sound of the swingin' high '60s (and it really swings!); often overlooked bc of the title, it's strictly mod--and a very valuable sequel to the heralded Watusi Trumpets! (rather than anything to do with Mexican saxophones); with Dick Hyman's great Lowrey organ; King of the Road, Dardanella (terrific!!!--best cut), St. James Infirmary, Bewitched, My Honey's Lovin' Arms, Apples and Bananas, Nightmare, Nancy's Theme, Always, You and I (Voce e eu), Come Thursday, Just Friends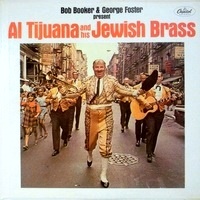 [Bob Booker and George Foster Present] Al Tijuana & his Jewish Brass; Capitol ST-2596; 1966; E+/E+ S $20 (or cutout E+/E S $15, specify) (or mono T-2596; N-/E+ $15, specify) -- Mexicali brass/novelty/Jewish/comedy; thanks to top music and production values it's one of the best, most lovable spoofs of Herb Alpert (if not also Fiddler on the Roof and Zorba the Greek); stars Lou Jacobi (whose brief spoken introductions to some of the tunes are wonderful); music by Artie Butler; last but not least, a very memorable jacket!; Downtown, Strangers in the Night, What Now My Love, Malaguena, Peter Gunn, Tsena Tsena, The Yellow Rose of Texas, A Taste of Honey, It's Not Unusual, Never On Sunday, People, Chicken Fat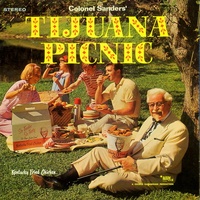 Uncredited: Col. Sanders' Tijuana Picnic; Mark 56 543; N-/V+ S $25 -- Mexicali/commerce; hall-of-fame concept/"incredibly strange" jacket (classic photo of Col. Sanders under a tree w/hokey "perfect" family enjoying a picnic just behind him); on back each tune is introduced with a priceless anecdote (some "memory" of the Colonel) relating the instrumental music (faithful Herb Alpert covers) to some item sold by KFC!; A Taste of Honey, Lonely Bull, Chili Verde, Spanish Flea, Our Day Will Come, Tijuana Taxi, Green Peppers, El Garbanzo, El Toro, Third Man Theme
© Hip Wax