Africa: Original LPs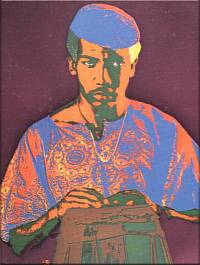 The Word: Afro-beat, Afro-rock, Afro-pop, Afro-jazz classics and odd, rare treasures, such as the earliest Afro-drum LPs, and of course African field recordings.
Not the latest new issues/reissues but just the good stuff people have been collecting for years--or should have.
Most other pages have some items could be listed here (Afro-jazz, Afro-Latin, exotica, etc.). Even the pop and Moog pages! Not to mention percussion everywhere. So look around after you're done scanning this one.
Below: African 45s
Discount: usually free mailing offered; possibly more for multi-item orders
Images: may not be the exact copy listed/purchased (but usually is)
---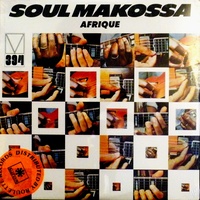 Afrique: Soul Makossa; Roulette/Mainstream/Red Lion 394; 1973; sealed (w/Roulette distribution sticker) S $40 -- funk/Afro-Beat/guitar/percussion; classic session (credited as "Chubokos" on 45) w/jazz-funk heavyweights Charles Kynard, Paul Humphrey, David T. Walker, Ray Pounds, Chino Valdes, King Errisson..; perhaps better for the rare-groove/jazz-funk DJ than the strict collector of African music, but it does feature the Manu DiBango hit and more that make it good (it's considered the only really notable Afrique LP); Soul Makossa, Kissing My Love, Sleepwalk, Let Me Do My Thing, Slow Motion, Hot Mud, House of Rising Funk, Dueling Guitars, Hot Doggin', Get It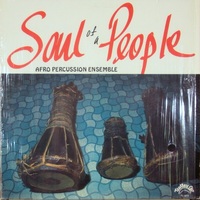 [Jean Devres'] Afro Percussion Ensemble: Soul of a People; Trolley Car TC-5015; N/N shrink S $20 -- African; beautiful, rare version of ubiquitous public-domain set credited elsewhere to Chief Bey, Soubri Moulin, Kaino, Cawanda, the actor Sabu (once again: NO, people, the Clarion LP is NOT a Sabu Martinez album in any way shape or form), Chief Walataghi, etc.; so, while it's not a unique new recording, it does a great job of seeming like one, and it's clean and features pretty artwork on a rare, tiny, probably short-lived NYC label (A&R Joe Cain, surprisingly!)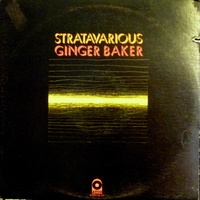 Ginger Baker (with Fela Kuti & Guy Warren): Stratavarious; Atlantic/Atco SD-7013; 1972; cutout E/E+ S $25 (or cutout E-/E* S $20, specify)-- Afro-Beat/percussion; three Afro-Beat giants together!!!; great record affordably priced (it's still the only original Fela LP you can still find at entry-level price, but don't expect that to last forever, particularly once Ginger Baker and Guy Warren fans figure out that they need it too); Ariwo, Tiwa (It's Our Own), Something Nice, Juju, Blood Brothers, Coda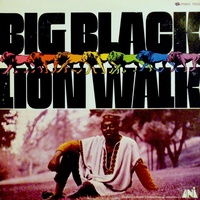 Big Black: Lion Walk; Uni 73033; promo E/N S $50 (or cutout E/N shrink S $50, specify) (or E/E- S $40, specify) -- African jazz/mod soul-jazz; unbelievable! his best by far, where you get everything from the great side-long Afro-jazz of the title cut to briefer uptempo hip stuff to, well, the kind of soul jazz you hoped for from his other LPs but didn't quite get; comparable to the legendary Wali & his Afro-Caravan LP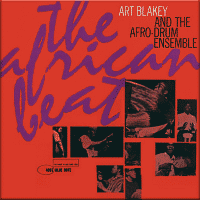 Art Blakey & the Afro-Drum Ensemble: The African Beat; NY-Blue Note BLP-4097; 1962; N-/N- $125 (or 1-sided deep groove N/V+ shrink $90) (or E/E- $60, specify) -- African jazz; unique for both Blue Note & this group, it's a mighty tour-de-force everyone should have (along w/Orgy in Rhythm & other titles featuring Blakey w/Sabu); all-star players (Solomon Ilori, Chief Bey, Montego Joe, Garvin Masseaux, James Folami, Robert Crowder, Curtis Fuller, Yusef Lateef, Ahmed Abdul-Malik), varied percussion, & other instruments/ideas; essential for the Guy Warren fan, as "Love, the Mystery of" is covered (Blakey saw Warren headline at NYC's African Room); inevitably a little noise in 1 or 2 of the quieter intro passages (always w/this title, even on late pressings) --flute & a prayer by Solomon Ilori-- otherwise LOUD & AWESOME!!!; mild water stain on the $60 copy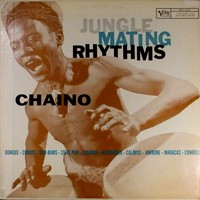 Chaino: Jungle Mating Rhythms; Verve V-2014; flat black label (2nd issue) E-/E- $50 -- Afro-exotic percussion; rare!; Kirby Allen's exotiploitative sinsation, Chaino nevertheless was a terrific artist/performer who made half a dozen truly far-out records, forever underrated; Jungle Mating Call, Voodoo Love, Voodoo Trinidad, Lost Canyon, Love Chant of the Mau Mau, Seduction of the Virgin, Watussi, Rico Tico de Dongo, Mad Bongos, Voodoo Chant, Ora Ora A, Jungle Crazy Maze Bongo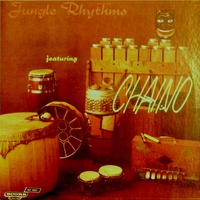 Chaino: Jungle Rhythms; Score SLP-4027; deep groove E+/E+ $100 (or V-/E- $40, specify) -- Afro-drum; one of his rarest, featuring truly remarkable jacket art, the classic fake liner story about Chaino being the rescued sole survivor from a lost tribe in Africa (producer Kirby Allen had a great talent for classic Hollywood hype, even using these very Chaino LPs to seduce starlets!); and of course, the music is absolutely sensational, even by vintage Afro-drum standards--ALL Chaino is STUFF YOU NEED!!!; Bongo Maze, Simba, Devil Dance, Spirit of the Witch Doctor, Talking Drums, Holiday in Trinidad, Jungle Maze..; better copy's jacket has bottom seam split & "Charlie" penned on the back; lesser copy has wear/noise & a big press bump that sounds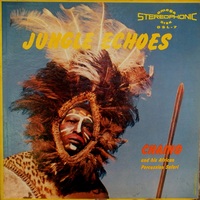 Chaino & his African Percussion Safari: Jungle Echoes; Omega OSL-7; dark red vinyl, yellow back/first jacket E/E- $50 -- Afro-drum insanity (vintage Hollywood exploitation but FANTASTIC & INTENSE!!!), top/unique/sensational drummer; Chaino's most exciting LP!; absolutely essential; top production includes the spectacular "Matusi Warrior" jacket!; extremely deep bass like a modern funk LP (great for sub-woofers); Jungle Chase, Torture of the Mau Mau, Co-Gona Voodoo, Feast Dance, Limbo, Jungle Drum Variation, Cum-Ba-See, Spear Dance, Safari Jungle Maze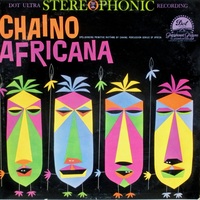 Chaino: Chaino-Africana; Dot DLP-25240; 1959; E/E S $75 -- "Spellbinding primitive rhythms by Chaino, percussion genius of Africa"; his rarest stereo LP if not his rarest altogether (not counting alternate versions of some of the others); it's a sonic tour-de-force and everything the Chaino fan could desire; Breathing Bongos, Swamp Girl, Walking Bongos, African Jazz, Congo Serenade, Bi-La, Poko Cha Cha, Slave Girl, Bongo Beat, Slave Train, Afro Cha Cha, Bongo Stick Boogie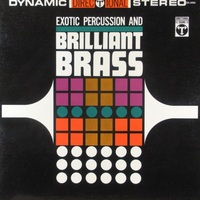 [Chaino &] John Evans: Exotic Percussion & Brilliant Brass; Premier/Directional Sound DS-5006; 1961; gatefold deep groove N-/N- S $60 (or gatefold deep groove E-/V+ S $25, specify) -- exotica/Latin/Latin jazz; "including members of Francis Bay Orchestra"; Nat Hentoff notes Chaino leads a 4-man percussion section using 20 instruments; this is the released version of the fabled, unreleased Omega LP, The Exotic Sounds of Chaino: Temptation, where plucky West Coast Latin jazz (sorta) meets exotica, with bird calls and such; we suspect it was shelved for being exotica (Latin percussion) rather than a comfy fit with the Afro-drum style expected of Chaino; Bad & Beautiful, Temptation, Es Es El Amor, Mambo Inn, An Occasional Man, Cuban Caper, Quiet Village, Caravan, Return to Paradise, Mambo Italiano, Lisbon Antigua, Cool Mambo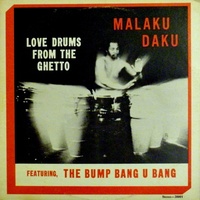 Malaku Daku: Love Drums from the Ghetto; Chaka Unlimited CU-20001; E-/E- S $100 (or E-/V+ S $60, specify*) -- Afro-Beat/African/percussion; one of the heaviest, most fascinating Philadelphia private-press/local productions in the Afro-funk-drum-hip vein (from Virtue Studios)--you'll be hard-pressed to find it elsewhere; percussion w/chants and how!; great jacket, front & back; we're still scratching our heads at how we're able to find it now and then, since Philly record people are all on the ball these days; The Bump Bang U Bang, Mulogo, A Pygmy Happening, Gettin' Down in the Hut, Ife Bobowa, Village Life in the Ghetto, Spirits of the Watoto, My Land My Woman, Shango; *note: lesser copy has scratch in "Bump Bang U Bang" audible for about 2 mins. out of 7 (otherwise fine)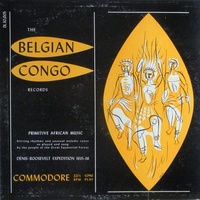 Denis-Roosevelt Expedition: The Belgian Congo Records of the Denis-Roosevelt Expedition; Commodore DL-30,005; E-/E+ $30 -- African; "Stirring Rhythms & Unusual Melodic Tunes as Played & Sung by the People of the Great Equatorial Forest"; rare old NY label; music recorded on location 1935-36; good, hip; good liner notes; Royal Watusi Drums, Circumcision Rituals, Batwa Pigmy Dances, Xylophone a Lubero, Bahutu Chant & Dances, Choral Songs of the Babira, Choral Songs of the Manbetu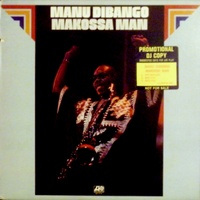 Manu DiBango: Makossa Man; Atlantic SD-7276; 1974/1973; cutout N/N shrink S $30 (or promo cutout E+/N- S $30, specify) (or stock cutout E+/N- S $30, specify) (or stock cutout E-/E- S $20, specify) -- Afro-Beat; super funky all the way, its his best LP released in the US (a year after the recording in France)--THE Manu DiBango LP all DJs should get first (the few others that are about this great are far rarer/more expensive); all smokin', funky, Fela-compatible cuts: Weya (reprises Soul Makossa from the first Atlantic LP, which is strictly pedestrian compared to his subsequent, major '70s Afro-funk stuff, and it starts right here!), Pepe Soup, Tom Tom, Mwasa Makossa, Moni, Essimo, Lakisane, Senga (new version!)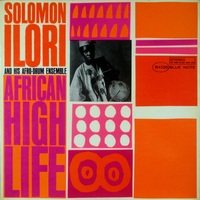 Solomon Ilori & his Afro-Drum Ensemble: African High Life; Liberty/Blue Note BST-84136; E+/N- S $100 -- African jazz; with Chief Bey, Montego Joe, Abdul-Malik; rare, especially in top shape!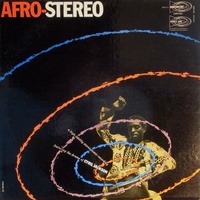 [The Drums of] Cyril Jackson: Afro-Stereo; Counterpoint CPST-5561; 1958; E+/E- S $30 -- African/Haitian-voodoo/Shango/Afro-Latin/drums; great West Indies recording of interest even more for the sacred-drum/cult aspect than the fantastic African drumming, in early hi-fi stereo; extensive liner notes by Henrietta Brackman, good variety, and top quality/interest with each element (Afro, Latin, Shango..); Mambo Ricci, Guaguanco, Tempena de Mim, Didrenouo, Shango, Banda, Road March, Rumba Abierta, Meringue, Conga, Jungla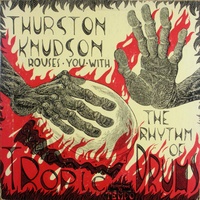 Thurston Knudson: The Rhythm of Tropic Drums 10"; Tempo TT-2212; red vinyl E-/E- $50 -- African/drum; "Thurston Knudson's newest --and by far his greatest-- recordings!"; highly unusual 10" LP on quirky Hollywood label anticipates Chaino and all other African drumming records by several years (Knudson was the leading exponent and authority on African drums until Guy Warren, Olatunji, and others made their mark); Gae Jangoro (Afro-Brasilian samba-macumba), Joruba Quimbombe (Afro-Brasilian samba-batucada), Ju-Ju (East African Spirit Call), Te Ura I Te Rai (The Red of the Sky), Motoraa Rahi (Tahitian War Dance)--Tahitian, from his association with Augie Goupil, N'Goma Ruanda (The Rhythm of the Beating Heart)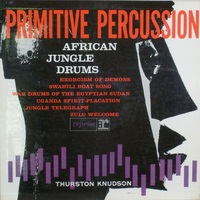 Thurston Knudson: Primitive Percussion [African Jungle Drums]; Reprise R9-6001; 1961; white-label promo deep groove E/E- S $60 (or mono R-6001 deep groove E/E $40, specify) (or mono E/V+ $25, specify) -- African/drums; Knudson was the first to bring African drums to a wide audience in the late 1940s and all his records are highly prized, essential, early masterpieces of African drums and Afro-inspired pop and jazz; everyone such as Art Blakey who experimented with African percussion early would have been greatly influenced by Knudson; as far as we know, this rarity is his last recording and his only 12" LP! (stereo very rare!); assisted here by West Coast percussionists Milt Holland, Roy Harte (owner of Drum City in Hollywood), Winston Muldrow (on bata), Adinortey Puplampu, and Hugh Allison; a giant log used in four cuts was borrowed from the famous Don the Beachcomber restaurant in Hollywood (where many tiki drinks were invented); War Drums of the Egyptian Sudan, Jungle Telegraph, Cameroun Fantasy, Hausa Song of the Sentinel, Tunisian Courting Dance, Malinke Flute Bell & Drum, Watusi Wedding Dance, Exorcism of Demons, Uganda Spirit-Placation, Swahili Boat Song, Kikuyu Goat-Herd's Siest, Zulu Welcome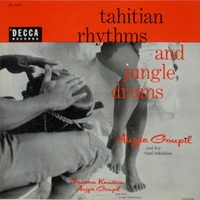 Thurston Knudson, Augie Goupil, & their Jungle Rhythmists: Tahitian Rhythms & Jungle Drums; Decca DL-8216; c.1956/1949; 1st/black/deep groove N/N $75 (or 2nd/black N-/N- $60, specify) (or 2nd/black E+/E- $40, specify) (or 3rd/spectral E-/E- $30, specify) -- African/drums/Tahitian; GREAT!; reissues 12 of 14 cuts from two rare, groundbreaking albums (released as 78 sets, then 10" LPs) in spectacular hi-hi; "Knudson/Goupil & their Jungle Rhythmists: Jungle Drums" is the very first African-drum album! (Chaino fans will love it); the superb "Augie Goupil & his Royal Tahitians: Tahitian Rhythms" (also with Knudson) is extremely rare and equally the first Tahitian record of note, by a '30s-'40s film actor/singer exponent of Tahitian music; terrific jacket art and notes --updated from the earlier issues-- top off an all-over great production; everyone interested in African (and Tahitian) percussion needs it, and this is the way to get it (clean hi-fi sound!); O Tahiti, Tupaha, Paoa, Tiare Tahiti, Taata Hu'a, My Miri, Conga Kongo, Te Moana, Orare Orare, Marara, Rhumba Uganda, Samba Tembo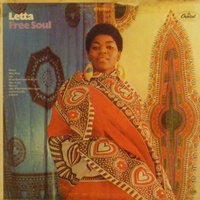 Letta: Free Soul; Capitol ST-2929; cutout E-/V+ S $15 -- African/vocal; arr./cond. H.B. Barnum; prod. David Axelrod; Capitol's answer to Miriam Makeba gets Axelrod's hip, funky, early-'70s-era treatment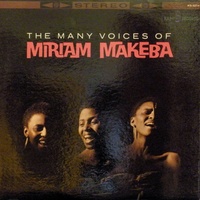 Miriam Makeba: The Many Voices of; Kapp KS-3274; 1962 N-/E+ S $20 -- African/vocal; her 2nd LP, far rarer and much better than her RCA and Reprise LPs; Kilimanjaro, Naula (witch doctor's song), Carnival (from Black Orpheus), Night Must Fall, Love Tastes Like Strawberrie, Can't Cross Over..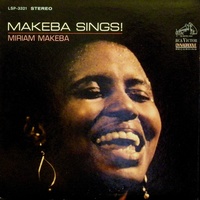 Miriam Makeba: Makeba Sings!; RCA Victor LSP-3321; 1965; deep groove Dynagroove E+/E+ S $15 -- African/vocal; arranged and conducted by Hugh Masekela; good one!; Cameroon, Woza, Little Bird, Chove-Chuva, Same Moon, Kilimanjaro, Khawuyani-Khanyange, Wind Song, Khuluma, Let's Pretend, Beau Chevalier, Maduna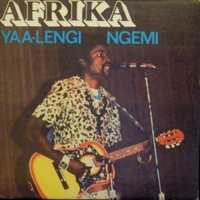 Yaa-Lengi Ngemi: Africa; Makossa International M-2355; 1981; E+/N- S $15 -- African; guitar-led quartet (roughly in the style of Sunny Ade) does no more and no less than "Afrika Parts 1 & 2" on each side, like a long single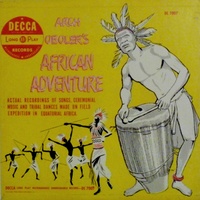 Arch Oboler's African Adventure--Songs, Ceremonial Music, & Tribal Dances of Equitorial Africa 10"; Decca DL-7007; 1950; 1st E/E $50 -- African; wild jacket art distinguishes this wonderful old Decca set of exciting field recordings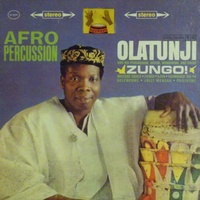 Olatunji: Afro Percussion--Zungo!; Columbia CS-8434; 1961; black 6-eye E+/N S $40 (or same but E-/E S $30, specify) -- one of his best, in the original die-cut jacket w/3-D "flicker sticker" of hands playing conga (also found on the legendary Michel Magne Tropical Fantasy LP); these early pressings have high gain (loudness, liveliness, excitement); w/Montego Joe, Yusef Lateef, Clark Terry, Ray Barretto..; Masque Dance, Zungo, Ajua, Esum Buku Wa-Ya, Gelewenwe, Jolly Mensah, Philistine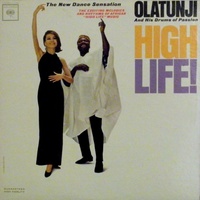 Olatunji & his Drums of Passion: High Life!--The New Dance Sensation; Columbia CL-1996; 1963; N-/N $30 -- one of his best!; long all-star list highlights his most extraordinary (& scarce/sought-after) Columbia LP; recommended for jazz fans & those who like the highlife style; Clark Terry, Snookie Young, Bob Brookmeyer, Seldon Powell, Jerome Richardson, Dave Pike, Montego Joe, Chief Bey, Ray Barretto, Willie Rodriguez..; [Everybody Loves] Saturday Night Limbo, Lady Kennedy, Ojo Davis, Ashafa, Someday, Totofioko..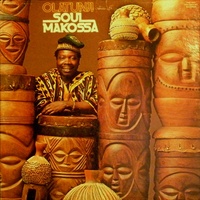 Olatunji: Soul Makossa; Paramount PAS-6061; 1973; E/N S $35 (or cutout E/N- S $30, specify) -- Afro-Beat; Michael Babatunde Olatunji's great comeback LP of five very strong cuts shows he'd been listening to Fela and Manu DiBango; title cover tune is one of the best versions ever and the rest of the album offers much, much more, including the groovy jacket; w/Joe Henderson, Eddie Bert, & Marvin Stamm on horns; Soul Makossa, Takuta, Masai, Dominira, O-Wa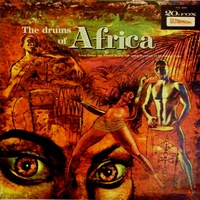 Prince Onago & Princess Muana & Native Drummers of the Belgian Congo: The Drums of Africa; 20th Century Fox FOX-3000; deep groove N-/N- $40 (or E+/E+ $30, specify) (or E+/V+ $20, specify) -- African/drum/exotica; one of the wildest in this coveted series of hall-of-fame jacket art; also it's the better of the two wonderful LPs by this duo (pictured on jacket back); great stuff, very well presented!; Ciluba-Kukuabas, Congo Woman, Fire Feet, Tagati (Bewitched), African Love Ballad, Pepper Black, Spear Dance, Hot Red Jungle Pepper, Kalenga (Watusi Drum), Congo Syncopation, Flirtation Song, Watusi Royal Drums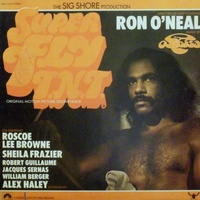 Osibisa: Superfly T.N.T. ST; Buddah BDS-5136-ST; 1973; gatefold; cutout E/E- S $25 -- Afro-Beat/Afro-rock/funky soundtrack; hard-driving, funky African music sets it apart from other "blaxploitation" STs; sure, Osibisa's no big deal otherwise, but this is their good record, all of it!; jacket shows 37 color stills & photos of Osibisa live!; TNT, Superfly Man, Prophets, Oye Mama, Kelele, Brotherhood, Come Closer (If You're a Man)..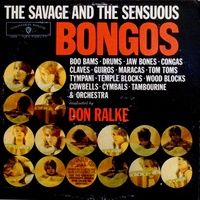 Don Ralke: The Savage & the Sensuous--Bongos; Warner Bros. W-1398; 1960; deep groove/1st E/N- $40 (or V+/E $35, specify) -- exotica/Afro-Cuban/percussion; rare, heroic, fantastic LP of hard-hitting originals (Afro-percussion on a voodoo theme); more exotic and less bongo-y than similar fare by Jack Costanzo and Jack Burger; features percussion superstars Carlos Vidal, Modesto Duran, Earl Palmer..; the rather hokey concept and West Coast packaging (welcome to Hollywood) belie sophisticated tunes, arranging, and swinging playing!; it definitely will become one of your favorites, as most Don Ralke stuff should (he did the Kookie album, after all); Head Hunter, Saoco, Ju-Ju Man, Mystery of Yambuya, Voodoo Priestess, Face Beside the Fire, Poison Dart, Black Panther, Zulu Magic, Moon Goddess, Ritual of the Cobra, Sacrifice of the Maidens, Safradesia, Mombasa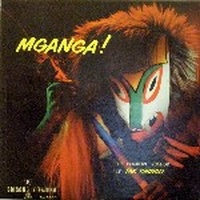 The Primitive Sounds of Tak Shindo: Mganga!; Edison International CL-5000; 1958; E-/V+ $75 -- African-themed exotica; all-original debut LP by the great Tak Shindo and Earle Hagen (who later wrote great exotica for "I Spy"); with groovy liner notes; while well worth it as a great record always in high demand, few can resist the hall-of-fame "witch doctor" jacket; Mombasa Love Song, Safari to Kenya, Nyoba Festival, Slave Chains of Mtumwa, Bantu Spear Dance, Rains of Okavango, Huts of Kichwamba, Manga (Ritual), Mwanza Market Place, N'Ga--The Maiden, Watusi Drum Dance, Port of Trinkitat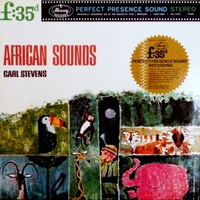 Carl Stevens: African Sounds; Mercury Perfect Presence Sound PPS-6030; 1965; gatefold; 1st/gold-label/deep groove N-/N S $40 -- African/exotic rock/exotica/mod twist; one of the few, essential, early-stereo-era hi-fi (audiophile series) treatments of African themes with an exotica bent; highlights include a zippy mod-twist original ("King Kong"), exotica "Call of the Jungle," and the fierce exotic-rock masterpiece for which YOU NEED THIS: "The Jungle Roars (Tiana-Tche)"; Baby Elephant Walk, Africkaan Beat, Wimoweh (The Lion Sleeps Tonight), Botha-Bothe, Jolly Kika, Call of the Jungle, Skokiaan, African Waltz, Wa-Chi-Bam-Ba (Valley of 1000 Hills), King Kong, Tsetse Fly, Tiana Tche (The Jungle Roars)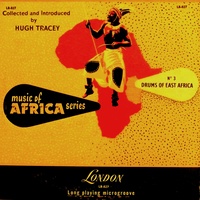 Hugh Tracey: Music of Africa Series No. 3: Drums of East Africa 10"; Decca/London LB-827; rec. 1952; E/E $30 -- African/percussion; fantastic, early series (great for sampling), all w/spoken introductions (before each cut) by Tracey, the UK's answer to Alan Lomax; last cut is terrific mbira (thumb piano)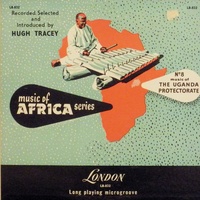 Hugh Tracey: Music of Africa Series No. 8: Music of the Uganda Protectorate 10"; Decca/London LB-832; rec. 1952; E/E $30 -- African/percussion; fantastic, early series (great for sampling), all w/spoken introductions (before each cut) by Tracey, the UK's answer to Alan Lomax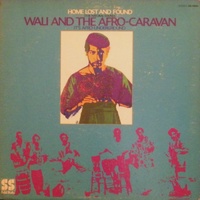 Wali & the Afro-Caravan: Home Lost & Found (The Natural Sound); Solid State SS-18065; 1970; gatefold V+/E- S $75 -- Afro-soul-jazz/spiritual soul jazz/conga/flute; "It's Afro-Underground"; deeply hip, funky one-off by hip Texans (if you know about it, you know you need it!), easily the highlight of Solid State, which picked it up for national distribution after a tiny local run on hopelessly obscure Sonobeat (the SS version is preferable, however); Afro-Blue & half a dozen terrific originals, all quite long & fascinating with tremendous conga throughout (sounds nearly as high-impact as Candido's "Beautiful"); absolutely unique, very moving, deeply hip, & loved by all who hear it; great jacket too, tho water-damaged in the lesser copy; Afro Blue, Arcane Message, Hail the King, Guaguanco Stroll, Mystique, Zulu for Hugh, Journey to Mecca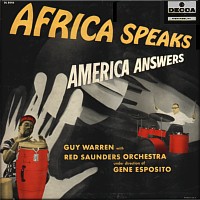 Guy Warren w/Red Saunders & Gene Esposito: Africa Speaks, America Answers!; Decca DL-8446; E+/E- $70 (or E+/V+ $60, specify) (or E+/as is $20, specify) -- African jazz; a legend!--the first African-jazz 12" LP; famed in jazz circles for the leading Chicago musicians but it's really the debut of Guy Warren, and it's terrific (big influence on Art Blakey and others); Africa Speaks, Ode to a Stream, Duet, Eyi Wala Dong, Monkees & Butterflies, Jazz as I See it, Invocation of the Horned Viper, Chant, My Minuet, The High Life, The Eyes of a Fawn, Fr-Ed-To-Ne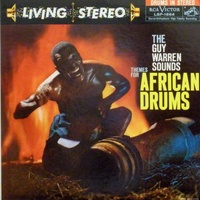 The Guy Warren Sounds: Themes for African Drums; RCA Victor LSP-1864; 1959; N-/N- S $40 (or E+/N- S $35, specify) (or 1st V+/E- S $20, specify) -- African/drums; "Drums in Stereo"; the classic that inspired Art Blakey's Afro-Drum Ensemble (this has the original "Love, the Mystery of"--a masterpiece) & established Warren as the leading Afro-jazz drummer of the UK & the US (where he headlined NYC's famous African Room); wonderful liners & a sensational jacket round out a favorite Victor beauty (along with the Knudson records, it's absolutely essential--YOU NEED THIS!; Ballad for Giraffes, Blood Brothers, The Talking Drum Looks Ahead..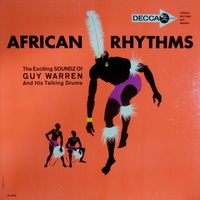 The Exciting Soundz of Guy Warren & his Talking Drums: African Rhythms; Decca DL-4243; deep groove cutout E+/N- $50 (or E/E- $35, specify) (or E-/V+ $25, specify) -- African-jazz/drum master's third US release is not as well-known as the other two but just as great, and likely rarer; awesome sound; Side 2 is the "Third Phase," an African Drum Symphony (also the title of a UK LP which may be the same--anyone have it or know?); Side 1: That's How She Walks, Hail the Soundz, My Anthem, Aesop's Fables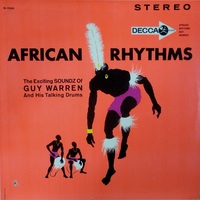 The Exciting Soundz of Guy Warren & his Talking Drums: African Rhythms; Decca DL-74243; sealed S $90 (or 1st/cutout N-/N- S $75, specify) -- rarer stereo!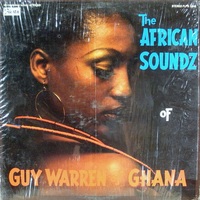 Guy Warren: The African Soundz of Guy Warren of Ghana; Fiesta FLPS-1646; N/E- shrink S $90 -- rare LP (has sold for $300), it's closer to high life but definitely one for Guy Warren fans to get excited about (as the wild liners suggest); brief scratch-tick at very end of first track seems to be the only noticeable flaw, and it's very tolerable at the price; African Dance No. 1, African Dance No. 2, African Sunset, African Dance No. 3, African Dance No. 4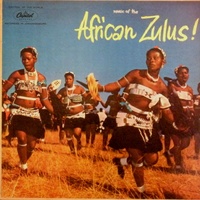 Various: Music of the African Zulus; Capitol of the World T-10114; E/V+ $30 -- African pop/jazz rec. in Johannesburg; super rare (one of the rarest/best in the series), gorgeous jacket photo, great liners/photos, fascinating music ranging from High Life to Afro-pop w/US influences; stars The Globe Trotters, Little Kid Lex, Lefu Mokoena, Elias & his Jazz Flutes, Country Jazz Band, Goli Sisters, The Sharpetown Swingsters, Jackson Ngobeni, The Melotone Brothers, Suzie & Grace; priced low for wear & noise (bothersome only on 1 or 2 tracks)
Afro-Beat: Original 45s/EPs
45s always mailed gratis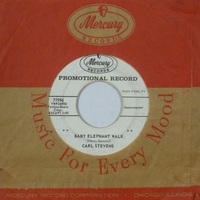 Carl Stevens: Baby Elephant Walk/The Call of the Jungle; Mercury 71996; 1965; white-label promo V+ $15 -- African/exotica/mod twist; rare single from the great African Sounds LP--both sides great!; wear but plays great and makes a fine addition to or sampler for the LP
Wanted in Trade:

Kirby Allan Group: Percussion for Primitive Lovers, Maze MAZ-B-331

Kirby Allan Group: Percussion For Playboys Volume One, Maze MAZ-B-385

Kirby Allan Group: Percussion For Playboys Volume Two, Maze MAZ-B-387

Chaino 45s (inquire)

Manu DiBango: African Voodoo (France)

Kenny Graham & his Afro-Cubists: Caribbean Suite & others (UK/Europe)

Thurston Knudson: Dark Drums; Tempo

Hugh Tracey: Music of Africa Series No. 1 10"; Decca (or London)

Guy Warren: Emergent Drums (and other UK/Europe records--inquire)
© Hip Wax