Funk: Black-Power Rap LPs & 45s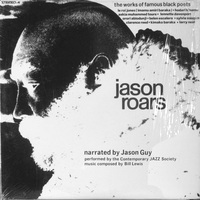 The Word: The Black Power movement of the 1960s led to a spoken, or narrated, idiom on records. Often there was music performed with it, but as a form of "rap" it bridged the hep rap of jazz vocalists (Slim Gaillard, Babs Gonzales, Scatman Crothers, etc.) and what is currently considered rap. This page may offer some other spoken items pertaining to African-American history.
Amiri Baraka, The Last Poets, and Gil Scott-Heron are best known, but some of the best is on the Black Forum label (rare subsidiary of Motown!) plus a few wonders by relative unknowns. References to, or performances by, Black Panther members, use of bongos, and themes such as Vietnam all characterize an outcome of the struggle for Civil Rights as it appears on LPs.
Further below: 45s
Links: are to subpages or artists bio/discog pages in the Hyp Records guide:

Images: accurately represent items but are not always the exact copy listed/purchased
Discount: ALWAYS try to buy more than one item at a time
---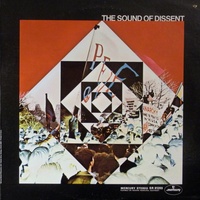 Dan Armstrong/Various: The Sound of Dissent; Mercury SR-61203; cutout E+/N S $40 -- funk/speech; original funky music w/terrific breaks & speech samples!; forget "The Delegates" and other post-Dickie Goodman schlock; forget also the annual news-in-review LPs of just speeches; this is original, together, happening!; with Eartha Kitt, Dr. Spock, George Wallace, Paul Krasner, Stokeley Carmichael, JFK..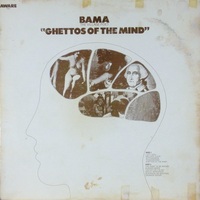 Bama, the Village Poet: Ghettos of the Mind; Chess/Aware 1001; V-/V S $25 -- black-power rap/breakbeats; spoken w/music; fantastic, unique work that every student of Last Poets, etc., needs to know and love; even has a priceless piece on Thanksgiving (add that to your holiday-music collection)!; condition is worn, play is "as is" (some pops but generally good), and it's a great find at the price; I Got Soul, Welfare Slave, Nothingness, Thanksgiving, Ghettos of the Mind, The Right to be Wrong, Blessed Marie, Justive Isn't Blind, Social Narcotics, Blackman--My Brother, Drunken Sister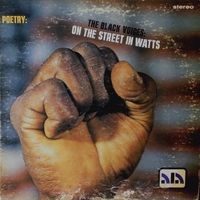 The Black Voices: On the Streets in Watts; ALA 1970; gatefold; V/E S $30 (or V/E- S $25, specify) -- Black-Power Rap (Last Poets style); low, low price for this rare Los Angeles wonder because of jacket wear (and you can't listen to cardboard, right?); great value: one of the very few LPs that rival the Last Poets!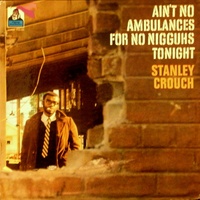 Stanley Crouch: Ain't No Ambulances for No Nigguhs Tonight; Flying Dutchman FDS-105; 1969; gatefold cutout E-/E+ S $45 -- spoken; 47 classic minutes of the esteemed jazz critic and cultural commentator Crouch; very scarce LP that's always in demand (among the hip), so snap it up!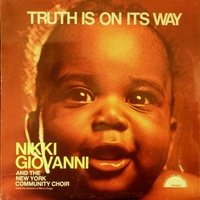 Nikki Giovanni & the New York Community Choir under the direction of Benny Diggs: Truth is On Its Way; Right-On RR-05001; sealed S $30 -- Black Power rap/gospel/poetry; her first & best LP, fantastic stuff: Ego Tripping (an ultimate BRAG, in the tradition of the Dirty Dozens, also her own favorite piece which she read recently on NPR), Great Pax Whitey, Second Rapp Poem..; not rare but here it's original, unopened, uncut, perfect!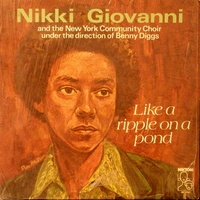 Nikki Giovanni & the New York Community Choir under the direction of Benny Diggs: Like a Ripple on a Pond; Atlantic/Niktom NK-4200; 1973; N-/N- shrink S $20 -- Black Power rap/gospel/poetry; more essential stuff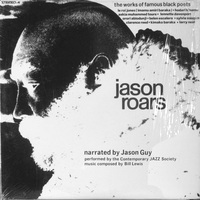 Jason Guy & the Contemporary Jazz Society: Jason Roars; Radnor R-2005; 1971; N/N-* shrink S $125 -- Black Power rap/out jazz/funk/bongos/poetry/private; "the works of famous black poets" (Amiri Baraka, Clarence Reed, Sylvia Vaughn..), with music composed by Bill Lewis; one of the top LPs of its kind (like Nation Time) with a lot of heavy sounds to go with the awesome, no-holds-barred poetry rap (when you've outgrown the Last Poets...); A Jive Eschatology, Addicted, Trane, Dig Your Revolutionary Wig, Sermon, Dreams/Black Dreams, I Sit & Meditate, Who Is This Woman, Brotherhood, Untitled; impeccable shape, no wear and just the slightest occasional noise endemic to the pressing/type of recording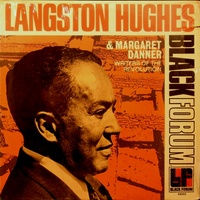 Langston Hughes & Margaret Danner: Writers of the Revolution; Motown/Black Forum B-453-L; 1970; cutout N/N shrink S $25 -- spoken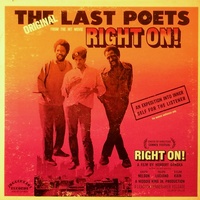 The [Original] Last Poets: Right On!; Juggernaut JUG ST-8802; 1968; gatefold V+/V+ S $20 -- Black Power rap/Afro-American poetry w/music; prod. Juggy Murray; "an expedition into inner self for the listener--for mature audiences only"; "A Woodstock in Poetry"; "Revolutionary revelation"--Imamu Baraka; terrific record inspired by the film (part soundtrack)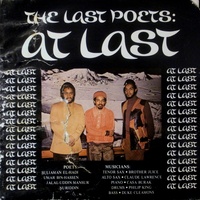 The Last Poets: At Last; Blue Thumb BTS-52; 1973; later pressing cutout water-damaged jacket V+/E+ S $20 -- Black Power rap/Afro-American poetry w/music; as fantastic, intense, and necessary as any & all their great records; unless you're a total square, do not fail to own this masterpiece!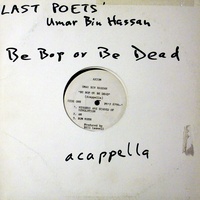 [Last Poets'] Umar Bin Hassan: Be Bop or Be Dead (Acappella); Axiom PR-12; generic jacket N- S $60 -- spoken Black Power rap; Last Poets member prod. by Bill Laswell on a tear, rare & GREAT!!!; Niggers Are Scared of Revolution, AM, Bum Rush, This is Madness, Malcolm, 40 Deuce Street, Personal Things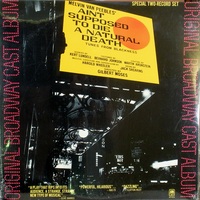 Melvin Van Peebles: Ain't Supposed to Die a Natural Death--tunes from blackness OC/ST; A&M SP-3510; 1972; 2-LP gatefold sealed S $25 -- read all about it: http://en.wikipedia.org/wiki/Ain't_Supposed_to_Die_a_Natural_Death -- including track list, and you can see YouTube clips and so on; if you like Last Poets and the like, this is one musical you'll have to have (plus it's virginal!)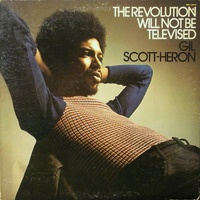 Gil Scott-Heron: The Revolution Will Not be Televised; Flying Dutchman BDL1-0613; 1974; gatefold E/E S $25 -- Black Power rap; terrific compilation of the best from his 3 first LPs (all top classics); very hip & essential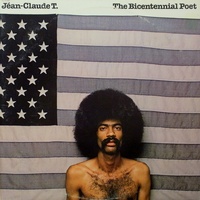 Jean-Claude T.: The Bicentennial Poet; CBS/Philadelphia International PZ-34246; 1976; white-label promo E/N S $60 (or same/timing strip E/E- S $30, specify) -- black-power rap/spiritual soul jazz/sex; prod. by Phil Terry; obscure, promo-only Philly wonder; JCT was the 1st poet to appear at the Playboy Club in Beverly Hills & his style is "Black-power rap" (tho more modern & like Gil Scott-Heron rather than Last Poets), i.e., narrated w/bongos plus more-orchestrated pieces; "Nude & Next to Nature Theme" (w/responding female) is the killer sex groove for DJs, & there's plenty more to be excited about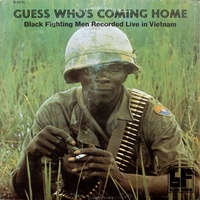 Wallace Terry [interviewer]: Guess Who's Coming Home--Black Fighting Men Recorded Live in Vietnam; Motown/Black Forum B-454-L; 1972; gatefold; promo E+/E+ S $100 -- black power rap/spoken/interviews; unique, legendary, and incredible (probably the best thing on the label, along with "Nation Time") and covering both racism and war, and ultimately going beyond [in real experiences] the direction Rev. Martin Luther King, Jr. was going in with the anti-war speeches he made the end of his life; you will hear all kinds of language and plenty about Black Panthers, Klan, etc.; awesome, awesome, awesome!!!; get it while you can!!!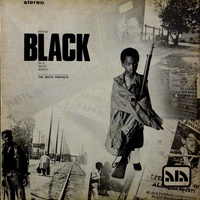 The Watts Prophets: Rappin' Black in a White World; ALA 1971; 1971; 1st press E+/N- S $60 (or 2nd cutout N/N shrink S $50, specify) (or 2nd E/E- S $30, specify) -- Black-Power Rap (Last Poets style); the best of the few efforts that even dared to emulate the great Last Poets succeeds at it marvelously; once you have this, the Last Poets LPs, and a few others you'll be able to spin rap day and night without ever moving beyond 1973 or so--right on!!!; great jacket, CRAZY HIP!!!; note: the second press has all the titles listed on the jacket, otherwise identical; Sell Your Soul, Take It, Instructions, Amerikkka, Ask Not, Dem Niggers Ain't Playing, Pain, Freedom Flame, What Is a Man, A Pimp, Tenements, The Master, Hello Niggers, There's a Difference Between a Black Man and a Nigger, What It Is Sisters, Everybody Watches, Watch Out Black Folks, The Prostitute, F*cked, Angela, Wake Up, Tick-Tock, Black in a White World
Black-Power Rap: Original 45s/EPs

[none]



© Hip Wax