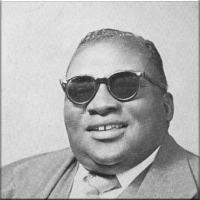 No Latin record collection of any worth lacks an Arsenio section. There is no more hallowed name, no more influential presence felt in either Cuban roots music or its New York Puerto Rican derivates than that of Arsenio Rodriguez. Blind since the age of seven, he played the country "tres" guitar and gave a voice to black/African Cubans at a time when white/Spanish Cubans were presumed to be "it." He called his folkloric music "quindembo," a Congolese word meaning a mixture. And as the father of modern Latin dance music, Arsenio established clave as the basis for Afro-Cuban music, introduced the son montuno in 1940, and profoundly influenced all who followed.
Arsenio was born August 30, 1911, in Guira de Macurije, in the province of Matanza, Cuba, the fourth of eighteen children. He learned the musical instruments and traditions of both his Congo heritage and Spanish influences. After percussion and bass instruments he learned the tres (folk guitar), which he eventually mastered. He came to New York to record, live, and play. Also there was an attempt by doctors to restore his sight, which he'd lost in 1917 to a mule kick. He died December 30th, 1970.
Arsenio is credited with inventing the mambo rhythm in a tune from 1937, which greatly influenced both Cachao and Perez Prado. Musicians associated with Arsenio who became stars in their own right include legendary trumpeter Alfredo "Chocolate" Armenteros, Felix Chappottin (who led Arsenio's Cuban orchestra after the master moved to the U.S.), and singers Miguelito Valdes, Miguelito Cuni, and Carlos Ramirez. Arsenio's death in 1970 marked the end of the Golden Age of Afro-Cuban music. While there have been various tributes (notably one by Larry Harlow and a various-artists compilation, both on Fania), Arsenio really cannot receive enough recognition.
Buying: Some SMC, Coda, and Seeco LPs do not credit Arsenio directly (because he was under contract with RCA) but are him. Also there are many rare recordings, particularly SMC singles, on which he plays uncredited. Most of his records are collectors items; the RCA/Carino, Cubanitas, Seeco, and Ansonia LPs are moderately priced but also highly desirable.