Guitar/Steel Guitar/Ukulele: Original LPs
lap, pedal, dobro, slide, electric, country guitar, ukulele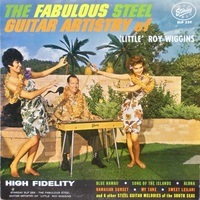 The Word: All things guitar in pop and country (jazz and funk guitar listed elsewhere, as are Hawaiian and Indian records). Jerry Byrd, Al Caiola, Pete Drake, Leon McAuliffe, Alvino Rey, Roy Smeck, Speedy West, and Little Roy Wiggins are just a few of the big names in guitar and steel guitar. Dobro, slide, and "country guitar" such as Joe Maphis and Arthur "Guitar Boogie" Smith also are here, as are Starday compilations which have at least some steel or country guitar. In general pop guitar some ukulele items are here, too.
Further below: 45s
Links: are to subpages or artists bio/discog pages in the Hyp Records guide:

Images: accurately represent items but are not always the exact copy listed/purchased
Discount: ALWAYS try to buy more than one item at a time
---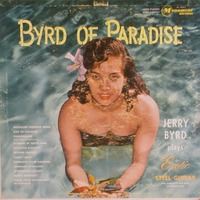 Jerry Byrd: Byrd of Paradise; Monument M-4003; 1961; V/E- $20 -- steel guitar/Hawaiian/exotica/Tahitian; with wordless chorus, it's definitely exotic and lush, also the rare first of three or so for the label; very curiously, this one was reissued later in stereo with a different jacket (of Jerry, not Miss Nalani Weeks, as here); the jacket has wear on the face but is remarkably better on the back, and the disc has a little noise in spots (cheap pressing); still, it's a good value and an opportunity for the collector; Hawaiian Wedding Song, Bird of Paradise, Lei Aloha Lei Makamae, Evening in the Islands, Beautiful Kahana, Beyond The Reef, Tangi Tahiti, Rainbows Over Paradise, Whispering Lullaby, Serenade to Nalani, Sleepy Serenade, Theme from "Adventures In Paradise"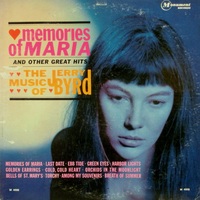 Jerry Byrd: Memories of Maria; Monument M-4008; 1962; 1st press V+/E- $15 -- steel guitar; this was reissued on the label under another title but here's the real thing; Memories of Maria, Last Date, Breath of Summer, Golden Earrings, Torchy, Cold Cold Heart, Bells of St. Mary's, Ebb Tide, Orchids in the Moonlight, Among My Souvenirs, Green Eyes, Harbor Lights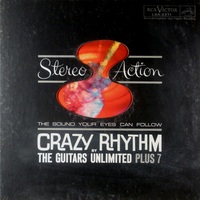 [Al Caiola &] The Guitars Unlimited Plus 7; RCA Victor Stereo Action LSA-2371; 1961; die-cut, deep groove E-/E+ S $25 -- guitar; instrumental; one of the best, most swinging in the series (hey, it's GUITAR!!!) and one of the harder ones to find; Expresso (GREAT!), Diga Diga Doo, Lady of Spain, Anitra's Dance, This Can't Be Love, The Donkey Serenade, Nola, La Rosita, Glow Worm, Air Mail Special, Puppet on a String, Crazy Rhythm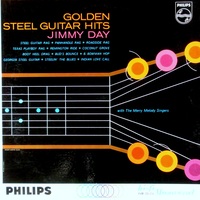 Jimmy Day: Golden Steel Guitar Hits; Philips PHM-200-016; 1962; N/E- $15 -- steel guitar/vocal pop; it's a pretty scarce one-off but worthy; the Merry Melody Singers (top ex-Jordanaires, etc. chorus) add a little vocal color but nothing too intrusive, and one look at the titles will give you a good idea; recorded in Nashville with Hal Bradley and Jerry Kennedy; Steel Guitar Rag, Panhandle Rag, Roadside Rag, Texas Playboy Rag, Remington Ride, Cocoanut Grove, Boot Heel Drag, Bud's Bounce, B. Bowman Hop, Georgia Steel Guitar, Steelin' the Blues, Indian Love Call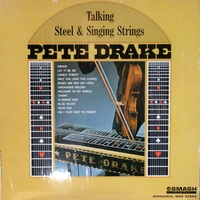 Pete Drake: Talking Steel Guitar & Singing Strings; Mercury/Smash MGS-27064; 1965 (or 1964); 1st press N/N shrink $20 -- steel guitar/vocal pop; by this time the "talking steel guitar" thing was a bit played out (Peter Frampton was still a decade away), but if you still want more, or just like the idea of rare Pete Drake LPs in perfect shape, this is for you; Dream, Only You, Let it Be Me, Roses are Red, Lonely Street, Unchained Melody, Welcome to My World, Tammy, Clinging Vine, Blue Velvet, Near You, Am I that Easy to Forget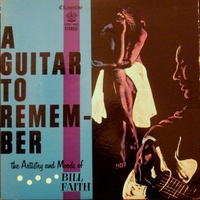 Bill Faith (w/Frank Hunter): A Guitar to Remember; Chancellor CHLS-5007; deep groove N-/E- S $15 -- guitar/exotica/chorus; very rare, small-label Philadelphia LP featuring striking jacket art (beatnik-worthy); Faith plays pop-jazz guitar in the cafe style of late-'50s, small-group Caiola, Mottola, Burrell, Lowe, etc.; also impressive are Frank Hunter's backgrounds, w/voice on a couple of cuts (things get ethereal here in a way that presages his legendary exotica masterpiece, "White Goddess")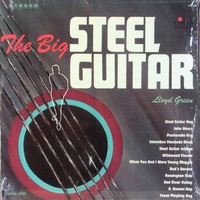 Lloyd Green: The Big Steel Guitar; Time S-2152; 1964; N/E+ shrink S $25 -- w/Charlie McCoy, Harold Bradley, Fred Carter, Kelso Herston--arr.; Steel Guitar Rag, Columbus Stockade Blues, Red River Valley, John Henry, Bud's Bounce, Panhandle Rag, Steel Guitar Jubilee, Wildwood Flower, When You and I Were Young Maggie, Remington Ride, B. Boman Hop, Texas Playboy Rag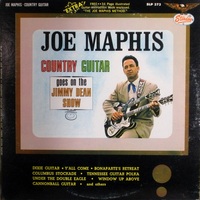 Joe Maphis: Country Guitar Goes to the Jimmy Dean Show; Starday SLP-373; 1966; E-/E- $15 -- guitar/country; the leading champion of double-neck Mosrite guitar (and Starday instrumentals) never disappoints, and what you get with a stalwart old Starday is nothing but great picking and great sound; Dixie Guitar, Bonaparte's Guitar, Wildwood Flower, Window Up Above, Columbus Stockade, Y'All Come, Cannonball Guitar, Bury Me Beneath the Willow, Tennessee Guitar Polka, Seasons of My Heart, Maybelle, Under the Double Eagle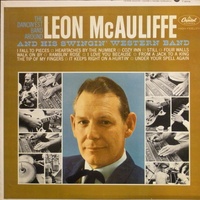 Leon McAuliffe & his Swingin' Western Band: The Dancin'est Band Around; Capitol T-2016; N/N $15 -- steel guitar; ex-Bob Wills steel-guitar/Western swing hero; I Fall to Pieces, Walk on By, Under Your Spell Again, Still, From a Jack to a King, Cozy Inn, Ramblin' Rose..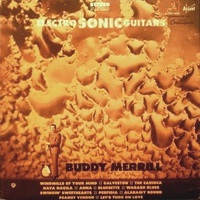 Buddy Merrill: Electrosonic Guitars; GNP/Accent ACS-5028; white-label promo cutout N/N S $20 -- guitar; some of his best work (even if the title is a bit misleading to those of who expect something worthy of the Moog page); Carioca, Galveston, Let's Turn On Love, Alabamy Bound, Anna, Bluesette, Perfidia, Windmills of Your Mind, Wabash Blues, Swingin' Sweethearts, Peanut Vendor, Hava Nagila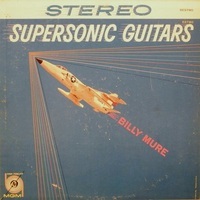 Billy Mure: Supersonic Guitars; MGM SE3780; 2nd/flat cutout V+/E S $15 -- guitar; exotic tunes by guitar god who learned at the knee of Roy Smeck (the original guitar god); far scarcer than the RCA LPs, this one has a great jacket of a navy jet ascending (a little rub wear on this copy, which keeps the price low); Hindustan, Lover's Guitar, Limehouse Blues, Marie, Pagan Love Song, Tiger Guitars, Guitars in Space, Granada, Pennies from Heaven, El Cumbanchero, High Tide Boogie, Linger Awhile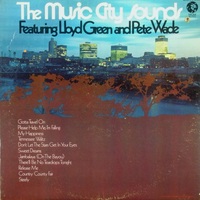 The Music City Sounds, featuring Lloyd Green & Pete Wade; MGM SE-4672; cutout E+/N S $20 -- steel-guitar; we can't get over the great sound on this one, it really jumps out of the mighty JBLs; on MGM it's scarce, steel-led country, upbeat, with loud, mod, top sound!; Gotta Travel On, Please Help Me I'm Falling, Jamabalaya, Steely, There'll Be No Teardrops Tonight, My Happiness, Tennessee Waltz, Release Me, Don't Let the Stars Get in Your Eyes, Sweet Dreams, Country County Fair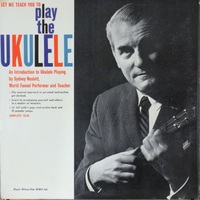 Sydnet Nesbitt: Let Me Teach You to Play the Ukulele; Music Minus One MMO-150; 1961; with all inserts E/E+ $25 -- uke instruction/spoken with music; a real treat for the ukulele learner/player, this is yet another now-obscure uke hero with a voice as affecting as that of Cliff Edwards or Arthur Godfrey; hailing from England and later Canada and known as the "Flying Minstrel" for pre-War piloting, he had a respectable Vaudeville-era career, putting out his first instruction-book and record for uke some 35 years before this one; Music Minus One always does fine stuff, and this is one of the best, as it's a very intimate session with a lost master, including inserts; recommended along with Roy Smeck, Ohta-San, and all the other uke masters available here, right now!; see YouTube for an example drawn from this very rare LP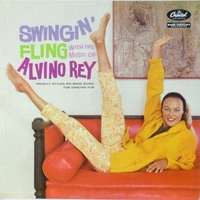 Alvino Rey: Swingin' Fling; Capitol T-1085; 1st press E+/E+ $25 -- steel and slide guitar with bongos and orchestra; "freshly styled, big-band music for dancing fun"--in other words, classic space-age-bachelor-pad music--swings!; one of a scarce pair for the label by the beloved bandleader and Esquivel guitarist (this LP has that signature sound); terrific jacket, music, and Warren Barker even arranged some of it; I Love Paris, How High the Moon, Swingin' Fling, Night Train, I Didn't Know About It, Isn't It Romantic?, Speak Low, Rock Gently, Little White Lies, Softly as in a Morning Sunrise, Chukkar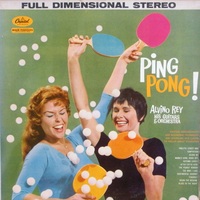 Alvino Rey, his Guitars & Orchestra: Ping-Pong!; Capitol ST-1262; E/E+ S $25 (or E/E- S $20, specify) -- console steel guitar; one of a scarce pair of fun ones for the label (not counting a couple of others that are pure mush) by beloved bandleader, guitar pioneer/tinkerer/inventer, and later Esquivel [slide/steel] guitarist; this LP has all of that signature Esquivel sound, with bongos and some vocals on some cuts, all serving up the slick arrangements of far-out exoticist Warren Barker; topped off by fetching cheesecake jacket of two exhuberant pongers, it's first-rate "space-age pop" all the way!; Twelfth Street Rag, Temptation, Aloha Oe, Mama's Gone Good Bye, Autumn Leaves, After You've Gone, The Peanut Vendor, The Man I Love, Sentimental Journey, Tenderly, Begin the Bequine, Blues in the Night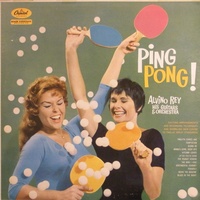 Alvino Rey, his Guitars & Orchestra: Ping-Pong!; Capitol T-1262; E/N $20 (or E-/N- $15, specify) -- console steel guitar; one of a scarce pair of fun ones for the label (not counting a couple of others that are pure mush) by beloved bandleader, guitar pioneer/tinkerer/inventer, and later Esquivel [slide/steel] guitarist; this LP has all of that signature Esquivel sound, w/bongos and some vocals on some cuts, all serving up the slick arrangements of far-out exoticist Warren Barker; topped off by fetching cheesecake jacket of two exhuberant pongers, it's first-rate "space-age pop" all the way!; Twelfth Street Rag, Temptation, Aloha Oe, Mama's Gone Good Bye, Autumn Leaves, After You've Gone, The Peanut Vendor, The Man I Love, Sentimental Journey, Tenderly, Begin the Bequine, Blues in the Night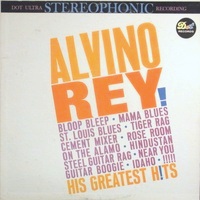 Alvino Rey: His Greatest Hits; Dot DLP-25391; 1st E/E- S $25 (or deep groove mono DLP-3391; E/E+ $20, specify) -- steel guitar/odd pop; WOW! not a compilation at all but a whole new album of his early hits (78s) remade in glorious, modern, hi-fi stereo with top orchestration, arrangements, and playing; this is not a "lazy" steel-guitar album but an exciting, unique, mainly uptempo wonder (top space-age pop!); features some of the novel instrument adaptations (such as "talking guitar") for which the steel-guitar pioneer is famous (besides leading top orchestras, backing the King Sisters, and playing guitar for Esquivel); on top of all that, it's easily his most exciting LP and the greatest stereo showcase on the quirky little Dot label; Steel Guitar Rag, Mama Blues (the original talking-guitar tune!!!), Rose Room, Hindustan, Bloop Bleep, Tiger Rag, St. Louis Blues, Cement Mixer, Idaho, On the Alamo, Near You, Guitar Boogie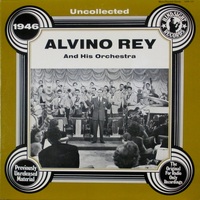 Alvino Rey: The Uncollected 1946 (Vol. 1); Hindsight HSR-121; 1978; N-/N $15 -- steel/bandleader; great series rescues and nicely presents (with full liner notes) 16 tracks from his days as a young bandleader, when he was experimenting with electric guitar and new devices, plus you'll get a steel-guitar feature or two; great value, and a lot hipper than your old man's nostalgia, for sure; How High the Moon, Bumble Boogie, Land of the Sky Blue Water, You've Got Me Crying Again, April in Paris, Yesterdays, Dardanella, Stocking Horse, Sheik of Araby, Just You Just Me, Between the Devil and the Deep Blue Sea, Should I, Russian Lullaby, Hey Frantic: Relax, High Octane, Blue Lou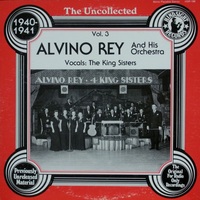 Alvino Rey: The Uncollected 1940-41 (Vol. 3)--Vocals: The King Sisters; Hindsight HSR-196; 1983; E+/N $15 -- steel/bandleader; great series rescues and nicely presents (with full liner notes) 12 tracks from his days as a young bandleader with the King Sisters singing; great value, and a lot hipper than your old man's nostalgia, for sure (like Raymond Scott); Julep Time in Labrador, So You're the One, Stumbling, Three Blind Mice, Rockin' Chair, Copenhagen, That's a-Plenty, Georgia on My Mind, Dixieland One-Step, With a Twist of the Wrist, 12th Street Rag, Nighty-Night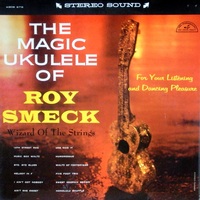 Roy Smeck "The Wizard of the Strings": The Magic Ukulele of Roy Smeck; ABC-Paramount ABCS-279; 1st press, deep groove N/N shrink S $30 -- ukulele/guitars; THE classic uke LP with guest guitarists Joe Puma, Tony Mottolo, Al Casamenti, and George Barnes (with Milt Hinton bass, Osie Johnson drums); if you're going to have just one Smeck LP, this is probably the one (especially if you're playing the jumping flea), although really you need them all; Twelfth Street Rag, Music Box Waltz, Bye Bye Blues, Melody in F, I Ain't Got Nobody, Ain't She Sweet, Uke Said It, Humoresque, Waltz of Yesteryear, Five Foot Two, Sweet Georgia Brown, Honolulu Shuffle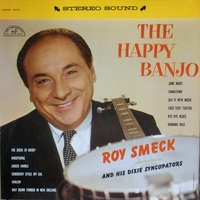 Roy Smeck & his Dixie Syncopators: The Happy Banjo; ABC-Paramount ABCS-309; deep groove N-/E+ S $20 -- pop banjo/guitar; "for your dancing and listening pleasure"; classic banjo and one of the essential Roy Smeck LPs (very good listening even if you're not a banjo baron); June Night, Chinatown My Chinatown, Say It With Music, Toot Toot Tootsie, Bye Bye Blues, Running Wild, The Sheik of Araby, Whispering, Linger Awhile, Somebody Stole My Gal, Avalon, Way Down Yonder in New Orleans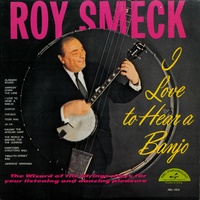 Roy Smeck: I Love to Hear a Banjo; ABC-Paramount ABC-484; E+/N $20 -- pop banjo/guitar; "The Wizard of the Strings plays for your dancing and listening pleasure"; classic banjo and one of the essential Roy Smeck LPs (very good listening even if you're not a banjo baron); Goofus, Alabamy Bound, Japanese Sandman, Twelfth Street Rag, Chicago, The World is Waiting for the Sunrise, Darktown Strutters' Ball, Swingin' Down the Lane, Raggin' the African Harp, Ja-Da, I Love to Hear sA Banjo, Tiger Rag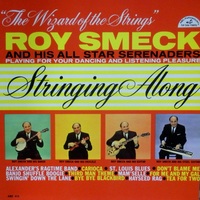 Roy Smeck "The Wizard of the Strings" & his All Star Serenaders: Stringing Along; ABC-Paramount ABC-412; N-/E+ $20 -- guitars; late great one!; jacket shows four photos: banjo, ukulele, guitar, and steel which echo his breakthrough "soundie" film recording in which he ABSOLUTELY beat Les Paul to the multi-track/dubbing punch (that's right, guitar wonks: ROY SMECK WAS FIRST!!!); all instruments are electric (amplified and wired to the mixer), and of course Smeck beat Les Paul to that punch as well; 3rd Man theme, Alexander's Ragtime Band, Bye Bye Blackbird, St. Louis Blues, Don't Blame Me, Hayseed Rag, Swingin' Down the Lane (steel guitar), Banjo Shuffle Boogie, Tea for Two, Carioca, Mam'selle, For Me & My Gal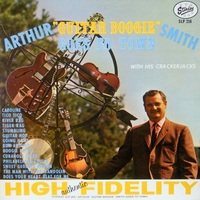 Arthur "Guitar Boogie" Smith Goes to Town with his Crackerjacks; Starday SLP-216; yellow label E/E- $15 -- guitar; his work for the label is top-notch, uptempo, and always a thrill; one banjo tune but otherwise terrific guitar; Stumbling, River Rag, Does Your Heart Beat For Me, Tiger Rag, Philadelphia Guitar (hip!), Man with the Mandolin, Run Around, Guitar Hop, Sweet Georgia Brown, Caroline, Tico Tico, Boogie Battle, Cubanola Glide, Going Home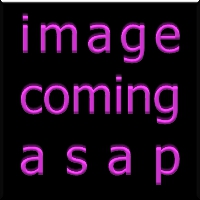 Arthur (Guitar) Smith & Voices; ABC-Paramount ABC-441; 1963; N/E+ shrink $15 -- guitar; remakes "Guitar Boogie" without voices, which is the payoff here; the stuff with voices would be better without voices (we're spoiled by his great work on Starday); in any case it's certainly a rare record in top shape at a very favorable price; Guitar Boogie, I Love You So Much It Hurts, Golden River, Sioux City Sue, Darling Meet Me Somewhere in Your Dreams, Little Baby, In a Shanty in Old Shanty Town, Dream, My Blue Heaven, Tumblin' Tumbleweeds, Stompin' at the Savoy, My Happiness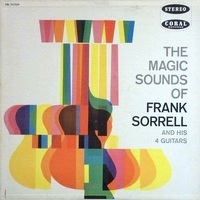 Frank Sorrell [& his 4 Guitars]: The Magic Sounds of Frank Sorrell; Coral CRL-757324; E-/E- S $15 -- steel/guitar/pop; one of our all-time favorite, Roy Smeck/Alvino Rey/Billy Mure -style records but far rarer and more obscure; three electric guitars back a steel lead (plus rhythm, natch--including at least one bongo breakbeat), with much of it at a very rockin', uptempo, Frank Virtue-esque pace; features an unusual textured jacket (Decca/Coral had a few like this); RARE and FUN!; Sentimental Journey, The World is Waiting for the Sunrise, Blue Shuffle (original), On the Beach at Waikiki, Cloudy Night (original), The Umbrella Man, Tipica Serenada, Blue Moon, The Sweetheart Waltz, Goofus Cha-Cha (fans of "Stereo Action"-era Three Suns will love!), These Things I Offer You (for a Lifetime), Larry's Lullaby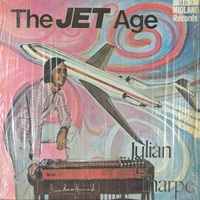 Julian Tharpe: The Jet Age; Midland MD-2 (formerly ML-JT-1001); 1978; N/E shrink S $30 -- steel guitar/soul jazz/private press; if you thought Freddie Roulette's was the only funky steel-guitar record, guess again; here "Sack-O-Woe" is the funky pick and it's well worth it for that alone; some nice non-funky pickin' on the rest, too; Sack-O-Woe (Julian Adderley), Superstar (Leon Russell), Where Is the Love, Lonely Street, Twelfth of Never, Boogie, Rainy Day, On a Clear Day.., Close to You, Danny Boy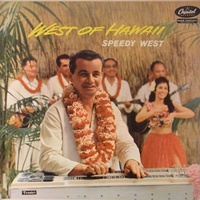 Speedy West: West of Hawaii; Capitol T-956; 1958; 1st E-/V+ $20 (or 2nd/spectral V+/V- $15 -- steel guitar/Hawaiian; wonderful, scarce LP full of charm, including the jacket art; wear but plays nicely on the whole; save a little if you get it with Guitar Spectacular; On the Beach at Waikiki, Blue Hawaii, Ka-Lu-A, Moon of Manakoora, Hawaiian War Chant, Sweet Hawaiian Chimes, Yaaka Hula Hickey Dula, My Tane, Drifting and Dreaming, Luna, My Little Grass Shack, Song of the Islands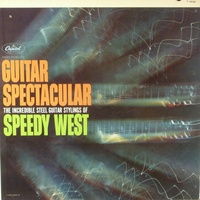 Speedy West: Guitar Spectacular; Capitol T-1835; N-/N- shrink $60 (or cutout E+/E $40, specify) -- steel guitar/space/Hawaii/Western Swing; start with the fact Speedy West is one of the greatest men of steel, then know that this is probably his best record (all fantastic and nice variety, as a glance at the sensational original titles will tell you), and finally dig that it's one of the best things on Capitol (right up there with Wanda's 3rd and Jerry Cole & the Spacemen); Space Man in Orbit, Sunset at Waikiki, Lazy Summer Evening, Totem Pole Dance, Afternoon of a Swan, Speedy's Special, Double or Nothing, Slow and Easy, Reflections from the Moon, Tulsa Twist, Rippling Waters, Wild and Woolly West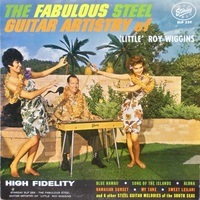 Little Roy Wiggins: The Fabulous Steel Guitar Artistry of Little Roy Wiggins; Starday SLP-259; 1964; 1st press E/E- $50 -- steel guitar/Hawaii; Hawaiian songs!; with Harold Bradley on guitar & ukulele, and on Starday, obviously it's a winner for all the right reasons (artist/label/idiom/content, etc.), and the jacket photo just tops it off; RARE!; Song of the Islands, Waikiki Wiggle, Sweet Leilani, Driftwood, South Sea Melody, Blue Hawaii, Steel Guitar Hula, Hawaiian Sunset, Honolulu Nights, My Tane, The Hilo Hattie Shake, 'Til We Meet Again (Aloha)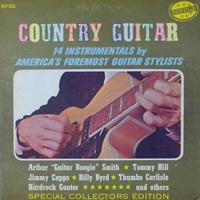 Various: Country Guitar; Starday/Nashville NLP-2021; 1965; E/N- $20 -- "Special Collectors Edition"; boxcars o' hot licks in gloriously loud hi-fidelity, 14 tracks!; Billy Byrd & Jimmy Capps: Bee Byrd Bounce, Jimmy Capps: The Natchez Trace, Hardrock Gunter: Blue Guitar, Eddie Eddings: Country Boogie, Billy Byrd: Gibson Girl, Hardrock Gunter: Memphis, Thumbs Carlisle: Springfield Guitar Social, Arthur "Guitar Boogie" Smith: Sugarfoot, Jimmy Capps: Nashville Shuffle, Hardrock Gunter: Raggin' the Guitar, Jimmy Capps: Chattanoogie Bound, Billy Byrd: Teen Age Blues, Tommy Hill: Skip Along, Hardrock Gunter: After Hours Guitar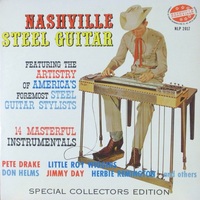 Various: Nashville Steel Guitar; Starday/Nashville NLP-2017; N-/N- $25 -- "Special Collectors Edition" (steel-guitar compilation); reissues a scarce Starday in top shape with gloriously loud hi-fidelity thanks to hefty vinyl, and it's all 14 tracks by the biggies in their respective primes!; Pete Drake: Star Gazing, Jimmie Day: Pushin' Pedals, Pete Drake: For Pete's Sake, Don Helms: Big News, Herbie Remington: Station Break, Dick Stubbs: Wired for Sound, Al Petty: Steel Guitar Wobble, Little Roy Wiggins: Ting a Ling, Jimmy Day: Liberty Drive, Pete Drake: Southern Sunday, Little Roy Wiggins: Wiggins Wiggle, Don Helms: Theme Time, Pete Drake: Steel After Hours, Al Petty: Steel Guitar Special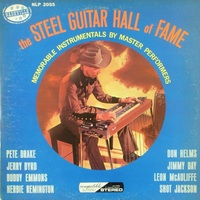 Various: The Steel Guitar Hall of Fame; Starday/Nashville NLP-2055 (budget version of SLP-233); E/E- $15 -- steel guitar; "memorable instrumentals by master performers"--the real deal; missing from the regular Starday version, apart from a change in liner photos, are notes about each cut and four lesser tunes (by Deacon Brumfield, Cousin Jody, Tommy Hill/Wiggins, and Speedy West) but instead you gain good shape, low price, and (most important) availability; Jerry Byrd: Hilo March, Jimmy Day: Steel Driver, Pete Drake: Pleading, Buddy Emmons: Singing Strings, Don Helms: Opry Express, Shot Jackson: Salty Dog, Leon McAuliffe: Columbus Stockade, Bashful Brother Oswald: Beneath the Willow, Herbie Remington: Nashville Glide, Little Roy Wiggins: Tennessee Plowboy)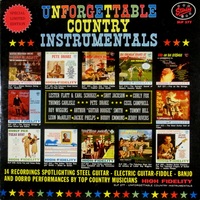 Various: Unforgettable Country Instrumentals; Starday SLP-277; E/E $20 -- steel guitar/dobro/instrumental; thick vinyl, top mono sound, thumbnails of the great (and seriously rare--we're still looking for some) LPs it comps, which are mainly the coveted steel guitar and dobro but also some regular guitar and fiddle; Roy Wiggins: Waikiki Wiggle, Arthur "Guitar Boogie" Smith: Troubled Mind Blues, Curly Fox: Mockingbird Reel, Buddy Emmons & his Steel Guitar: Singing Strings, Shot Jackson and his Dobro: I'll Be All Smiles Tonight, Flatt & Scruggs: Foggy Mountain Breakdown, Jackie Phelps and his Electric Guitar: Alabam, Tommy Hill: Twin Fiddle Polka, Fiddlin' Arthur Smith: Dickson County Blues, Cecil Campbell and his Steel Guitar: Cecil's Steel Guitar Special, Thumbs Carlisle and his Electric Guitar: Springfield Guitar Social, Jerry Rivers: Story of the Fiddle, Pete Drake and his Steel Guitar: Pleading, Leon McAuliffe: Orange Blossom
Guitar: Original 45s

[none currently]

Pop Guitar LPs Wanted in Trade:

The Echo Men: Elephant Rage; Plaza PL-3307 (Montreal)

The Melody Makers; Plaza PL-3301 (Montreal)

Ukulele Ike (Cliff Edwards): I'm a Bear in a Lady's Boudoir; Yazoo L-1047
© Hip Wax