Pop: Kids LPs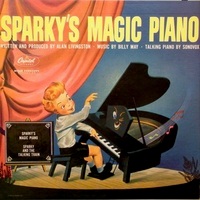 The Word: Mexican master of "space-age bachelor-pad music," Juan Garcia Esquivel received lots of new attention, revival efforts, and respect in the 1990s. His records stand as timeless, extravagant wonders--really an idiom of their own.
We recommend the first U.S. release, recorded in Mexico and not in stereo. As a mono record it was skipped in reissue compilations, thus remains overly obscure and unknown, but it ranks as his best. Also, be sure to catch more of that great Esquivel sound in the records of Alvino Rey (listed elsewhere, with guitar).
Further below: 45s
Links: are to subpages or artists bio/discog pages in the Hyp Records guide:

Images: accurately represent items but are not always the exact copy listed/purchased
Discount: ALWAYS try to buy more than one item at a time
---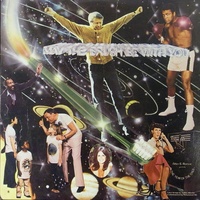 Muhammad Ali & his Gang: May the Brush Be With You; Arther Morrison/Cornucopia CP-7000; N/N- S $30 -- spoken/kids/celebrity/funk; lesser-known, far rarer sequel to the famous "The Adventures of Ali & his Gang Vs. Mr. Tooth Decay Vol. 1"!!!; astounding all-star cast features Muhammad Ali, Howard Cosell, Frank Sinatra, Richie Havens, Arlo Guthrie, Jimmy Carter, Lily Tomlin, Pat Boone, Billie Jean King, Marlo Thomas, Ossie Davis, Arthur Morrison, Sunshine Morrison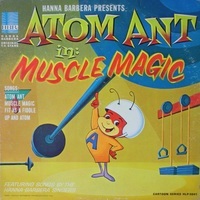 Atom Ant in Muscle Magic; Hanna-Barbera Cartoon Series HLP-2041; 1965; deep groove E-/E- S $150 -- kids/spoken with music; one of the top "kids records" collectors items (we've seen priced up to $400 but we're far gentler); great jacket; the music and stories with music are pretty exciting, too; some standard wear but it looks and plays very well--extraordinary as these things go; Atom Ant (song), Muscle Magic (story & song), Up & Atom (song), Fit as a Fiddle (song)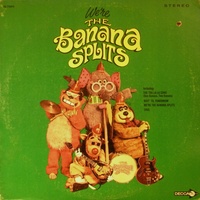 The Banana Splits: We're the Banana Splits; MCA/Decca DL-75075; 1969; cutout E+/N S $90 -- kid funk/funky rock/psyche-soul/commerce/sitar; coveted as a rare, weird-TV-show memento (David Mook for Hanna-Barbera), it also packs a variety of hip stuff for the DJ and music head; "Doin' the Banana Split" is solid, fun, uptempo funk from none other than young Barry White(!)--great for DJs to spin (not just for kids) and as insight into Barry's leaner early days; "In New Orleans" has electric sitar; the funky rocker "I'm Gonna Find a Cave" has breakbeats (drum-solo intro); you also get the hit "Tra La La Song" and others; arranged & conducted by Jack Eskew; note: while a couple of the titles overlap with the Hanna-Barbera 45s/EPs, this is an entirely new, different recording on a different label!; Doin' the Banana Split, Don't Go Away--Go-Go Girl, Soul, This Spot, We're the Banana Splits..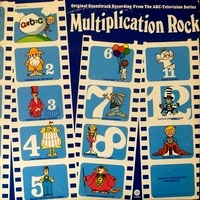 Bob Dorough: Multiplication Rock; Capitol SJA-11174; 1973; sealed cutout $60 (or black/spectral E-/E- S $35, specify) -- kid funk; legendary, most-wanted funky kids' LP (of the scholastic-television variety) by always-hip, jazzbo-singer-composer Dorough, complete w/funky drums/breakbeats; Three is the Magic Number (famously sampled by De La Soul for "The Magic Number"), I Got Six..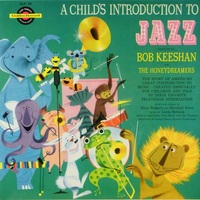 Bob Keeshan & the Honeydreamers: A Child's Introduction to Jazz; Golden GLP-29; 1958; N/N- $30 -- kids/jazz/golden-throat; Captain Kangaroo's greatest LP with jazz stars (Don Elliott, Dick Hyman, Allen Hanlon, Mundell Lowe, Hal McKusick, Sonny Igoe, Teddy Sommers, Sonny Russo, George Duvivia, Jack Zimmerman) on a seriously entertaining, comprehensive tour-de-jazz for the wee set (but all can enjoy); much loved (winsome jacket art too) and worth revisiting for new generations; the trick with this title is finding it clean--it's a bit rare, but getting it unworn is very challenging!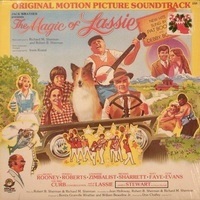 Irwin Kostal: The Magic of Lassie ST; Peter Pan Orange Blossom Series 155; 1974?; sealed S? $30 -- rare OST offers extensive liner notes, stills from the movie, and brief updates on the actors (Jimmy Stewart, Mickey Rooney, Alice Faye, Pernell Roberts, Stephanie Zimbalist, Lane Davies, Mike Mazurki); new, original music by Mike Curb Congregation, Pat Boone, Debby Boone, Mickey Rooney, Jimmy Stewart; don't miss this once-in-a-lifetime opportunity to get it still unopened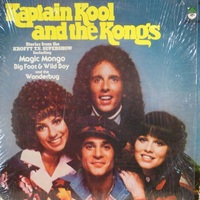 The Kroft Supershow (Captain Kool & the Kongs); Peter Pan 8221; 1978; N/E- shrink $30 -- spoken/kids; they started out as a glam-rock band, and there was even a Kaptain Kool & the Kongs turntable(!), but by the time they made LPs it was this and another on Epic, both super rare; on this one it's narrated "adventures" with groovy sound effects (Moog and space sounds, for instance); the best piece is "The Adventures of Bigfoot and Wild Boy" which somehow involves not just Sasquatch but also space aliens (Bigfoot to the rescue of the planet); anyone remembering the show will get a kick out of it, and for others it's further puzzling evidence of the drug abuse that ruled the '70s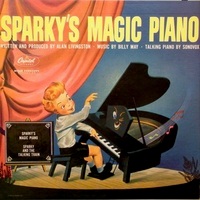 Alan Livingston/Billy May: Sparky's Magic Piano; Capitol J-3254; N/E $25 -- classic kids set (originally a 78 album) similar to "Rusty in Orchestraville"--hard to find on LP in top shape (all the words and music without the noise and inconvenience of 78s); features Henry Blair & cast, Billy May, Ray Turner (piano), Verne Smith (narrator), and talking piano by Sonovox, which was an early invention very similar to the "voicebox" made famous for a later generation by Peter Frampton; Side 2 is another yummy tale: Sparky & the Talking Train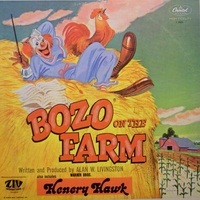 Alan Livingston/Billy May: Bozo on the Farm/Henery Hawk; Capitol/ZIV International L-6959; 1975; sealed $50 (or E+/E+ $40, specify) -- classic Capitol kids sets (originally 78 albums) reissued in hi-fi (all the wacky words and music without the noise and inconvenience of 78s); Bozo on the Farm (Pinto Colvig--crazy--the best!); Side 2 with Mel Blanc is "Henery Hawk's Chicken Hunt" & "Henery Hawk"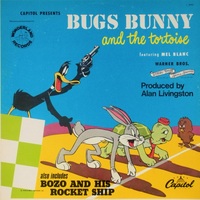 Alan Livingston/Billy May: Bugs Bunny & the Tortoise/Bozo & his Rocket Ship; Capitol/Wonderland L-6962; 1975; E+/N- $50 -- classic Capitol kids sets (originally 78 albums) reissued in hi-fi (all the wacky words and music without the noise and inconvenience of 78s); Mel Blanc's in charge of side one, which is the Looney Tunes version of "The Tortoise & the Hare" (Henery Hawk makes an appearance); Pinto Colvig's Side 2 is a very politically incorrect tour of the world (Bozo's rocketship doesn't leave the atmosphere, apparently) and some of its, er, cultures; very sampladelic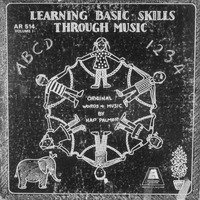 Hap Palmer: Learning Basic Skills Through Music Volume One; Activity Records AR-514; 1969; non-gatefold 2nd press w/insert N/V+ S $15 (or gatefold 1st V/V $15 -- kids; groovy folk-rock stuff for your inner child, featuring such memorable engagers as What Are You Wearing?, What is Your Name?, This is the Way We Get Up in the Morning, Growing, The Birds (with bird sounds), Colors, Put Your Hands Up in the Air..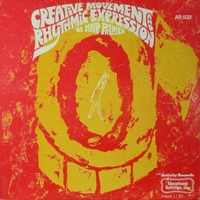 Hap Palmer: Creative Movement & Rhythmic Exploration; Activity Records AR-533; 1980/1971; E+/E+ $15 -- kids; groovy folk-rock stuff for your inner child with a few standouts: the rhythm instrumental "Percussion Instruments" and a real Elvis-y mover "How Many Ways"; or you might dig "Out to the Country" or "Fishing Trip" and others; in any case, it's pretty cool!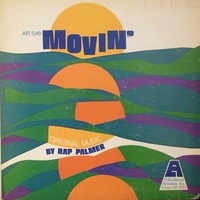 Hap Palmer: Movin'; Educational Activities, Inc./Activity Records AR-546; 1973; gatefold E+/N S $30 (or V+/N- S $25, specify) -- kid funk/funky Moog/sitar; considered the best, hippest Hap Palmer LP, it's known among those in the know for the hot standout cuts "Funky Penguin" and "Far East Blues"; Funky Penguin, Midnight Moon, Tipsy, Far East Blues, Gentle Sea, Jamaican Holiday, Enter Sunlight, Haunted House, Movin', Twilight, Pause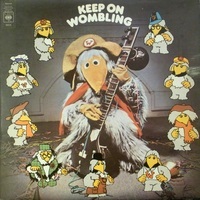 The Wombles: Keep on Wombling; CBS 80526; 1974; UK import E/N S $45 -- pop/television; rarer of at least 2 LPs by obscure, unimpressive Saturday-morning tv group (like HR Puffenstuff) starring fur-suited, rodent-like "Wombles"; Orinoco's Dream, Womble of the Universe, The Orinoco Kid, The Jungle is Jumping, Underground Overture, Hall of the Mountain Womble, Look Out for the Giant, The Wombling Twist, Tobermory's Music Machine, Wipe Those Womble Tears from Your Eyes, Invitation to the Ping-Pong Ball, Wombling Merry Christmas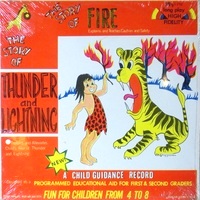 Uncredited: The Story of Fire/The Story of Thunder & Lightning; Famous Child Guidance Records CG-1001; 1967; sealed $20 -- kids; rare!; "Fun for Children from 4 to 8"; "Fascinating Gift for Nieces, Nephews, Grandchildren--Nationally Recommended by Parents and Educators"; part of a series of five (all pictured and described on the jacket back) produced in Philadelphia, highly unlikely to turn up [sealed] anywhere else; "Explains and Teaches Caution and Safety...Explains and Alleviates Child's Fear of Thunder and Lightning" (making it truly the album you've been looking for all your life)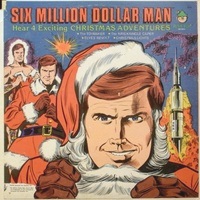 Uncredited: The Six Million Dollar Man [Hear 4 Exciting Christmas Adventures]; Peter Pan 8208; 1978; cutout E/N- $25 -- Christmas/spoken/kids/TV/sci-fi; how cool is this?; we just discovered it recently (scarce title) & were thrilled; totally over-the-top, hyper-dramatic, incredible stories--ideal for sampling or straight enjoyment; better still, it's in top shape (other than a little press bump); make your next Christmas bionic!; The Toymaker, The Kris Kringle Caper, Elves' Revolt, Christmas Lights
Kids 45s & EPs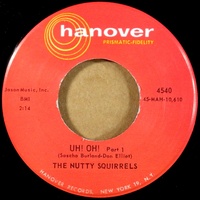 The Nutty Squirrels: Uh! Oh! Parts 1 & 2; Hanover 4540; N- $15 -- top cut from a rare, treasured LP that apes the Chipmunks but goes them several times better
© Hip Wax