Pop: Whistling LPs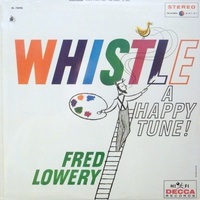 The Word: The first name in virtuoso whistling is Fred Lowery, and once you've heard him, you'll never confuse ordinary whistling with what he accomplished. There is whistling everywhere, of course, from western movie soundtracks to pop hits. But the musical idiom is something else entirely, and Fred Lowery records are mindblowing. Muzzy Marcellino did the best studio work on standard commercial records.
Further below: Whistling 45s & trade wants
Links: are to subpages or artists bio/discog pages in the Hyp Records guide:

Images: accurately represent items but are not always the exact copy listed/purchased
Discount: ALWAYS try to buy more than one item at a time
---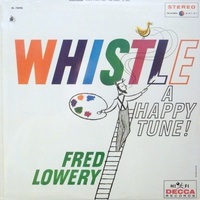 Fred Lowery w/Anita Kerr Singers: Whistle a Happy Tune; Decca DL-78995; 1959; sealed cutout S $75 (or E/N S $60, specify) (or mono Decca DL-8995; pink-label promo 1st/deep groove DL-8995 E/E+ $40, specify) -- whistling; the all-time greatest whistler ever's highly desirable, all-fantastic 2nd of 2 LPs for the label (which are his only secular LPs) & the ONLY secular Fred Lowery LP in stereo; with organ and steel guitar in the backing group as well as chorus; a thrilling pop wonder with excellent hi-fi production!; Over the Rainbow, William Tell Overture, Estrellita, Marie, Tammy, Mockin' Bird Hill, Whispering..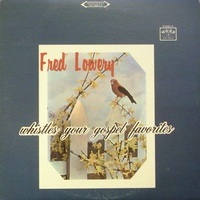 Fred Lowery Whistles Your Gospel Favorites; Word WST-8326; 1967; bw label E/E- S $30 (or color label E-/V+ S $25, specify) -- whistling; his later gospel whistling LPs are even rarer than the secular turns for Decca & Columbia!; some churchy organ in spots; the world's greatest whistler is heard to great advantage; Whispering Hope, Shall We Gather at the River, Sweet Hour of Prayer, He's Coming Soon, I Need Thee Every Hour, In The Sweet By and By, How Great Thou Art, Blessed Assurance, The Church in the Wildwood, His Eye Is On the Sparrow, Revive Us Again, Just As I Am, He Leadeth Me, Beyond the Sunset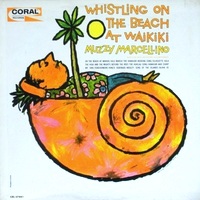 Muzzy Marcellino w/Charles "Bud" Dant: Whistling on the Beach at Waikiki; Coral CRL-57441; 1964; E+/N- $40 -- whistling; very rare must-have for all whistling fans by the #2 virtuoso whistler of the golden age of recorded music; Hawaiian standards --from chestnuts to scarcer tunes-- plus a new version of "The High & the Mighty" (which Marcellino whistled for John Wayne on the ST); all with Decca/Coral's high standards and Bud Dant's excellent production; On the Beach at Waikiki, The High & the Mighty, Hilo March, Hawaiian Wedding Song, Hawaiian War Chant, Beyond the Reef, Hukilau Song, My Tani, Silhouette Hula, Forevermore, King's Serenade, Song of the Islands/Aloha Oe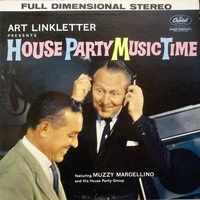 Muzzy Marcellino & his House Party Group: Art Linkletter Presents House Party Music Time; Capitol ST-1284; 1st press E/E+ S $50 -- whistling/odd pop/kids; great for both rare Muzzy Marcellino performances (the #2 whistler after Fred Lowery) & un-pc songs done originally for TV; Heap Big Chief, Hawaiian Calypso, Bob's Blues, Whistlin' Dixie, Get Happy, Time for the Kids, The High & the Mighty, Anitra's Dance, Freeway Jam, The Continental, Shoo Fly Pie & Apple Pan Dowdy, Barcarolle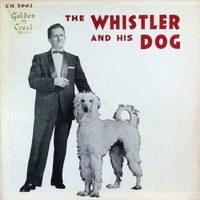 Jack Zimmermann: The Whistler and his Dog; Golden Crest CR-3002; 1956; 1st/gold label E-/E- $30 -- whistling; while it's hard to say that any real whistling LP isn't rare, one can easily spend years searching high and low for this one; it's not the very first or very best (Fred Lowery beat him to it on both counts), but it may be the first to lean heavily on multi-track recording (Zimmermann wanting by himself to creat "duets" and larger whistling ensembles that way), and for the collector of whistling records, it's a given, manna; The Whistler and his Dog, Sweet Leilani, Pick Yourself Up, Silver Moon, By the Waters of the Minnetonka, Mighty Lak(sic) a Rose, Solfeggio (aka Song of the Nairobi Trio --the Ernie Kovacs them-- by Robert Maxwell, w/Zimmermann's voice), Rio Rita, By Heck, Tumbling Tumbleweed, Blue Moon (four part harmony whistling), Clarinet Polka
Whistling 45s & EPs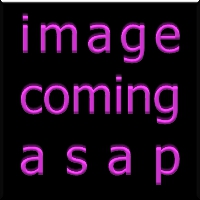 Fred Lowery: Indian Love Call/Moon Love; Decca 9-30191; 1957; black label N- $20 (or pink-label promo E+ $20, specify) -- whistling; THE classic of classics of virtuoso whistling; there is no other single (even by the greatest whistler ever, Fred Lowery) that rivals it for defining the idiom and becoming the best-selling whistling record of all time
Whistling LPs Wanted in Trade:

Fred Lowery: A Family Christmas; Gra Low GR-7101

Fred Lowery: It is Well with My Soul; Word WST-8563
© Hip Wax