Surf/Hot Rod: Original LPs
surf, car/hot rod, drag race, motorcycle, jet boat, space rock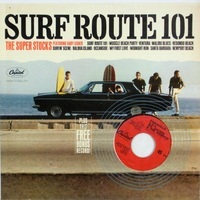 The Word: The progression of music that was mostly instrumental, mostly guitar, and stemming from California in the early 1960s brought us from surf (and skateboarding, and skiing!), right through all kinds of car and other engine sounds, to satellite and space-themed tunes. Whether it was Gary Usher or Starday-King or Sun Ra, these idioms really made the scene with and for both great-sounding guitars and loud records!
Further below: Surf/Car/Bike 45s & trade wants
Links: are to subpages or artists bio/discog pages in the Hyp Records guide:

Images: accurately represent items but are not always the exact copy listed/purchased
Discount: ALWAYS try to buy more than one item at a time
---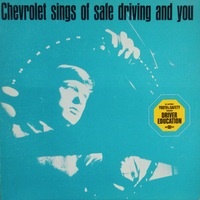 Lou Adessa & Vince Benay: Chevrolet Sings of Safe Driving & You; Columbia Special Products CSM-838 "Limited Edition"; E+/N- S $50 (or E-/E+ S $35, specify) (or V+/E- S $25, specify) -- commerce/pseudo-folk/custom; GM in the '60s issued this wonder (one of the most desirable commerce-promo LPs, and the best such LP about cars) to attract the youth market; eight zippy, original songs cashing in on the latter days of the '60s folk movement and urging drivers not to tear up the roads in a powerful new Chevy; some songs will appeal to rock/psyche collectors (you don't have to like folk, and if you appreciate "A Mighty Wind" or other spoofs of folk, even better), and most of them will amuse anyone hip to song poems, goofy lyrics ("cars don't stop on dimes"), custom pressings, etc.; An Exciting Thing, Grown-Up Baby, Cities & Towns, Nowhere Fast, Gentle Things, When the Wrong Thing Happnes, The Natural Laws, Man-Made Laws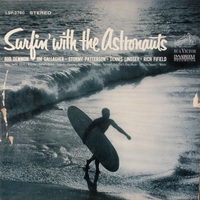 The Astronauts: Surfin' with the Astronauts; RCA Victor LSP-2760; 1st press (1s) V+/E S $25 -- surf; some vocal, some instrumental, considered either their best LP or one of the two best; half the clean price for cosmetic flaws only (mostly just jacket damage); Batman, Kuk (terrific original), Baja, Misirlou, Pipeline, Banzai Pipeline, Let's Go Trippin', Movin' (GREAT), Surfer's Stomp, Surfin' USA, Susie-Q, Baby Let's Play House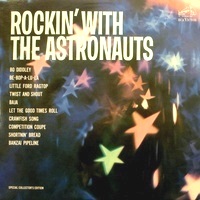 The Astronauts: Rockin' with the Astronauts; RCA Victor PRM-183; 1965; deep groove 1st press N-/N- $20 -- rock/guitar/hot rod/surf; mono-only record club comp gives you not only fresh art and liner notes but also some of their best work from surf & hot rod LPs that have become collectors items; some vocal, mostly instrumental; Bo Diddley, Be-Bop-A-Lu-La, Little Ford Ragtop, Twist & Shout, Baja, Let the Good Times Roll, Crawfish Song, Competition Coupe, Shortnin' Bread, Banzai Pipeline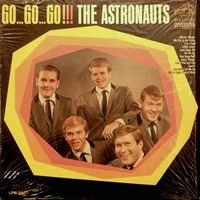 The Astronauts: Go...Go...Go!; RCA Victor LPM-3307; 1965; deep groove N/E+ shrink $20 -- instrumental/'60s rock/guitar; probably their last hip album; not on par with the great earlier hot rod and surf classics but still good to have (and of course you can't go wrong with a surfed-up version of "Quiet Village"); Hey Sugarfoot, My Sin is My Pride, I'm a Fool, Little Lover, Quiet Village, You Gotta Let Me Go, Almost Grown, Love Goes On, Can't You See I Do, Go Go Go, Gouch, Out of Sight--Out of Mind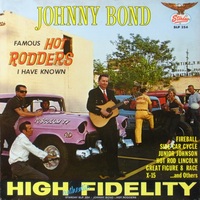 Johnny Bond: Famous Hot Rodders I Have Known; Starday SLP-354; 1965; Canadian Spartan pressing cutout E+/E+ $45 -- hot rod; sure, he's a top country singer but this is definitely a hot-rod LP, not that car racing ain't country!; the titles tell you all you need to know about how great this is, except there's also the photos and liner notes and top shape and sound; The Great Figure 8 Race, Fastback, Hot Rod Lincoln, Wreck of the Old 97, Around & Around the Figure 8, Fireball, X-15, Hot Rod Surfin' Hootlebeatnannie, Ben Dewberrry's Final Run, Side Car Cycle, Johnny's Camptown Races, Junior Johnson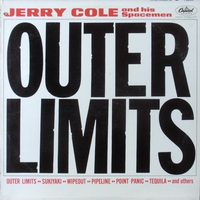 Jerry Cole and his Spacemen: Outer Limits; Capitol T-2044; 1963; cutout E/N- $75 -- surf/dance rock/space rock; "The Way-Out Swingin' Instrumental Sounds of..." the diminutive session axe-slinger with the larger-than-life sound; yes, this is the big one, his best LP, and one of the best-ever raucous surf/surf-party/twistin' bikini records; it all smokes hard, from the what's-what of the cover smashes to the originals; best of all, it's still not out of the reach of the casual collector; Outer Limits (space rock!), The Strut, Wipeout, One Color Blues, Pipeline, Sukiyaki, Midnight Surfer, Pokey, Papa-Oom-Mow-Mow-Mow, Point Panic, Tequila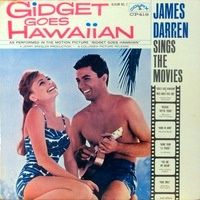 James Darren: Gidget Goes Hawaiian--James Darren Sings the Movies; Colpix CP-418; deep groove E/E $20 -- ST/surf icon; as with many STs on the prized on Colpix label, it's traditionally a collectors item but here and now you can acquire it in nice shape at a nice price; Darren starred in beach-party movies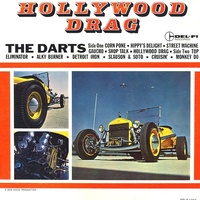 The Darts: Hollywood Drag; Del-Fi DFLP-1244; 1963; deep groove Canadian press E-/E $50 -- hot rod; rare original hot rod LP (on coveted CA surf label) in great shape with great sound; Alky Burner, Top Eliminator, Hippy's Delight, Street Machine, Monkey Do, Gaucho, Slauson & Soto, Detroit Iron, Hollywood Drag, Cruisin', Shop Talk, Corn Pone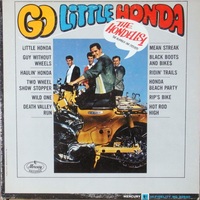 The Hondells: Go Little Honda; Mercury MG-20940; 1964; E-/E+ $15 -- biker; first album by the group that became The Super Stocks (although the SS LPs came out first, it seems) features Gary Usher and Roger Christian (the writing team for most, others by Brian Wilson, Richie Allen, and Mike Curb); really first-rate singing with some rippin' instrumentals; the mono original is nice to have even with a stereo reissue as the stereo is overdone (too wide); Little Honda, Mean Streak, A Guy Without Wheels, The Wild One, Haulin' Honda, Hot Rod High, Death Valley Run, Two Wheel Show Stopper, Black Boots & Bikes (Richie Podolor), Ridin' Trails, Hon-Da Beach Party, Rip's Bike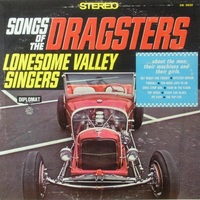 The Lonesome Valley Singers: Songs of the Dragsters; Diplomat DS-2622; E-/E S $30 -- hot rod/C&W/rock; tho made by a studio group, it's an excellent vocal album in the style of Starday, Dave Dudley, and even a little Roy Orbison--sure, most people want scorching instrumentals, but after you've heard enough of those and suffered the usually inferior vocal records within the hot-rod idiom, it's a relief to hear great singing and original songs--it's even better than their truck-driver record!; Ten More Laps to Go, Get Ready for Freddy, Mystery Driver, Stock Car Blues, Fireball, The Top Five, Pit Stop, Four in the Floor, Top Speed, Drag Strip Girl
The Malibu's Play; Scenic EAB-101574; 1974; red label/1st N/E+ S $90 (or E/E- S $40, specify) -- lounge act/rock/surf/Maine; so, we're looking at something totally off the radar, not to be confused with unrelated garage bands named "The Malibus" or anything like that, but check out the tracklist; there's plenny cover-song manna for lounge-act collectors, of course, but dig that last one! Yes, "Wipe Out" with all the necessary breakbeats and so on (the drummer also provides falsetto), making it one of the rarest of all good versions (and this one's stereo); rear jacket photos and liners demystify these nice downeast fellers; great stuff as lounge-act records go, and there's even at least one original; Country Way, Easy On My Mind, Run Away, Baby Don't Go, Right or Wrong (WANDA JACKSON!), Proud Mary (CCR), Country Roads, Kansas City, I Really Don't Want to Know, [Bad Bad] Leroy Brown, Bottom of the Stairway, I Remember You, Wipe Out (THE IMPACTS!!! or Surfaris)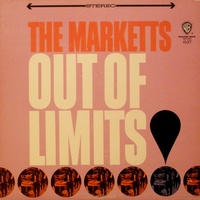 The Marketts: Out of Limits; Warner Bros. E/E+ S $30 -- space rock; uncut clean stereo original of a classic!; similar to Ventures in Space (and Jerry Cole, the Astronauts, and other surf/hot rod guitar groups that did a space-themed LP); Out of Limits, Love 1985, Collision Course, Hyper-Space, Other Limits, Bell Star, Twilight City, Borealis, Bella Dellena, Limits Beyond, Saturn, Re-Entry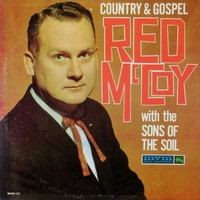 Red McCoy with the Sons of the Soil: Country & Gospel; Mount Vernon Music MVM-157; 1963; E-/E- ES $30 (or V+/V+ $25, specify) -- rock/[rockabilly]/country-gospel/sapce rock; very obscure budget-label oddball from Wayne Busbice (a.k.a. Red McCoy) or Wayne & Buzz Busby; highlight is "Rock and Roll Atom" which is just that: a TERRIFIC '50s rock/rockabilly boy-wants-girl song using atom-age science (protons, neutrons, electrons), etc. metaphorically; like Sheldon Allman or as tho Hank Snow collided with Tom Glazer!; anyway, so far it's still known to only a few of the pluckiest record hounds, but it's a proven winner!; Let Jesus Come into Your Heart, I Heard My Savior Calling, I Want to See My Mother Again, Be Careful of Your Father's Name, Rainbow Joe, Rock and Roll Atom, I Carry a Torch, Goin' Back to Dixie, Live Your Life with Care, I Just Couldn't Say Goodbye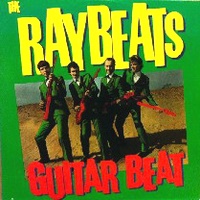 The Raybeats: Guitar Beat; Passport PVC-8904; 1981; E/N S $20 -- guitar/surf/hot rod/crime/space-rock; if you like Jon & the Nightriders and other top-notch early-'80s guitar-surf bands [that added breakbeats, speed-picking, and other great touches to classic fast '60s tunes], you should have all the Raybeats LPs!; Tight Turn, Big Black Sneakers, Tone Zone, The Backstroke, B-Gas-Rickshaw, International Operator, Searching, The Calhoun Surf, Piranha Salad, Cocktails, Guitar Beat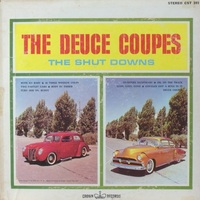 The Shut Downs: The Deuce Coupes; Crown CST-393; 1963; E-/E- S $30 (or E-/V+ S $20, specify) -- hot rod/mod-soul-twist with engine sounds; one of the better ones on a budget label, as it has good use of motor sound effects, good vocals where used, and some wailing guitar; super thick vinyl for top sound!; With My Baby, 36 Window Coupe, Two Fast Cars, Starters Nightmare, Oil On the Track, Body By Fisher, Turn Her On Buddy, Goin-Goin-Gone, Goggles Got a Hole In It, Deuce Coupes (mod soul-twist)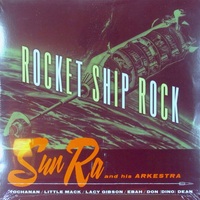 Sun Ra & his Arkestra: Rocket Ship Rock; Norton ED-354; 2009/1957-68; sealed $15 -- space funk/space rock; AWESOME compilation of impossibly rare singles mostly on Saturn by Sun Ra and his various subsidiaries, associates, producees, and pseudonyms: Yochanan, Little Mack, Lacy Gibson, Ebah, and Don (Dino) Dean; extensive liners tell all that is known, but all you need to know is this is one hell of a record (and you don't have to like other Sun Ra!); I'm Gonna Unmask the Batman, Space Stroll, Muck Muck, Hot Skillet Mama, Message to Earthman, Rocket Ship Rock..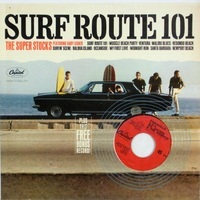 The Super Stocks [featuring Gary Usher]: Surf Route 101; Capitol T-2113; w/45 (V+) cutout N-/N- $125 -- surf; the LP has just the tiniest cutout hole, as though made with a paperclip; the included promotional 45 for the Mr. Gasser & the Weirdos LP is good (plays well) but not in the same top shape (marks); still, the LP's a major beauty, and mono, so you even avoid the overly wide separation of "Crapitall" stereo; own a big piece of surf and surf-music history; Surf Route 101, Muscle Beach Party, Ventura, Santa Barbara, Redondo Beach, Surfin' Scene, Balboa Island, Oceanside, My First Love, Midnight Run, Malibu Blues, Newport Beach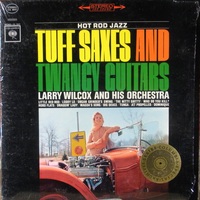 Larry Wilcox and his Orchestra: Tuff Saxes and Twangy Guitars; Columbia CS-8947; N/N shrink S $25 -- hot rod/jazz/crime/mod/mexicali/bossa; from the special archives series it's a very respectable "hot rod" record (at least as far as jacket art and liners go -- don't expect engine sounds); there's a lot in here for the fan of general "real" music fan (great organ and percussion and lots of ideas well executed) -- it's frequently like a great lost spy soundtrack! (and in any case better than most hot-rod LPs, which can be very disappointing); Big Deuce, Theme from "Who Do You Kill?", Magda's Song, Little Red Rod, Loddy Lo, The Nitty Gritty, Jet Propelled, Dominique, Draggin' Lady, Hobo Flats, Tunga, Organ Grinder's Swing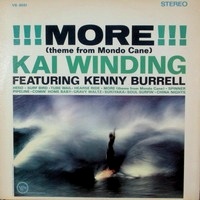 Kai Winding w/Kenny Burrell: Mondo Cane; Verve V6-8551; E+/E- S $15 -- mod/ondioline/surf; sensational surf-themed classic by Claus Ogerman/Creed Taylor; awesome instrumentals --very hip-- about which the only complaint might be brevity, but that just leaves you hungry for "more" (sorry) which conveniently you can get with the sequel; but only this record has Kenny Burrell leading the pack, and its sound is different; More, Hero, Gravy Waltz, China Nights, Surf Bird, Pipeline, Sukiyaki, Soul Surfin', Tube Wail, Spinner, Hearse Ride, Comin' Home Baby; looks perfectly clean but we heard a few clicks in one track and priced it accordingly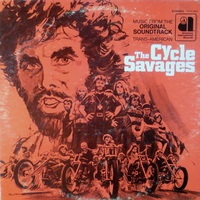 Various: The Cycle Savages ST; AIP ST-A-1033; 1970; E-/E+ S $75 -- psyche/funky rock/biker ST; prod. Mike Curb & Casey Kasem; one of the better ones (which may not be saying much when it comes to biker STs, but at least it's at the top of the heap), mainly psyche but also some fuzz dirges in the Arrows style; with the Cycle-Mates, Orphan Egg (also seen in hip Les Baxter-scored AIP flick Born Wild), Boston Tea Party, Jerry Styner, Randy Johnson (whose "Fly, Superman, Fly" is funky rock)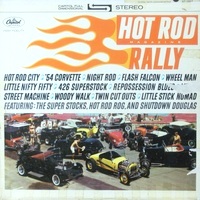 Various: Hot Rod Rally; Capitol ST-1997; 1963; V+/V+ S $20 -- hot rod; worn but plays like new (fantastic sound), and you won't get these cuts easily otherwise, if at all, and not in stereo; The Super Stocks, Shutdown Douglas, and Hot Rod Rog in a package that has everthing: hot-rod glossary, photos, top songs/sounds; The Super Stocks: Hot Rod City, 426 Superstock, Little Stick Nomad, Wheel Man, Little Nifty Nifty, '54 Corvette; Hot Rod Rog: Repossession Blues, Little Street Machinel; Shutdown Douglas: Woody Walk, Twin Cut Outs, Night Rod, Flash Falcon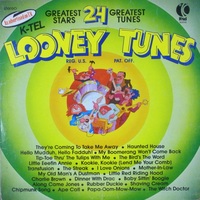 Various: Looney Tunes; K-Tel NU-9140; E/N- S $25 -- pop/rock/r&b/novelty/surf/beatnik/horror; the most desirable, best K-Tel compilation has 24 mostly upbeat, terrific tunes; Nervous Norvus (Ape Call, Transfusion), The Rivingtons (The Bird's the Word, Papa-Oom-Mow-Mow), Edd "Kookie" Byrnes, John Zacherle, Ernie K-Doe, Tiny Tim, Harv Norman, The Coasters, The Hustlers, Sam the Sham, Ray Stevens, David Seville, Buzz Clifford, Alan Sherman..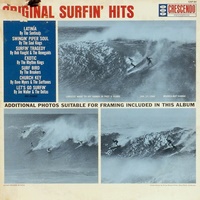 Various: Original Surfin' Hits; GNP Crescendo GNP-84; RE/1963; no photo inserts V-/E $20 -- surf compilation of the gods (rare, even reissued, and fantastic!); as one look at the titles will tell you, this is the real deal from CA in surf's prime; most of these uptempo tracks really wail, whether as surf guitar or even as stuff for hip DJs (mod soul/soul-twist/dance surf); don't forget the added bonus of prized Bruce Brown stills on the jacket; The Sentinals: Latinia; The Rhythm Kings: Blue Soul; The Soul Kings: Swingin' Piper Soul; Jim Waller & the Deltas: Intoxica; Bob Vaught & the Renegaids: Surfin' Tragedy; Jim Waller & the Deltas: Soul Beat Part II; The Rhythm Kings: Exotic; The Breakers: Surf Bird; The Soul Kings: Pachuko Soul; The Sentinals: Tor-Chula; Dave Myers & the Surftones: Church Key; Jim Waller & the Deltas: Let's Go Surfin'
Surf/Car/Bike 45s & EPs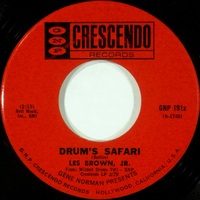 Les Brown, Jr.: Swingin' & Surfin'/Drum's Safari; Crescendo/GNP 191x; N- $50 -- rock/drums/surf/exotica; two great tracks from a rare LP; here you get heavy-vinyl mono superior sound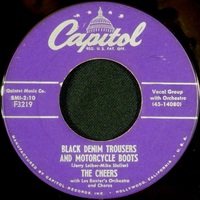 The Cheers w/Les Baxter's Orchestra & Chorus: Some Night in Alaska/Black Denim Trousers & Motorcycle Boots; Capitol F-3219; 1955; E $15 -- B-side a biker-hot rod classic (rock and roll hit single) featuring actor Bert Convy; it's also one of the more interesting singles by Les Baxter; hear it on YouTube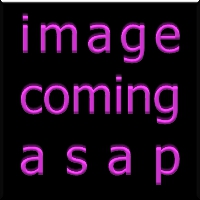 The Rivieras: California Sun/H.B. Goosestep; USA/Riviera R-1401; E+ $15 --surf/organ; reissues Lana 136; so great, the Ramones covered it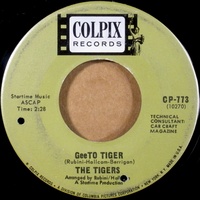 The Tigers: GeeTO Tiger/The GeTO Prowl; Colpix 773; cutout E $25 -- hot rod (GTO!)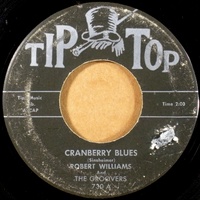 Robert Williams & the Groovers: Cranberry Blues/Loud Mufflers; Tip Top 730; V (plays E) $30 -- rockabilly/hot rod; fantastic (both sides), but Loud Mufflers is the killer; not a handsome copy by any means (marks) but a solid player
LPs Wanted in Trade:

Annette: Annette Sings Golden Surfin' Hits; Buena Vista BV-3327; 1965 OR:

Annette Volume 2 CD (Annette Sings Golden Surfin' Hits/Annette's Beach Party)

Beach Boys: Shut Down Volume 2 (stereo)

The Deadly Ones: It's Monster Surfing Time; Vee-Jay VJLP-1090; 1964

Bob Vaught & the Renegaids: Surf Crazy; GNP Crescendo GNP-83[ST]

Various: Diggin' Out; Norton

Various: Wail on the Beach; Satan 1004
© Hip Wax