Jazz LPs with Sabu Martinez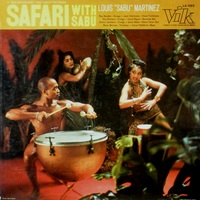 The Word: Hip soul jazz (jazz funk/funk jazz/acid jazz), oddballs, rare grooves, small presses, top imports, ethnic/foreign influences, classics, Blue Note, Prestige. All just waiting for you to notice. There's also plenty of jazz (hybrids) on most other pages.
Links: are to artists bio/discog pages in the Hyp Records guide:

Images: accurately represent items but are not always the exact copy listed/purchased
Discount: ALWAYS try to buy more than one item at a time
---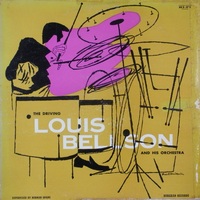 Louis Bellson: The Driving Louis Bellson; Norgran MG-N-1020; yellow-label deep groove V/V- $25 -- plays remarkably well despite appearances (looks rough but plays nicely) and is one of the rarest and earliest LPs with Sabu Martinez, who is heard on three cuts (most of Side 2) along w/similar non-drum-kit percussionists; you can work very hard to find perfection at several times the price, but this is an excellent choice for the Sabu fan or casual Bellson/Norgran/jazz collector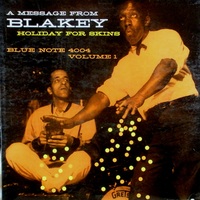 Art Blakey: Holiday for Skins Vol. 1; Blue Note BLP-4004; deep groove (47 W. 63rd) E/V+ $60 (or stereo Liberty/Blue Note BST-84004; V/E- S $25, specify)-- African jazz/percussion; great sound tho w/some noise (more so at the start); all-star cast: Sabu Martinez, Ray Barretto, Philly Joe Jones, Art Taylor, Donald Byrd, Ray Bryant..; The Feast, Aghano, Lamento Africano, Mirage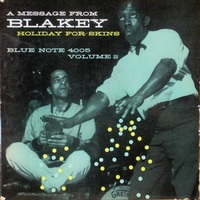 Art Blakey: Holiday for Skins Vol. 2; Blue Note BLP-4005; deep groove (47 W. 63rd) E-/E- $90 -- African jazz/percussion; all-star cast: Sabu Martinez, Ray Barretto, Philly Joe Jones, Art Taylor, Donald Byrd, Ray Bryant..; O'Tinde, Swingin' Kilts, Dinga, Reflection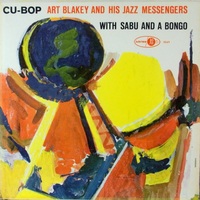 Art Blakey's Jazz Messengers plus Sabu: Cu-Bop; Jubilee JGM-1049; 1957; black; V+/V+ $35 -- wonderful rarity (good titles on Jubilee usually are) of four lengthy tracks: Woodyn' You, Sakeena, Shorty, Dawn on the Desert; terrific modern-art jacket and extensive liners by Nat Hentoff (see via link above) tell the story of this now famous work; Art Blakey and Sabu Martinez fans alike must have!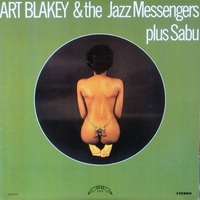 Art Blakey & the Jazz Messengers Plus Sabu; Springboard/Trip TLP-5019; 1974; E+/N- $30 -- (REISSUES Cu-Bop); Art Blakey and Sabu Martinez; not stereo as indicated on the LP (no such thing for this recording unless it's ES) but you get it clean, cheap, and with a new nudie jacket; Woodyn' You, Sakeena, Shorty, Dawn on the Desert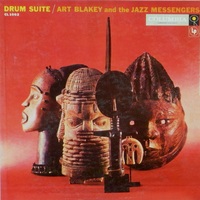 The Art Blakey Percussion Ensemble: Drum Suite; Columbia CL-1002; 1958; 1st/deep groove/black 6-eye; E/E $20 -- great jacket (African masks), unique (Side 1 w/Sabu Martinez and Candido, Side 2 the Jazz Messengers); great record but sold well enough that even this beautiful original is bargain-priced; The Sacrifice, Cubano Chant, Oscalypso, Nica's Dream, D's Dilemma, Just for Marty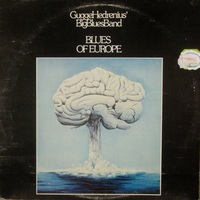 Gugge Hedrenius' Big Blues Band: Blues of Europe; Polar POLS-268; 1976/1975; E-/E- S $25 -- jazz; as an imported Swedish LP (rare in the US!) it's fine enough, but for the Sabu Martinez fan, there are two cuts (about eleven minutes worth) featuring his groovy conga; best of all, the price is minimal (get all your other Sabu LPs here too!)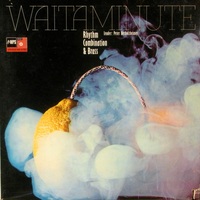 Peter Herbolzheimer Rhythm Combination & Brass: Waitaminute; MPS MB-21 21751; 1973; import cutout E-/E- S $40 -- funky soul jazz; Herb Geller, Art Farmer, and Sabu Martinez are among the top stars in this hot funky group that led the now venerated German label (one of the few MPS acts that sold decently in the US); there's even some electric sitar; Waitaminute, Mr. Clean, The Ballad of the Sad Young Men, Green Witch, Wild Chick, The Meaning of the Blues, Modus Vivendi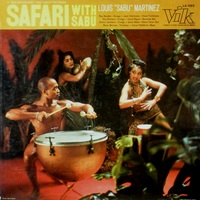 Louis "Sabu" Martinez: Safari with Sabu; RCA/Vik LX-1122; 1958/1957; w/Vik inner sleeve E/E $100 (or same but E-/V+ $60, specify) (or same but E-/V $50, specify) -- exotica/Latin jazz; fantastic, legendary, unique (though similar to Sorcery); w/Ray Barretto, Cecil Payne, Ray Romero, Jack Hitchcock, Oscar Pettiford, Steve Berrios, Evelio Quintero, voices; hall-of-fame jacket includes good liners and musician crediting (see via either link above)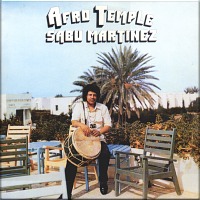 Sabu Martinez: Afro Temple; Pure R-101; 1993/1973; deep groove w/red insert as in the original N-/N- S $90 -- Afro-funk/conga; the very first, limited reissue (1000 copies) of Sonet Grammofon AB SPLCD-2885/527-498-2 -- still the very best LP reissue you can get, and still well worth it compared to the price of the original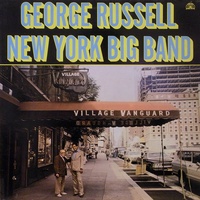 George Russell: New York Big Band; Soul Note SN-1039; 1982/1977-78; N-/N- S $35 -- jazz; rare import highly desirable for a piece featuring Sabu Martinez: "Cubano Be Cubano Bop" rec. live in Sweden, Narch 10, 1977--his last recording--10.5 minutes!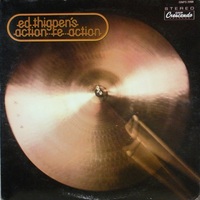 Ed Thigpen: Action re action; GNP/Crescendo GNPS-2098; 1976 (US version of Sonet SNTF-689; 1974); cutout E-/E- S $75 -- jazz/funk/breakbeats/Sabu; hot Swedish jazz featuring Mads Vinding and Sabu Martinez (on all cuts) in one of the best Scandinavian LPs with Sabu!; did we mention the breaks, the funk?; see details for personnel, tracks, etc.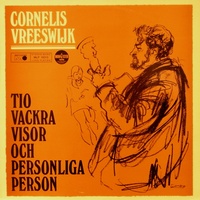 Cornelis Vreeswijk: Tio vackra visor och personliga person/Ten Beautiful Tunes & Personal Person; Metronome MLP-15313; 1968 (1972 reissue) E+/E+ S $60 -- w/Sabu Martinez; the same label and trio as on "Groovin' with Sabu" trio + vocalist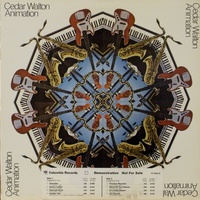 Cedar Walton: Animation; Columbia JC-35572; 1978; white-label promo w/timing strip N-/N S $20 -- soul jazz/electric piano; w/George Butler, Steve Turre, Paulinho da Costa..
Wanted in Trade:

Radiojazzgruppen: all LPs w/Sabu Martinez

Boyd Raeburn: On the Air Vol. 2; Hep 3 (& vol.1)

Dieter Reith: Knock Out; MPS; 1975

Bora Rokovic: Ultra Native; MPS 15.340; 1972/1971

Bernt Rosengren Big Band: First Moves; EMI 7C-062-35428

George Russell: Vertical Form VI; Soul Note (Italy)

Sveriges radios jazzgrupp: Bengt-Arne Wallin: Seimisk komposition/Daniel Bell: Monday's Child; RELP-1194
© Hip Wax