Latin subpage: Charlie & Eddie Palmieri LPs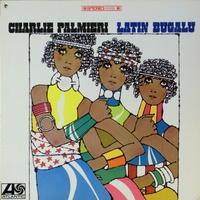 The Word: Charlie and Eddie Palmieri were everywhere, particularly Charlie on other people's records. Charlie's records under his own name don't number highly, but they are well worth pursuing. Eddie Palmieri backed Tito Rodriguez during the latter's heyday and, after a long career of major accomplishment, wound up being seen as a major "survivor" of the classic, modern Latin period, from the birth of salsa and beyond. He put himself above Latin soul but "Champagne" is essential and his involvement in Harlem River Drive is the stuff of DJ legend.
As always, if it's New York Latin, only originals give you the sound of the original masters.
Further below: Palmieri 45s
Links: are to artists bio/discog pages in the Hyp Records guide:

Images: accurately represent items but are not always the exact copy listed/purchased
Discount: ALWAYS try to buy more than one item at a time
---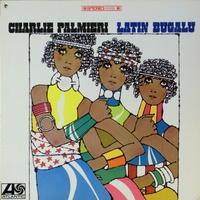 Charlie Palmieri: Latin Bugalu; Atlantic SD-8166; 1968; cutout N-/N- S $50 (or cutout N-/E- S $35, specify) -- Latin jazz/Latin soul/descarga; fantastic uptempo set by the master (what you might want from his other LPs but rarely get), still available at a very good price in the original, since it's on nationally distributed Atlantic in several editions--so no excuses, snap it up!; it moves, and whether it's jazz mambos, so-called boogaloos, or descargas it's all first-rate and very Charlie Palmieri at his peak; Mambo Show, Uptight, Bugalu, Bitter Sweet, Cote Pa La Cola, Panama's Boogaloo, Clusters, A Night to Remember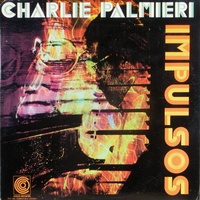 Charlie Palmieri: Impulsos; Coco 118; 1975; cutout N-/N- S $30 -- Latin/Latin soul; one of two great ones on Coco (w/a couple of funky Latin-soul cuts for DJ use--see titles below); w/Tito Puente, Vitin Aviles, Menique, Victor Velazquez..; King Charles (El Rey Carlos), Aunque tu Mami no Quiera (If Mama Don't), Sobando el Piano Merengue (Piano Caresses Merengue), Te Quiero a Ti (Darn That Dream), No Esta en Na' (Into Nothing), Comelon Hustle (The Hog Hustle), Porque me Enganas (Why Deceive Me), Estoy Friza'o (I'm Froze), Buchipluma Na' Ma' (You're All Mouth), Dame tu Corazon (Gimme Your Love)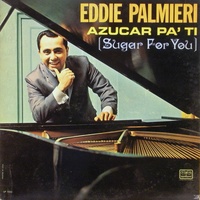 Eddie Palmieri: Azucar Pa' Ti/Sugar for You; Tico LP-1122; 1965; 2nd/orange E/E $50 -- his second great Tico LP, nice shape, on original heavy vinyl!; Solo Pensar en Ti, Mi Sonsito, Azucar, Cuidate Compay, Los Cueros me Llaman, Tema del Apolo, Oyelo Que Te Conviene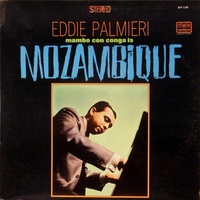 Eddie Palmieri: Mambo con Conga is Mozambique; Roulette/Tico SLP-1126; 1966; orange N-/N S $40 -- fantastic classic of progressive Latin; Mi Mambo Conga, Suetate la Lenga, Manha de Carnaval, Que Suene la Orquesta, Ajiaco Caliente, Pobre Pedro, Estamos Chao, Camaguayanos y Habaneros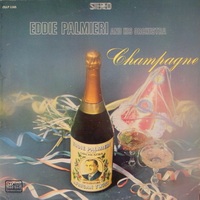 Eddie Palmieri: Champagne; Tico SLP-1165; 1968; flexi E/N S $60 -- Latin/Latin soul; The African Twist (funky!) and Ay Que Rico are two classics for DJs; with Cachao, Barry Rogers, Cheo Feliciano, Cynthia Ellis (on African Twist)..; Ay Que Rico, Delirio, Here's that Rainy Day, Cinturita, Busca lo Tuyo, The African Twist, Palo de Mango, Si Las Nenas Me Dejan Que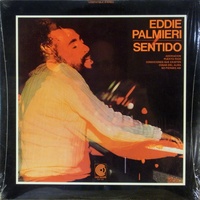 Eddie Palmieri: Sentido; Coco CLP-103; 1973; N*/N shrink S $60 (or E-/E+ S $45, specify) (or E-*/E- S $30, specify) -- Latin; highly desirable for the deep-funk monster "Condiciones que Existen/Existing Conditions," one of his funkiest tunes (great for DJs); *jacket back same as jacket face; Puerto Rico, No Pienses Asi, Condiciones Que Existen, Adoracion, Cosas del Alma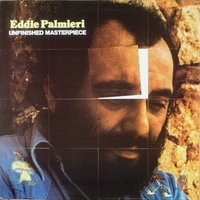 Eddie Palmieri: Unfinished Masterpiece; Coco CLP-120; 1975; N/N S $20 -- yes, it is finished; features a nice descarga "Cobarde" & the free-form piano "Random Thoughts"; Lalo Rodriguez sings & of course the lineup is all-star; Jeremy Steig among the guests; perfect original low-priced!; Un Puesto Vacante, Kinkamache, Oyelo Que Te Conviene, Cobarde, Random Thoughts, Resemblance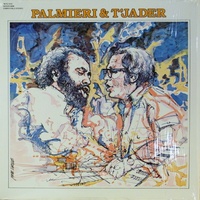 Eddie Palmieri & Cal Tjader: Bamboleate; Tico JMTS-1414; 1977 (reissues SLP-1150; 1967; N/N shrink S $30 -- the better of their two great collaborations; Bamboleate, We've Loved Before, Resemblance, Mi Montuno, Samba do Sueno, Guajira Candela, Pancho's Seis por Ocho, Come An' Get It
Palmieri: Original 45s/EPs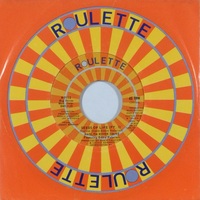 Harlem River Drive, Featuring Eddie Palmieri: Seeds of Life Parts 1 & 2; Roulette R-7112; 1971; N- S $60 -- Latin soul/funk/soul jazz; according to the labels (LP and 45), the total time here is 29 seconds longer than on LP! (could just be overlap for the split, but...); great sound, stereo, original Roulette sleeve, awesome!
Harlem River Drive, Featuring Eddie Palmieri: Idle Hands (Pt. 1)/mono; Roulette R-7116; 1971; promo N-* S/M $40 -- Latin soul/funk/soul jazz; from the classic, monster LP by Eddie Palmieri, it's the first nearly 4 minutes in stereo (rare enough on 45) and (rarer still) mono!; *label slightly torn on 1 side, otherwise gorgeous
© Hip Wax