Latin 2
Latin & Cuban: Original LPs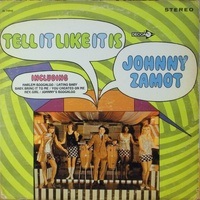 The Word: Latin continues with the exciting second half of the alphabet, including big subpages for major artists from Prado and Puente to Rivera and Rodriguez to Terrace and Touzet to Zamot and Zapata. After, see various-artist LP compilations, our active wants, and other formats.
Search within the page for keywords such as record label ("Cotique") or idiom ("Latin soul" or "descarga" or "Latin jazz"). Use "back" on your browser to return to previous pages. The yellow section at top left of each page takes you to the home page or main subsection. Page ends return you to Latin main page.
So much Latin:
LPs A-M | LPs N-Z (below) | compilation LPs | 45s | 78s | wants
Links: are to artists bio/discog pages in the Hyp Records guide:

Images: accurately represent items but are not always the exact copy listed/purchased
Discount: ALWAYS try to buy more than one item at a time
---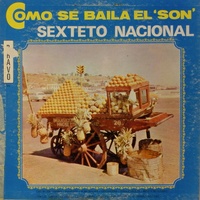 Sexteto Nacional: Come Se Baila El "Son"; Bravo B-104; deep groove V/V $15 -- Cuban; probably our best value in an authentic Cuban LP; vocal, uptempo, and better than Buena Vista Social Club (like modern Arsenio); jacket and disc have wear but it plays nicely, and for this quality at this price, that's really all that matters: GREAT and RARE!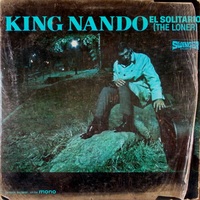 King Nando: El Solitario/The Loner; Roulette/Fania/Swinger LP-154; N-/V shrink $70 -- Latin soul; top jacket; disc has plenty of wear to the eye but not so much for the ear, so it's a better value than the grading and low price indicate; all three King Nando LPs on Swinger are among the very best of the rarest Latin soul legends, plus the half-dozen or so titles on the very short-lived Fania sub-label Swinger are often among the last to be found by even the Latin-soul completist; finally, the songs, wow, the songs and tunes (seriously jazzy, totally swingin', and incredible) are what you wish you'd get with every Latin-soul rarity: El Solitario, Maria Maria, Funky Shing-a-Ling, Apache (good paired with Manny Corchado's "Pow-Wow"), Tomorrow I'll Be with You, Nando's Blue Moon, Guaguanco, Friday Afternoon, Slick Symphony Sid, El Indio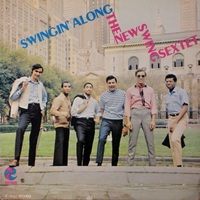 New Swing Sextet: Swinging Along; Cotique 1041; cutout E+/E $100 -- Latin soul/vibes; their third of four for the label; rare, great, and as go-to as their other LPs; gotta love the title "Think Drink" (good tune, too!)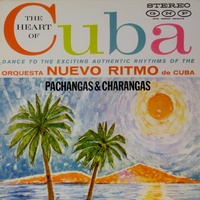 Orquesta Nuevo Ritmo de Cuba: The Heart of Cuba; GNP Crescendo GNP-47; 1959; 1st press E/N S $30 (or later press N-/N S $25, specify) -- charanga/exotica; as historically important as it is musically wonderful, this is the ONLY LP made by only the second US charanga, formed in 1956 by Cuban conguero Armando Sanchez (with Rene Hernandez & others); recorded in New York, not LA (see p.183 of Max Salazar's book "Mambo Kingdom"); also we think it became Mongo Santamaria's first group; essential for their very exotic (as in, EXOTICA) Afro-Cuban original "Cuban Jungle" (awesome--worth it for that even if you're not big on charanga); until it gains the reputation it deserves, it remains a great bargain!

Claus Ogerman (Latin Rock, Saxes Mexicanos, Watusi Trumpets...) .... odd pop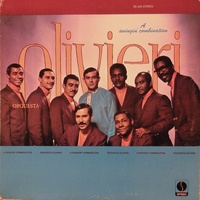 Orquesta Olivieri: A Swingin' Combination; Speed SS-104; 1968; E+/N S $150 (or mono SM-104 E/V+ $60, specify) -- Latin soul; uptempo and swinging all the way; it's one of the best on the tiny but ALL GREAT Speed label; whichever of these you get, don't you believe for a New York minute that the cheesy reissues even begin to do justice to the sound of the originals--when it's this good, don't settle for dead sound!!!; can't recommend this highly enough; Don't Be Shy (fantastic masterpiece), African Guajira [with African Twist], Wabble with Boogaloo, El Musico (Mario Ortiz), A Swingin' Combination (Al Santiago)..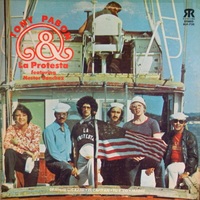 Tony Pabon y La Protesta featuring Nestor Sanchez; Rico LP-720; 1974; V+/V+ S $25 -- salsa; standout stuff, with the participation of Hector Rivera, Vitin Aviles, Sonny Bravo..; El Capitan, Madre, Que Tienes Titina, El Errante, Quien Te Dijo a Ti, Dejenme Llorar, El Quincallero, Tu y Yo, Jeringonza

Charlie & Eddie Palmieri subpage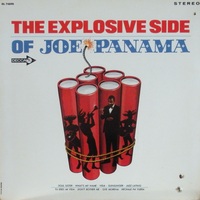 Joe Panama: The Explosive Side of Joe Panama; Decca DL-74890; 1968; cutout N-/E+ S $300 -- one of the rarest --if not THE rarest-- in the great Decca series has not only great boogaloo (vocal and instrumental) but also Latin jazz (jazz mambo/descarga) and even a sweet soul ballad!; it's rare, it's great, it's stereo, it's clean--it's a top original for those who want only the very best; Soul Sister, What's My Name, Vida, Gunslinger, Jazz Latino, Tu Eres Mi Vida, Don't Bother Me (terrific Latin-soul instrumental), Oye Morena, Echale Pa' Fuera
Los Papines; Caribe 215 (Cuba); N-/N S $200 -- Cuban/conga/jazz/descarga; a stone killer from Cuba in the hip period (early '70s), this rare groove has it all: very obscure group/title/LP, terrific percussion, hip jazz-mambo feel w/improvisation that's well on the way to descarga, great b/w jacket photo (4 Papines jumping over their congas); we're extremely proud to offer this!; Congas de mi Cuba, Tambores Felices, Zarara, Mi Quinto, La Cachamba, La Lechoncita, Si-No, Para que Niegas?; jacket edges neatly clear-taped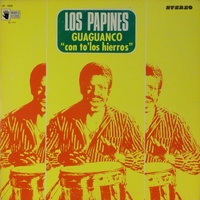 Los Papines: Guaguanco Con To'Los Hierros; Manopla 1022; 1973 (Cuba); E+/N S $100 -- Cuban/conga; terrific group scores big with outstanding percussion-led tracks, all guaganco except as noted: Fantasia en Ritmo (rumba), Los Barrios, La Columbina (Columbia), Seguire sin Sonar, Sabor a Conga (conga), Leccion de Esclava, A Parche Solo, Dona Chana, Te Canta Mi Tambo (Afro), Tasca Tasca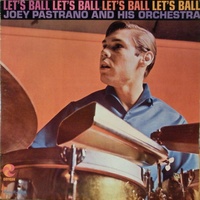 Joey Pastrana: Let's Ball; Cotique C-1006; 1967; SIGNED! cutout E+/N $150 (or sealed cutout $150, specify) -- Latin soul; "Are you ready for an explosion in Latin soul, a trip into the deepest bugaloo?"; Joey Pastrana's debut LP as leader after playing timbales for Bobby Valentin on Fonseca (that's another rare great one!); with Jack Hitchcock, Johnny Rivera, Chicky Perez, Ismael Miranda among the star performers; highly desirable for several killer dance tracks; signed copy autographed to none other than Max Salazar in 1975 (we have several from his collection)--jacket has a note or two written by Salazar and a mild water stain on the back (otherwise beautiful); Let's Ball, Bien Dulce, Lagrimas Negras, Mani Picante, Jammin' with Joey, My Shingaling, Rumbon Melon, Flamenco Ole, En Nada Estas -- THIS IS A MAJOR SCORE!!!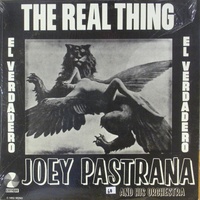 Joey Pastrana & his Orchestra: The Real Thing/El Verdadero; Cotique C-1053; N-/E+ shrink $60 (or stereo CS-1053 cutout V+/V+ S $35, specify) -- Latin/Latin soul; scarce LP by one the leading lights of the label; with such ringers as Chivirico Davila and Jack Hitchcock; offers a panorama of Latin influences and creativity (unusual stuff!); Colour My World, The Real Thing, The Gate, Skin Deep, Guajira con Joey, Pastrana llego..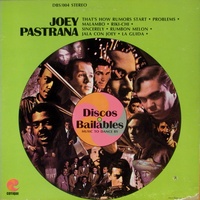 Joey Pastrana & his Orchestra: Discos Bailables/Music to Dance By; Cotique DBS-004; cutout E-/E S $50 -- Latin soul; great, rare compilation drawn from his 1st 4 LPs (which are rare period, forget about stereo!); jacket lists Cotique LPs 1001-1055 & features images of most of the Cotique stars; Rumors, Riki Chi, Jala con Joey, La Guida, Los Cosas de la Vida, Malambo, Problems, Rumbon Melon, Asi Na Ma, Sincerely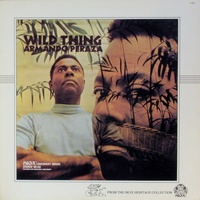 Armando Peraza: Wild Thing; Gryphon G-923 (Skye Heritage Collection, formerly Skye SK-5D; 1968) N/N S $30 -- Latin soul/-rock/-jazz/conga by Cuban conga star; w/Cal Tjader--who co-prod. w/Gary McFarland--, Johnny Pacheco, Sadao Watanabe, Chic Corea, Bobby Rodriguez..; Wild Thing, Mony Mony, Souled Out, Funky Broadway, Red Onions, Viva Peraza, Al Bajar el Sol, Granny's Samba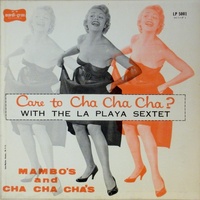 La Playa Sextet: Care to Cha Cha Cha?; Mardi-Gras LP-5001; blue deep groove E+/V+ $20 -- the first 12" LP on the classic NY label presents the group after nearly a decade of seasoning (liners provide valuable bio and photo); the tunes are among their biggest hits (from earlier and with the release of this set); Jamaica, Johnny Guitar, Care to.., Delicado, Garbage Man's Cha Cha Cha, Prelude in Rhythm, Dry Cocoanuts, Martian Cha Cha Cha, Batakum, An Evening of Cha Cha Cha, Chiquita, The Ambassador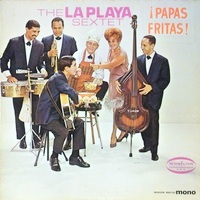 La Playa Sextet: Papas Fritas; Musicor MM-2103; E/E $50 -- mod Latin/Latin rock/Latin twist; one of the most unusual La Playa LPs (and rare!) and the most interesting/useful for DJs besides their even rarer boogaloo LP on the same label; with their signature guitar now fully electrified and amplified, "Come on Seven" is the stone killer (we've always had a blast pairing it with "The Bird" from Lalo Schifrin's Liquidator ST--see jazz page for that), and the rest is hot too (great for all who appreciate uptempo Latin rock, Latin twist, boogaloo, Mexicali brass, and other mod-Latin forms; it rocks, it jumps, it SWINGS!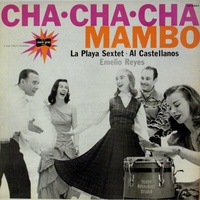 La Playa Sextet/Al Castellanos/Emilio Reyes: Cha Cha Cha-Mambo; Mardi-Gras LP-5003; E+/E+ $30 -- one of the essential, great, earliest LPs on the classic NY label; 10 cuts by La Playa Sextet (Laughing Cha Cha, Mambo Batiri, Teasing Cha Cha, My Cuban Sombrero), Al Castellanos (Together 1-2-3, Merengue Ta Ka Ta), and the scarce but wonderful Emilio Reyes (Delightful Cha Cha, Occasional Man, Cha Cha Bar, Cafe Mambo); loved for the goofy, '50s party-scene jacket as much as the music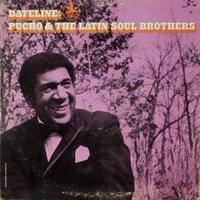 Pucho & the Latin Soul Brothers: Dateline; Prestige 7616; 1969 blue/trident promo E-/E- S $60 -- soul jazz/Latin soul; tunes by Pucho associate Ray Rivera and others; with the Pazant brothers, Neil Creque, and the usual crew; rare and contemporary with the super-rare "Jungle Fire" though naturally not as as super funky/great/pricey, but still a good mix of jazz and Latinate stuff; plays well with noise just on the ballad "Bim"; Dateline, How Did it Happen, Ain't Nothin Can't Happen, Tell Me, Listen to Louie, Bim, Yambo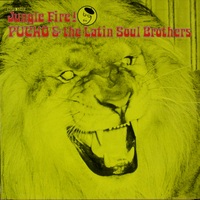 Pucho & the Latin Soul Brothers: Jungle Fire; Fantasy/Prestige PRST-7765; 1969; UK BGP REISSUE (BGPD 1049) N/N S $30 -- soul jazz/Latin soul; rarest and most expensive ($500) of the Pucho originals, Jungle Fire is one title where it really is the smart move to nab the reissue and pray for a shot at the real thing, someday; anyway, with a record this good you don't need details, just the availability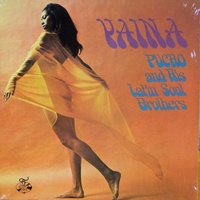 Pucho & the Latin Soul Brothers: Yaina; Groove Time GRT-10001; 1993 (reissues Right-On 5000) N/N shrink S $25 -- soul jazz; licensed, well-done, faithful, West Coast reissue of a major rare groove from 1969-1970 or so; w/Harold Alexander on flute; covers "Hard Hats" (by Pucho associate Ray Rivera), Neil Creque's Cease the Bombing, Kenny Burrell's Chitterlings con Carne, and Coltrane's Naima, among others

Tito Puente subpage (& Pupi Campo)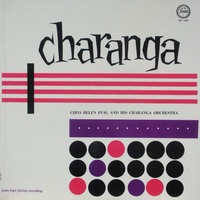 Cheo Belen Puig & his Charanga Orchestra: Charanga; Fiesta FLP-1307; N-/N- $30 -- Latin; top name, top shape, rare one on the beloved Fiesta label; El Limpiabota, La Juma de Ayer, Errante y Bohemia, No Me Gustan Los Bonches, El Derumbe Del Solar, Lupina, A Gozar con Montuna, Ven Carinito Ven, Que Siga el Ritmo, No Me Quieres Ya, Un Amor en Cha Cha, Palmera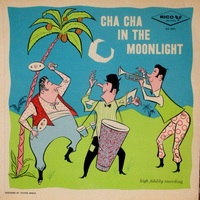 Cheo Belen Puig: Cha Cha in the Moonlight; Fiesta/Rico RLP-3002; deep groove E-/E- $15 -- Latin; compilation from rare Fiesta LPs 1213 & 1307 (you may want just this one alone, or to see if you want to spring for either of the Fiesta LPs, which also are largely duplicitous); Errante y Bohemia, Los Envidiosos, La Juma de Ayer, Lupina, Viva El Rey, El Limpiabota, Alma Guajira, Feliz Contigo, Quiereme Mucho, El Derumbe Del Solar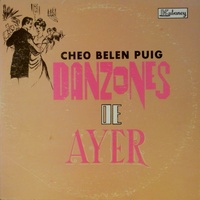 Cheo Belen Puig: Danzones del Ayer Vol. II; Kubaney MT-114; green deep groove E-/N- $20 -- Cuban; great record on top Cuban label!; he had other great records on SMC and Fiesta but this is a highlight at a great price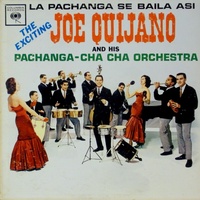 The Exciting Joe Quijano & his Pachanga-Cha-Cha Orchestra: La Pachanga Se Baila Asi; Columbia CL-1744; 1962; black 6-eye E/E- $30 -- rare debut for the label features 12 tracks; Side 1 is good pachanga; Side 2 features cha-cha-cha in various forms; standouts are Bobby "Valentin's Cha Cha" & what may be the masterpiece of the LP: the guajira-cha-cha-cha "Yo Soy El Son Cubano"; graded/priced low for plenty of light wear (surface) but plays nicely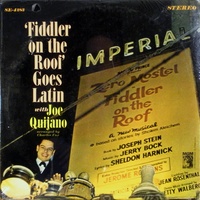 Joe Quijano: Fiddler on the Roof Goes Latin; MGM SE-4284; sealed S $50 (or E/N S $40, specify)(or mono MGM E-4283; N-/N $30, specify) -- Latin jazz/Latin; the whole thing is excellent (one of Quijano's best LPs), and the fantastic Mr. Fox arranged it (luckily it's not as hard to find as Charles Fox's other legendary Latin-jazz LPs); many tunes in various tempos are outstanding but the legendary mambo-jazz smoker is "Sunrise, Sunset"--this is the tune you need it for the most, hot stuff!; MGM is the first version (MGM/Latino is second) of this terrific LP YOU NEED!!!; Sabbath Prayer (Plegaria), Matchmaker (Busca Novio), Far from the Home I Love (Recordando), To Life (A Vivir), Anatevka, Do You Love Me (Si Me Quieres), A Little Bit of This (Un Poquito de Conga), If I Were a Rich Man (Si Yo Fuera Rico), Sunrise Sunset (Amanece, Atardece), Now I Have Everything (Ahora Tengo Todo), Miracle of Miracles (Que Milagro), Fiddler on the Roof (Tocando en Elrufo)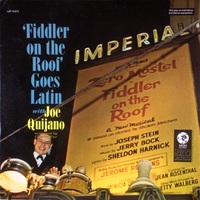 Joe Quijano: Fiddler on the Roof Goes Latin; MGM/Latino 10,013 yellow-label promo N-/N S $40 (or yellow-label promo V-/N- S $25, specify) -- MGM/Latino reissues MGM in full quality/fidelity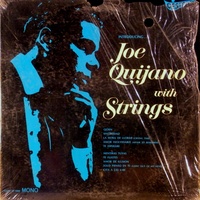 Joe Quijano with Strings; Cesta SLP-5000; N/N shrink $50 -- arr. & cond. Charles Fox, it's all ballads but nicely done; rare & top shape--can't beat it (last of the original CESTA LPs); La Hora de Llorara (Crying Time), Solo Pienso en Ti (Goin' Out of My Head), Quien, Sinceridad, Amor Inolvidable (Affair to Remember), Te Esperare, Mentiras Tuyas, Te Fuistas, Amor de Ilusion, Cita a Las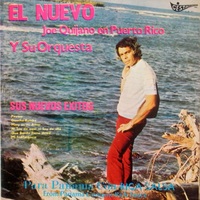 Joe Quijano en Puerto Rico; Cesta CE-11; Panama issue w/different jacket E/V $20 -- live; covers Carly Simon's "It's Too Late" but otherwise Latin/salsa; great stuff, good sound, priced low for wear/noise but it's worth it (rare!)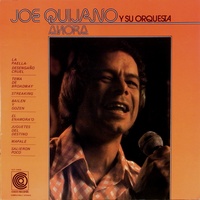 Joe Quijano: Ahora; Coco CLP-114; 1975; AUTOGRAPHED! cutout E/N S $30 (or unsigned/uncut N-/N S $30, specify) -- scarce, great '70s salsa LP; prod. by Harvey Averne w/musical director Charlie Palmieri; all-star cast: Barry Rogers, Chocolate Armenteros, Vitin Aviles, Ray Rivera..; Paella/Desengano Cruel, Tema de Broadway, Bailen y Gozen (Miguelito Cuni), Streaking, El Enamorao, Juguetes del Destino, Mapale, Salieron Pocos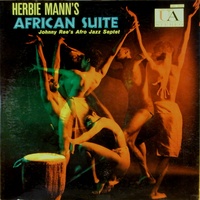 Johnny Rae's Afro-Jazz Septet: Herbie Mann's African Suite; United Artists UAS-5042; 1959; 1st/deep groove N-/E- S $60 (or mono UAL-4042 E+/E- $30, specify) -- Latin jazz/vibes; terrific, from the gorgeous, hall-of-fame jacket to the fantastic sound (1st-rate; almost no noise), very scarce in stereo!; w/percussion masters Jose Mangual, Patato Valdes, Victor Pantoja, Philly Joe Jones; Bobby Corwin (piano) and Herbie Mann on flute; St. Thomas, Sorimao, Jungle Fantasy, Bedouin, Sudan, Ekunda, Guinean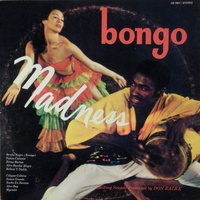 Don Ralke: Bongo Madness; United-Superior US-7801 (old reissue) E-/E- $25; (or original Crown CLP-5019; deep groove/black label/first jacket E/E- $25, specify) -- bongo bop/Afro-Cuban/Latin jazz/flute/bongo; with bongo legend Jack Burger, Buddy Collette, Don Tosti, Tom Wofford; sensational and exploitative as you expect with Crown (and some noise, always) but with first-rate people, terrific original music, great playing, groovy jacket art (part of a series of similar good stuff on Crown); Bembe Negro, Pasion Caliente, Ritmo Marteo, Afro-Mambo Alegre, Belleza y Diablo, Calypso Cubano, Sesion Grande, Noche in Havana, Afro-Bop, Mgombo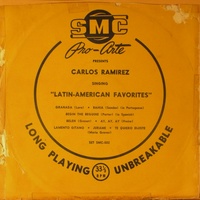 Carlos Ramirez Sings Latin-American Favorites 10"; SMC Pro-Arte SMC-502; deep groove V+/N- $50 -- Latin; vocal by famed member of the original Arsenio Rodriguez orchestra, here w/the Roberto Valdes Arnau Orchestra; price/condition/early number make it a bargain (& that's all before considering the Arsenio connection); paper sleeve has edge wear & tape but all text area intact; Granada, Bahia, Belen, Ay Ay Ay, Lamento Gitano, Jurame, Te Quiero Dijiste..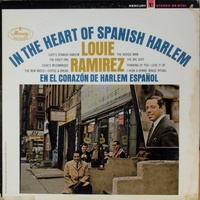 Louie Ramirez: In the Heart of Spanish Harlem/En el Corazon de Harlem Espanol; Mercury SR-61121; 1st cutout E/E+ S $100 -- Latin soul; smoking LP (serious boogaloo) w/singer Bobby Marin by one of the true heroes of Latin/Latin soul/Latin jazz (responsible for many heavy LPs but rarely took leader credit); probably w/Ozzie Torrens; Lucy's Spanish Harlem, The Boogie Man, The New Breed, Love it Up, The Crazy One, The Bigshot..; slight water stain on the jacket (right edge, just in the white border) but otherwise terrific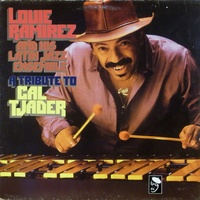 Louie Ramirez & his Latin Jazz Ensemble: A Tribute to Cal Tjader; Ace/BGP 1013; 1988 (reissues Caiman LP-9025; 1986); E/N S $25 -- Latin jazz; w/Jose Mangual, Fajardo, Paquito D'Rivera..; smokin' uptempo Latin-jazz set, not just a fitting tribute to Tjader; a sleeper on Caiman, it greatly impressed the UK Ace people, who wasted no time in reissuing it (that story is in the Ace liner notes--the Caiman has no liners)

Ricardo Ray & Bobby Cruz subpage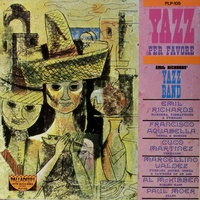 Emil Richards' Yazz Band: Yazz Per Favore; Palladium PLP-105; 1988/196? (REISSUES Del-Fi DFST-1216) N/N S $30 -- Latin jazz; w/Francisco Aguabella & other percussion gods (besides ER himself), it's one of the best Latin-jazz masterpieces going, truly fantastic oddity on of all things [originally] a California surf label(!); we expect never in our lifetimes to see any copy of the original (it's that rare), much less a clean one, but we're thrilled to have bought the last few of these out-of-print beauties; one of the best of the rarity-reissues from Spain's Palladium label; grab it while you can (as we did)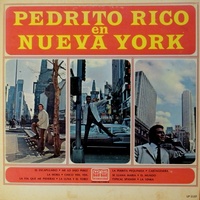 Pedrito Rico en Nueva York; Tico LP-1137; promo V+/E- $15 -- famous Spanish tenor captured in 12 songs by Pancho Cristal; if you like him, you need this original

Rivera subpage (all of them: Chollo, Hector, Ismael, Ray)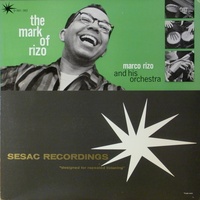 Marco Rizo: The Mark of Rizo; Sesac S-201/202; N-/N deep groove $50 -- super rare one by star Cuban pianist on a tiny NYC label from the '50s; Sambalero, Siesta Rock, Encantadora, Fiesta Time, Por Que, Ah! Cha Cha Cha, Cecilia, Infatuation..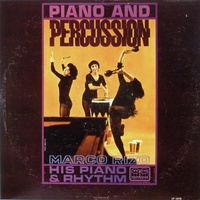 Marco Rizo, his Piano & Rhythm: Piano & Percussion; Tico LP-1076; black deep groove E/N- $40 -- Cuban/Latin piano; our favorite Tico LP by Rizo, as not only are his playing and arranging great, but it's uptempo and exotic, a bit like an exotic-percussion record; Cancion de Gail, Bruca Manigua, Danza Lucumi, The River, Sambalero, Sabre Dance, Kitten on the Keys, Tabu, Joey's Song, Hawaii, Gitanerias, Ritual Fire Dance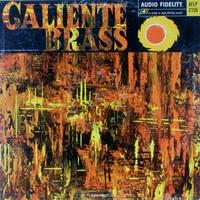 The Ralph Robles Octet: Caliente Brass; Audio Fidelity AFLP-2156; 1966; E-/V $60 -- Latin soul/Latin jazz/mod Latin; just before signing with Fania and making their 3 legendary classics of Latin soul (plus other Latin records), the Robles powerhouse cooked up this rarity for the AF label; it's the same great group that spawned several other Fania legends (George Guzman, Roy Roman..) in their earliest recordings; ignore the misleading title ("Caliente Brass")--rest assured it's a real smoker of a New Yorican LP, including several heavy originals and priceless jazz-mambo descargas, even a couple of tunes by Tito Rodriguez and Eddie Palmieri!; also desirable for the modern-art jacket; some wear & noise but well worth it; Mama Guela, Willie's Movement, La Maricutana, Marie Elena, Manny's Jam, Ritmo Mambo, Lemon Tree, Cherry Pink, Val-D Blues, Solamente, Con Migo, Coco Seco

Rodriguez subpage (all of them: Arsenio, Freddie, Giraldo, Pete, Willie)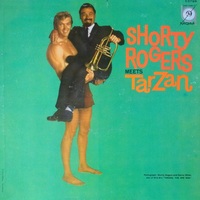 Shorty Rogers Meets Tarzan--Music from "Tarzan, the Ape Man"; MGM E-3798; 1959; 1st/only press E/E $75 (or V+/E+ $60, specify) (or V+/E $50, specify) -- Afro-Cuban jazz/exotica (comparable to Puente's "Tambo," Gillespie's "Afro," and Sabu's "Sorcery"); fantastic, highly desirable, and fairly rare (just one pressing of each flavor, mono and stereo)!; with the great percussionist Modesto Duran(!!!), Frank Rosolino, Bud Shank, Pete Jolly..; enjoy the cheesy title and jacket (Shorty carried in the arms of TV Tarzan Denny Miller) but get ready for a truly incredible, SMOKIN' POWERHOUSE that neither Latin-jazz nor exotica fans can overlook; The Elephants Wail, Los Barbaros, Paradise Found, Trapped, Los Primitivos, Oomgawa, Tarzanic Suite (all of side two!)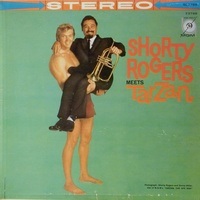 Shorty Rogers Meets Tarzan--Music from "Tarzan, the Ape Man"; MGM SE-3798; 1959; 1st/only press E/E+ S $100 -- rare stereo!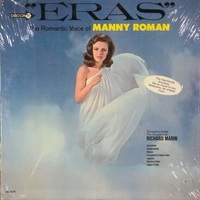 Manny Roman: Eras--The Romantic Voice of Manny Roman; Decca DL-4879; sealed $500 -- Latin/Latin soul; produced by Richard Marin with vocals arranged by Tito Puente, it's so rare that chances are excellent it will be the last you'll find in either Tito Puente productions or the great Decca Latin-soul series (note that Manny Roman sings with Johnny Zamot and on other LPs); the title track is a bolero by Ray Barretto and it's essentially ten boleros with two Latin-soul cuts on each end by Tito Puente ("Guajira" and "Shing-a-ling en Cuarto"); the fact that it's sealed is just icing on the cake, but note that it is a factory rewrap (tiny cutout hole under the shrink)--we're happy to open and check on purchase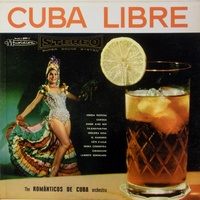 The Romanticos de Cuba: Cuba Libre; Musidisc MS-16001; deep groove N/E+ S $15 -- Cuban; classic romantic LP on one of our favorite labels (everything on it is good); great cocktail/dancer jacket (worth it for that alone, esp. here in perfect shape!); Verda Tropical, Carioca, Danse Avec Moi, Pa-Ran-Pan-Pan, Cerejeira Roas, El Manisero, Cote d'Azur, Negra Consentida, Cubanacan, Lamento Borincano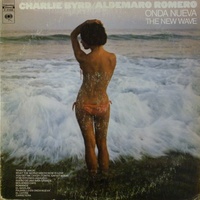 Charlie Byrd/Aldemaro Romero: Onda Nueva/The New Wave; Columbia/CBS KC-31025; 1971; V+/N S $60 (or promo w/timing strip V+/E+ S $45, specify) (or promo w/timing strip V+/E- S $30, specify) -- Venezuelan bossa with mod chorus (like the Novi Singers, Somethin' Cool, and other outstanding late-'60s/early-'70s mod vocal/bossa); the Onda Nueva records are all coveted rare-groove legends!; even features rare-groove superstar drummer Frank Hernandez!; Romero was a longtime Tito Puente associate and major star of Venezuela; and of course there are those who want it for Charlie Byrd (rare one for him, too); You Get Me Crazy (Tona, Gafa Y Boba), It Never Ends (Anauco), What the World Needs Now is Love, Sueno de uno Nina Grande, Moliendo Cafe, Romance, El Gavilan, Pajarillo en Onda Nueva, Pray for Me I'm in Love (Tema De Amor), El Catire, Carretera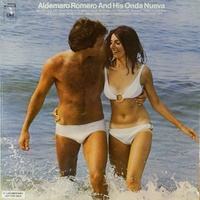 Aldemaro Romero & his Onda Nueva; Columbia/CBS KC-31253; 1972; sealed promo S $150 (or N/N shrink S $100, specify) (or E+/E+ S $80, specify) -- FANTASTIC uptempo Venezuelan bossa with mod chorus (like the Novi Singers, Somethin' Cool, and other great late-'60s/early-'70s mod vocal/bossa); all of the Onda Nueva records are coveted rare-groove legends and this is perhaps the best!; for decades a major star of Venezuela and Latin music, Al Romero had earlier LPs on Victor and a long association with Tito Puente who recognized his talent early on; It's Impossible, And Still I Love Her, It Never Ends, Little Love Bird, Someone, Two, Venezuela, Bluesette, Sweet Madness, Sunrise Sunset, Never Can Say Goodbye(!!!)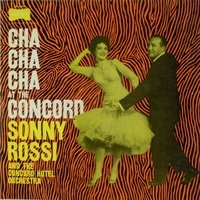 Sonny Rossi & the Concord Hotel Orchestra: Cha Cha at the Concord; Mardi-Gras LP-5014; E+/V+ $20 -- Latin; rare title, great jacket; some marks and a little noise here and there but worth it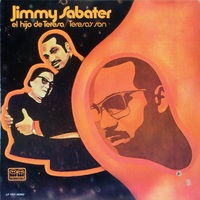 Jimmy Sabater: El Hijo de Teresa/Teresa's Son; Tico SLP-1211; cutout (hole) N-/N $100 -- Latin soul/Latin/breaks; it's the second solo album by the great voice of the Joe Cuba group, and as on so many great Latin-soul LPs, the ever-funky Marty Sheller and the great Louie Ramirez take the arranging credit; this is one of those Tico LPs that rarely turns up, and when it does it's never even close to this fine, but here you go!; the big payoff for funky Latin-soul breakbeat hunters is "Kool It" (Right On!) which is awesome, and there's a lot more for everyone here (Sabater never lets you down); La Flauta, Now That You've Gone, Por Primera Vez, Kool It, La Peleona, Dona Teresa, Vida, Wichita Lineman, Yroco, El Albanil, Sufre Como Yo Sufri

Mongo & Monguito Santamaria subpage (both!)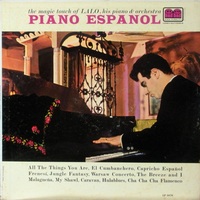 Lalo Schifrin: Piano Espanol--The Magic Touch of Lalo, his Piano, & Orchestra; Roulette/Tico LP-1070; 1959; black deep groove E/E+ $50 -- Lalo's historic first LP is rare and incredible!; tremendous Latin with all the touches of jazz & exotica you find in his best later work (though obviously unlike his funky STs of the following decades)--our favorite Latin piano LP; far better than the equally scarce Roulette LP "Lalole" too!; Frenesi, The Breeze & I, Capricho Espanol, My Shawl, Caravan, Malaguena, Cha Cha Cha Flamenco, Warsaw Concerto, Hulablues, Jungle Fantasy, All the Things You Are, El Cumbanchero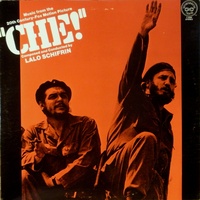 Lalo Schifrin: Che! ST; Tetragrammaton T-5006; E/N- S $25 -- Latin; terrific original music combines Cuban (tres & percussion) w/Bolivian sounds (in tribute to iconic revolutionary hero Che Guevara's last two campaigns); just check out the partial list of superstars: Francisco Aguabella, Mongo Santamaria, Chino Valdez, Armando Peraza, Jose Mangual, Bill Plummer, Kaskara, Bud Shank, Julio Collazo..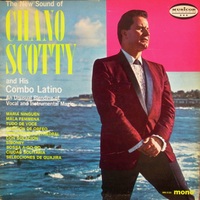 Chano Scotty & his Combo Latino: The New Sound of Chano Scotty & his Combo Latino; Musicor MM2120; 1967; N-/N $100 -- mod bossa organ/mod Latin/funky drums/breakbeats; "An Unusual Blending of Vocal and Instrumental Magic"; among the handful of fantastic Latin-soul LPs that Tito Rodriguez produced for the label, the pair by Chano Scotty are total delights; at the time of this first LP (hot swinging bossa rather than boogaloo), the Argentine percussionist Scotty had led his group for five years following work and travel with heavy names (Julio Gutierrez, Perez Prado, Cugat, Lecuona Cuban Boys, Josephine Baker..); here you have some awesome organ bossa by arranger Ruben Stefano including a killer Shorty Rogers track that makes this rare-groove LP a major find (and some of the other tracks are like pre-USA early Wanderley or the awesome Venezuelan bossa of Al Romero's Onda Nueva), plus some pretty funky kit drumming by Scotty (advanced for 1967!); Maria Ninguen, Mala Femmena, Tudo de Voce, Cancion de Orfeo, Winchester Cathedral, Consolacion, Siboney, Bossa A-Go-Go (belongs in the big leagues for swinging sixties rare grooves), Ciudad Solitaria, Selecciones de Guajira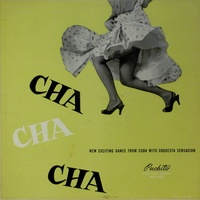 Orquesta Sensacion: Cha Cha Cha; Montilla/Puchito MLP-504; blue label, deep groove E-/V+ $20 -- Cuban; great group, great album; the real deal from Cuba!

Pete & Ray Terrace subpage (both!)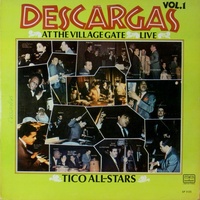 Tico All-Stars: Descargas at the Village Gate Vol. 1: Tico LP-1135; orange E/E $25 -- famous, terrific, lively live set w/Chocolate Armenteros, Ray Barretto, Cachao, Candido, Joe Cuba, Johnny Pacheco, Charlie Palmieri, Eddie Palmieri, Victor Paz, Chino Pozo, Tito Puente, Barry Rogers, Jimmy Sabater..; "Guajira Controversial" is a side-long boogaloo-descarga; Side 2: Cargasy y Descargas, Barguino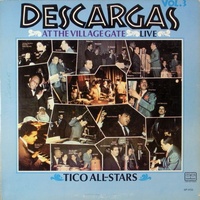 Tico All-Stars: Descargas at the Village Gate Vol. 3: Tico LP-1155; orange deep groove E/N- $30 -- Descarga de Contrabajos, Descarga Bugaloo, Descarga Pompo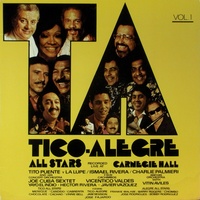 Tico All-Stars: Recorded Live at Carnegie Hall Vol. 1; Tico CLP-1325; 1974; gatefold w/inner-leaf poster N-/N S $30 -- live super set: Tito's Odyssey (Tito Puente cashing in on "2001: A Space Odyssey"), Sale El Sol--Dormi Contigo (Ismael Rivera), Son Tus Celos (Charlie Palmieri y Vitin Aviles), Boom Boom Lucumi (Joe Cuba), Chango (La Lupe), Confusion (Vicentico Valdez), Si You Encontrara Un Amor (Yayo el Indio), La Cosa--Alegre! (Alegre All Stars)--highlight of the LP

Cal Tjader (all: Latin jazz and jazz/soul-jazz vibes) .... jazz (search "tjader")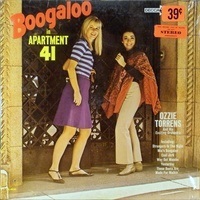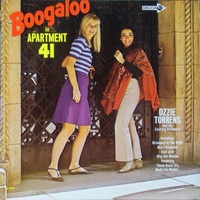 Ozzie Torrens & his Exciting Orchestra: Boogaloo in Apartment 41; Decca DL-4830 cutout N/N- shrink $150 (or uncut N/N- $150, specify) -- Latin soul; legendary groover supposedly directed by Symphony Sid's son but really it's an all-star set w/Manny Corchado, Louie Ramirez, Manny Duran, Charlie Palmieri, Richard Marin..; one of the most desired Latin-soul LPs/one of the biggies in the coveted Decca series; great treatments of popular hits plus very hip originals: These Boots are Made for Walkin', Cool Jerk, Day Tripper, Mia's Boogaloo, Way Out Mambo, Ozzaboo, Boogaloo in Apt. 41..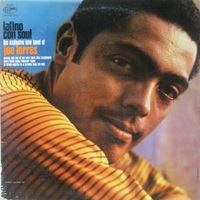 Joe Torres: Get Out of My Way (jacket: The Explosive New Band of Joe Torres: Latino Con Soul); Liberty/World Pacific WP-1857; E-/E+ $90 -- Latin soul/Latin jazz/mod; totally swinging, mostly instrumental rarity by West Coast timbalero Torres--one of the best things on World Pac!; those who've "heard it all" in NY Latin soul and Latin jazz should pounce on this relatively obscure, one-off California killer!; mostly originals with a great, loud, clear sound DJs will love, fully mod, hip, and swinging whether jazz or boogaloo; Get Out of My Way, Sunny, Devil Eyes, Oba!, Nightwalk, Eleanor Rigby, Soul Cha, Yo Sali, In a Greasy Bag, La Bruja Negra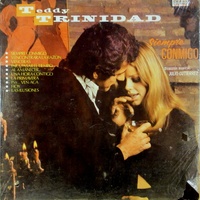 Teddy Trinidad w/Julio Gutierrez: Siempre Conmigo/Always Together; Teca LIS-715; sealed deep-groove cutout S $90 (or deep-groove cutout E+/N- S $60, specify) -- top artist backed by Julio Gutierrez!; we love this rare LP/label (he also had a couple on Fania International but this is the great one) with gorgeous color Teca inner sleeve showing thumbnails of other Teca LPs, such as Cachao's; vital for four uptempo, swinging, mod groovers (rare grooves!) and there are six ballads for those seeking his usual crooning; "La Primavera" even features a Chipmunks-esque break, a la Renato Carosone!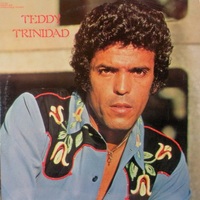 Teddy Trinidad; Fania International 0598; 1977 sealed S $20 -- Latin; ballads, as far as we know (hear a couple of them on YouTube); and we're pleased to offer this unopened original at a low, low price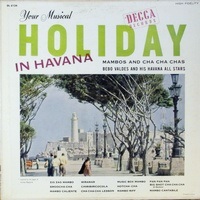 Bebo Valdes & his Havana All Stars: Your Musical Holiday in Havana; Decca DL-8134; E/V $20 -- Latin/Latin jazz; seminal work by the master, some of which really smokes; a major highlight of this early Decca series--excellent!; Zig Zag Mambo, Mambo Caliente, Miramar, Chiribiricocola, Cha Cha Cha Lesson, Music Box Mambo, Mambo Riff, Pan Pan Pan..; wear & some mild noise but plays well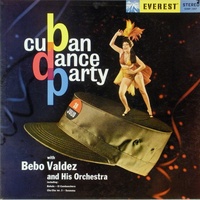 Bebo Valdes: Cuban Dance Party; Everest SDBR-1057; 1959; E/E- S $75 (or mono LPBR-5057 E/E $45, specify) -- Latin/Latin jazz; its rarity, the great Bebo Valdes (recently rediscovered by mainstream jazzbos & NPR), notes by Nat Hentoff, & an intriguing jacket (dancer upon a "26 Julio" Castro cap) should be ample reasons to want this, but what really makes it sensational is "Ita Morreal"--uptempo Latin jazz (like Dizzy Gillespie & Machito in a fever) featuring a tremendous, exciting, unbelievably rare, be-bop "scat" vocal!--YOU NEED THIS!!!; Babalu, Cha Cha #1, El Cumbanchero, Habana, A Quien Enganes, Ita Morreal (fantastic!), El Manisero, Cha Cha #3, La Feria de Los Siglos, Aquellos Ojos Verdes, Sasauma, Tu Sabes Bien que te Quiero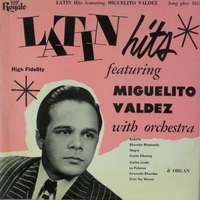 Miguelito Valdes: Latin Hits 10"; Royale 18138; E/V $25 (or grey jacket E-/V $20, specify) -- Afro-Cuban; Valdes is on the first side only (four cuts: Babalu, Rhumba Rhapsody, Negro, Canto Siboney) but what cuts they are!; Side 2 is just throwaway organ (Cielito Lindo, La Paloma, Serenade Rhumba, Over the Waves) as filler; good sound and jacket photo, good addition to the MV collection; ask about getting a discount on most or all the Miguelito Valdes LPs listed here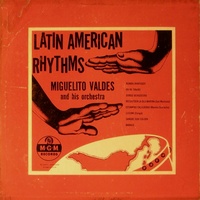 Miguelito Valdes: Latin American Rhythms 10"; MGM E130; deep groove V+/V- $25 -- Afro-Cuban; there's rare and there's rare, and it doesn't get much tougher than these old MGM discs (most will find all the other scarce MV titles before this one); here you have a fantastic early set--many say it's his best; excellent mix of the Spanish and the antero/African; be able to deal with "as is" wear/noise but it's priced low for it; Babalu, Sangre Son Colora, Lucumi (conga), Estampas Callejeras (mambo guaracha), Recuerden La Ola Marina (son montuno), Bongo Bongocero, Oh Mi Tambo (w/great tribute to "Minnie the Moocher!"), Rhumba Rhapsody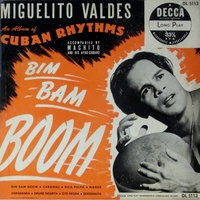 Miguelito Valdes w/Machito & his Afro-Cubans: Bim Bam Boom--An Album of Cuban Rhythms 10"; Decca DL-5113; (c)1949; deep groove E-/V+ $50 -- Afro-Cuban; classic rare set with two cuts by the legendary Chano Pozo(!); marks and noise throughout (as usual with 10" LPs) but well worth it; dramatic jacket!; Bim Bam Boom, Carambu, Rica Pulpa, Zarabanda, Nague, Drume Negrita, Oye Negra, Sensemaya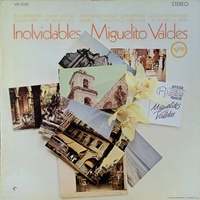 Miguelito Valdes: Inolvidables; Verve V6-5036; deep groove cutout N-/N- S $20 -- Afro-Cuban; vocal, excellent, classic; very welcome return of the greatest vocalist of Latin's classic (pre-1950) era; arranged & conducted by the late, great Chico O'Farrill; songs by Afro-Cuban heavies Valdes, Chano Pozo, Rafael Hernandez, Silvestre Mendez..; Guaguanco Africano, Negra Leono, Arinanara-Nague, Quimbamba, El Limpiabotas, Zarabanda, No Negrita No, Tambo..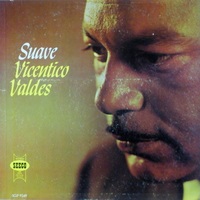 Vicentico Valdes: Suave; Seeco SCLP-9249; 1963; E-/E $25 -- Latin/bolero (except as noted); top singer with the fabulous Joe Cain and his orchestra on a rare record (as just about everything on Seeco has become); Bendicion, Me Estas Envenenando (bolero-mambo), Quisiera ser Feliz, Como Decirlo, Mi Gente (son-montuno; by Hector Rivera!), La Noche Morena (bolero-moruno), Sintiendote Mia, Mi Dulce Amor (bolero-mambo), Pobres Besos Mios, Me Inventaste (bolero ritmico), Todo en la Vida Pasara (samba-pachanga), Si No Hay Razon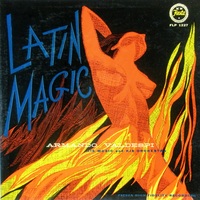 Armando Valdespie His Music & his Orchestra: Latin Magic; Fiesta FLP-1227; yellow deep groove N-/N $50 -- Latin; rare, great jacket, perfect opportunity for anyone trying to complete the label (these one-offs are TOUGH!!!)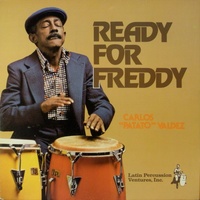 Carlos "Patato" Valdez: Ready for Freddy; Latin Percussion Ventures LPV-419; 1976; N-/N- S $30 -- a highlight of the great Martin Cohen series, by the master percussionist (title is one of his favorite expressions); La Ambulancia, Quedate Sin Amor, Canto a Chango, To y van Hecho, Como Suena Mi Son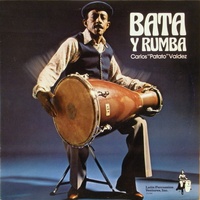 Carlos "Patato" Valdez: Bata y Rumba; Latin Percussion Ventures LPV-586; 1980; N-/N- S $60 -- scarce one in the great Martin Cohen series by the master percussionist; obviously, hearing Patata on da bata is like winning da latta...ry; a true score for the collector and fan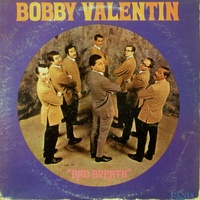 Bobby Valentin: Bad Breath; Fania LP-335; GOLD V/V $40 -- Latin soul/Latin jazz; one of his early legendary smokers; priced low for heavy surface wear but plays very well (Fania gold is known for its survival qualities)
Bobby Valentin: Let's Turn On/Arrebatarnos; Fania SLP-343; GOLD V+/V+ S $200 -- Latin soul/Latin jazz; loaded with killer cuts: Use it Before You Lose It (people have paid $1,200.00+ for just the single on ebay! So we say: buy the rare LP before you miss it!), Yo, Pa' Eso Bebes, Keep the Faith, Yambu, Boogaloo y Shingaling, Margarito, Descarga en Mozambique, Funky Big Feet, Ki Ki Ri Ki; plenty of wear/marks but plays very well (some noise in the dead wax but the music is nearly noiseless); jacket not too shabby either; value if perfect: $400 or more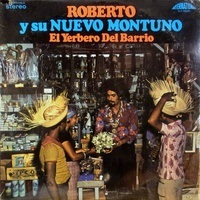 [Bobby Valentin as] Roberto y su Nuevo Montuno: El Yerbero del Barrio; Fania/International SLP-446; 1976; sealed S $60 -- flawless!; rare, as are all the great/necessary Bobby Valentin LPs, and here it's on the International division for being recorded in Puerto Rico; mostly uptempo hot salsa, with arrangements by Marty Sheller; Virazon, El Yerbero del Barrio, Montuno Dulzon, Mi Corazon Te Llama, Nacio Pa' Mi, Cafe (the hit Arsenio/Eddie Palmieri tune), San Lazaro, Corazon Fragil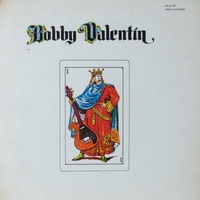 Bobby Valentin; Bronco BR LP-107; 1983/1978; E-/E- S $20 -- salsa; easy to do a lot worse than this!; the master, doing things like Tito Puente's "Mas Bajo" to great effect; just be glad we only get excited about the Fania records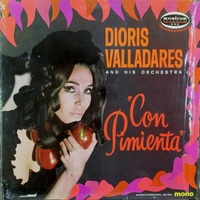 Dioris Valladares: Con Pimiento; Musicor MM-4040; 1968; N/N- shrink $90 -- Latin soul/merengue/Latin/cumbia; the "King of the Merengue" (the #1 Dominican singer/bandleader of his day--sings on many top LPs on significant labels) tackles Latin soul and more in this rarity prod. by Al Santiago (who earlier recorded him for Alegre); for Latin-soul fans (it's one of the handful of super-rare, hip Musicor Latin-soul LPs!), there's a great version of "Pata Pata," the son montuno "Como Esta Mi Conuco," and "Yo Bailo El Boogaloo" (merengue-boogaloo); the first-rate merengue and cumbia will appeal to Dioris Valladares fans; Pimienta en Salve, Pata Pata, La Canada, Como Esta mi Conuco, You Bailo el Boogaloo, La Madrugadora, Cumbia Callejera, Senorita Luna, Esther, La Mangulina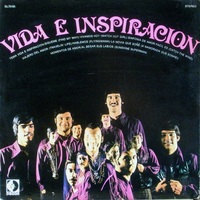 Vida E Inspiracion (Life & Inspiration); MCA/Decca DL-75183; cutout E+/E+ S $100 -- wanted especially for the strong Spanish cover of "Sunshine Superman," it's one of the rarest of the rare mysteries of the great Latin-soul-era Decca/Brunswick series (Zamot, Torrens, Panama, etc.); we suspect they're European but it's of US quality; mild water stain on jacket back, press bump in the last 2 seconds (tracks fine, barely heard)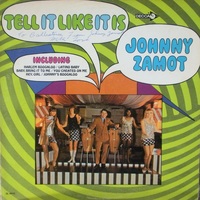 Johnny Zamot: Tell It Like It Is; Decca DL-4945; AUTOGRAPHED white-label promo E+/N $300 (or E-/N- $200, specify) -- Latin soul; canta Manny Roman; wildman Zamot's greatest LP is also the best all-around Latin-soul LP (has some very tough competition but we stand by the nomination); whole thing is strong as can be (a smorgasbord for DJs) but still we just have to single out the legendary masterpiece, "You Dig"--a wildly swinging, dirty-sax-infused, Mark Weinstein-penned, hipper-than-hip, quintessential, rare-groove Latin-soul anthem: "Make the scene...if you know what I mean...take a trip...if you wanna be hip...ya DIG?"; Baby Bring it to Me, Tu Baila Boogaloo, You Cheated on Me, Harlem Boogaloo, Muneca de los Ojos Verdes, Latino Baby, Caminando, Hey Girl, Johnny's Boogaloo, You Dig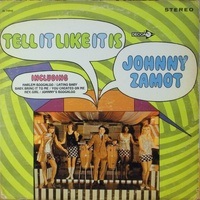 Johnny Zamot: Tell It Like It Is; Decca DL-74945; E-/E S $200 (or white-label promo V+/E- S $90, specify) -- stereo!!!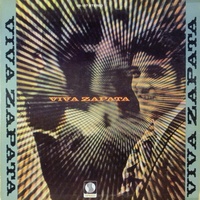 Milton Zapata: Viva Zapata; Speed SS-107; N-/N- S $200 (or E/E $150, specify) -- Latin soul/Latin jazz/salsa; one of the best on the tiny, short-lived, entirely awesome Speed label (& only the original LPs have GREAT SOUND!); dir. by Bobby Marin; highly desirable for the killer title descarga (nearly 7 mins.) as well as most of the other 7 cuts, which feature great singing & arrangements; Aqui Llego Zapata, Miltons Jala Jala, What a Fool, Aninere, Sweet Soul Music, Agua Sala, So Good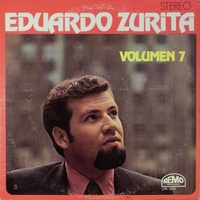 Eduardo Zurita: Vol. 7; Remo LPR-1570; AUTOGRAPHED E-/E S $20 -- cumbia/organ; even if you share the Latin-heads' disdain for things that stray very far from Afro-Cuban/Puerto Rican (as we do, admittedly), Zurita is one of those masters you just cannot ignore, as with Hugo Blanco (the other great cumbia superstar); retrieved from NYC, which is the only place we ever find his records, this one has 10 terrific cuts (a few are 2-song medleys); highlights include "Rico Mambo" (Perez Prado) and a great version of the moving "El Condor Pasa"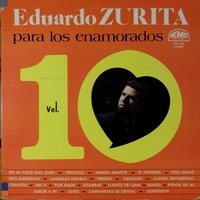 Eduardo Zurita: Para los enamorados (Vol. 10); Remo LPR-1596; E/E S $20 -- cumbia; with Charlie Palmieri; man, this guy is terrific, like Hugo Blanco (no harp, tho); we love everything he does (this LP is a strong favorite), and there's no stronger endorsement from the NYC Latin (Puerto Rican) community than Charlie Palmieri's participation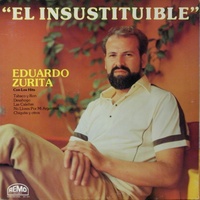 Eduardo Zurita: "El Insustituible"; Remo 601; E/E S $20 -- cumbia/organ; the master is in top form; great sound, heavy vinyl, loud & terrific; jacket back shows 14 previous LPs (rare everywhere but usually only found in NYC); Tabaco y Ron, Negro Jose/El Polvorete, Desahogo/Motivos, Nuestro Anillito/Las Calenas/Solo un Cigarro, Donde Estas/Brisas del Valle/Traicionera, No Llores por mi Argentina/Chiguitica, Cana Brava/El Muerto, Tus Rosales Mustios/El Canelazo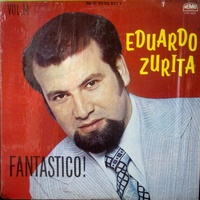 Eduardo Zurita: Fantastico! (Vol. 14); Remo LPR-1623; N/E- shrink S $20 -- cumbia/organ; La Ultima Copa - Rebeldia, Contigo en la Distancia - La Vida es un Sueño, Piel Canela - Capullito de Aleli, Inolvidable - Tres Palabras, Somos - Nuestro Juramento, Amor - Perdido - Desvelo de Amor, Rayito de Luna - Amor No Me Quieres Tanto, La Espinita - La Tinajita, La Despedida - Irresistible, Mar y Cielo - Amar y Vivir
LPs A-M | LPs N-Z (above) | compilation LPs | 45s | 78s | wants
© Hip Wax