Latin subpage: Rene Touzet LPs & 45s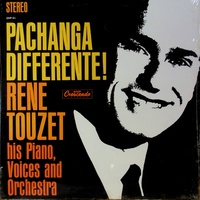 The Word: If California is seen as a lightweight in jazz, then in Latin jazz it's perhaps a double negative to be associated with the West Coast. Rene Touzet, forever underrated, was the established ruling king of Latin in California. His Cuban credentials were impeccable, and his sidemen and compositions went far beyond covers of hit themes from Tinseltown. And some of his most fascinating, earliest, and rarest work is for national or New York labels, particularly MGM and Fiesta.
There are three streams of Latin soul; one of them is the guajira: an old, traditional, "farmers' blues" from hill-country Cuba (the song "Guantanamera" being the best-known example). Touzet recorded one fairly early for a mainstream label, so there's an argument to be made that he was first to record Latin soul.
As always, in Latin only the originals give you the sound of the original masters.
Further below: Rene Touzet 45s
Links: are to artists bio/discog pages in the Hyp Records guide:

Images: accurately represent items but are not always the exact copy listed/purchased
Discount: ALWAYS try to buy more than one item at a time
---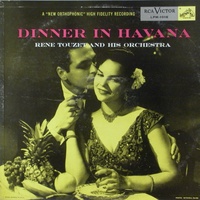 Rene Touzet & his Orchestra: Dinner in Havana; RCA Victor LPM-1016; 1954; deep groove E-/E $25 -- one of his earliest, distinguished for being on Victor and a top entry in the "Dinner" series; more unusual is the orchestra (strings, flute, even nice touches like whistling); very affecting and romantic; jacket even offers a recipe for Picadillo a la Criolla; tunes are mainly now-lesser-known classics plus evergreens Siboney & La Comparsa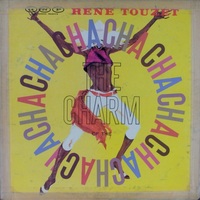 Rene Touzet, his Piano, Conjunto, & Orchestra; GNP-14; 1955; deep groove V/E $25 -- fantastic, classic, early West Coast Latin presented by Gene Norman; with Jack Costanzo and other CA luminaries; the jacket titles it "The Charm of the Cha Cha Cha" but another version (probably earlier) has the jacket title "The Cha Cha & the Mambo" so go with the definitive disc label, please!; ten vital tracks in top sound, with both great originals (mambos attributed to Isabel Touzet) and exoticized/enhanced arrangements of standards, such as the exotica piece "Flamingo" (here given a chorus, not the case on most tracks); priced low for jacket wear and masking tape, making it a great bargain; Manengue, Love for Sale, Flamingo, Peanut Vendor, Mambo Crescendo, Laura, Mambo Guaguanco, Que Pasa con el Cha Cha Cha, Malaguena, Summertime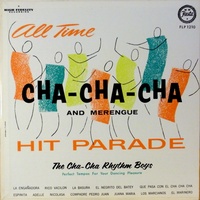 Rene Touzet & the Cha Cha Rhythm Boys: All Time Cha Cha Cha & Merengue Hit Parade; Fiesta FLP-1210; yellow label, deep groove N/N $30 (or E/E- $20, specify) -- Latin, syncopated "Perfect Tempos for Your Dancing Pleasure"; rare, early one on very desirable 1950s NYC label--essential for the Touzet collector and Fiesta fan alike; La Enganadora, La Basura, El Marinero, Juana Maria, Que Pasa con el Cha Cha Cha, Rico Vacilon, Adelle, Nicolasa, Compadre Pedro Juan, El Negrito del Batey, Los Marcianos, Espinita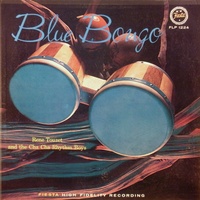 Rene Touzet & the Cha Cha Rhythm Boys w/the Malagon Sisters: Blue Bongo; Fiesta FLP-1224; yellow deep groove N-/E $30 -- hall-of-fame jacket, here original and in great shape though someone has neatly clear-taped the top seam and spine; classic NY Latin LP; Lessons in Cha Cha Cha, Love for Sale, Mambo Negro, Serafin, Night and Day, a few Cole Porter tunes..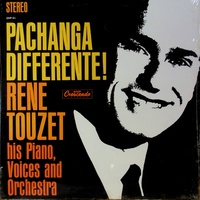 Rene Touzet, his Piano, Voices, & Orchestra: Pachanga Differente!; GNP/Crescendo GNP-61 (should be GNPS); orange N/N shrink S $45 (or silver V+/V+ S $30, specify) -- Latin; rare in stereo and one of his best!; both "Pachanga" volumes are great and fully consistent with his other LPs rather than the charanga-pachanga you don't want to hear!; not all pachanga (2 great son montunos, more) and even the pachanga is only in tempo; features Hector Rivera, Aguabella, Chino Pozo, Olguita, Johnny Rodriguez..; Pachanga Differente, Nadie Baila Como Yo, Pomona Cha Cha, Misty, Pachanga Pa'ti y Pa'mi, Buscando Chamba (Pachanga), Por todas mis Locuras, Mambo Guajiro, Tanga la Pachanga, Delirio, Pachanga Maracaibo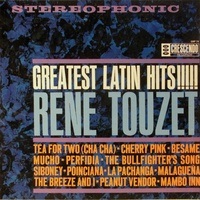 Rene Touzet: Greatest Latin Hits; GNP/Crescendo GNPS-74; E+/N S $25 (or E/N- S $20, specify) -- compilation; very welcome retrospective providing rare, clean stereo versions of his classic GNP tracks, all at a super low price--woo hoo!!!; Tea for Two, Cherry Pink, Poinciana, Siboney, La Pachanga, Mambo Inn, Besame Mucho, The Breeze & I, Perfidia, Malaguena, Peanut Vendor, Virgen de la Macarena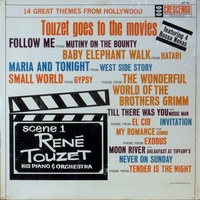 Rene Touzet, his Piano, & Orchestra: Touzet Goes to the Movies; GNP/Crescendo GNP-81; dark-red label deep groove N/N- shrink $35 -- a great later one celebrating Hollywood with fourteen tracks; "featuring 4 bossa novas"; Brothers Grimm, Tender is the Night, Small World, Maria, Baby Elephant Walk, Moon River, Follow Me (Mutiny on the Bounty), El Cid, My Romance, Never on Sunday, Til There Was You, Tonight, Invitation, Exodus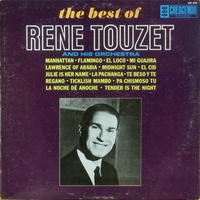 Rene Touzet: The Best of; GNP/Crescendo GNP-2000; white-label promo E/N $40 -- 14 classic cuts that really are much of his best and include all or nearly all of the most significant cuts, from "Julie is Her Name" to the first inklings of what would become known as Latin soul to the exotic standards of Hollywood and Latin: Manhattan, Te Beso y te Regano, Lawrence of Arabia (exotic!), La Pachanga, Julie is Her Name, El Loco Cha Cha (proto-boogaloo), Mi Guajira (proto-boogaloo from 1961 or so!), Pa' Chimoso Tu, Tender is the Night, Flamingo (exotic, vocal!), La Noche de Anoche, Ticklish Mambo, Midnight Sun, El Cid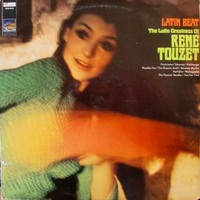 Rene Touzet: [Latin Beat] The Latin Greatness of Rene Touzet; Liberty/Sunset SUS-5213; E-/E- S $20 -- Latin; compilation; among the good things you're getting with this record is rarity (more so than the GNP originals), stereo (just try finding "La Pachanga" in stereo on GNP), and the different production values of Sunset; what's missing is the generous number of tracks on some of the GNP albums, but at least it's a solid purchase at a low price; Poinciana, Siboney, La Pachanga, Mambo Inn, The Breeze & I, Besame Mucho, Perfidia, Malagueña, The Peanut Vendor (El Manisero), Tea for Two
Rene Touzet: Original 45s/EPs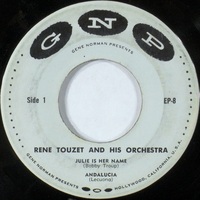 Rene Touzet & his Orchestra; GNP Crescendo GNP-8; V+ $10 -- four classic sides!; Julie is Her Name, Andalucia, The Nearness of You, Siboney
© Hip Wax