Latin subpage: Rodriguez LPs & 45s
Arsenio, Freddie, Giraldo, Pete, Tito, Willie ... Rodriguez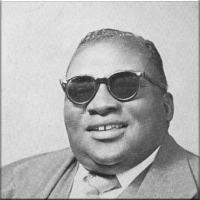 The Word: Arsenio Rodriguez, Pete Rodriguez, Tito Rodriguez, and a few others are listed here.
Arsenio records are the best you can get, at least if you want a one-name, top-of-the-heap for Latin/Cuban (not as many records as Puente but as influential and important). Pete Rodriguez set the Latin-soul world on fire. Tito Rodriguez rivalled Tito Puente in every way but surpassed him only at singing. Well, why get "two Titos" about it--they're all great! (Start with Arsenio--there's no excuse for any Arsenio record being available anywhere...they're all that good.)
As always, in New York Latin only the originals give you the sound of the original masters.
Further below: ... Rodriguez 45s
Links: are to artists bio/discog pages in the Hyp Records guide:

Images: accurately represent items but are not always the exact copy listed/purchased
Discount: ALWAYS try to buy more than one item at a time
---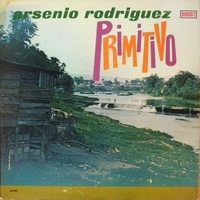 Arsenio Rodriguez: Primitivo; Roost LP-2261; 1963; V+/V+ $150 -- Afro-Cuban; prod. by Teddy Reig, it's one of his best, liveliest, most engaging recordings; as with the "La Magia" LP, it's folkloric but deliberately and very successfully made to excite (especially the singing and other vocalizing); La Pasion, Me Enganastes Juana, Lo Que Dice Justi, Rumba Guajira, Coplas de Espana, Que Mala Suerte, Fiesta en el Solar, Me Equivoque Contigo, A Gozar Mujeres, No lo Niegues, El Lema del Guaguanco, Guaguanco de Puerta Tierra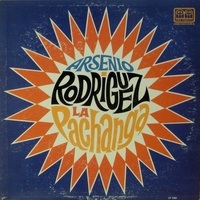 Arsenio Rodriguez: La Pachanga; Roulette/Tico LP-1092; V+/V+ $125 -- prod. by George Goldner; our favorite rare Arsenio LP, it's an uptempo smoker!; Que Te Parece Juana, Chango Pachanga, Toma Cognac, Tu Estas en el Swing Mami, Pachanga Time, Sacale Brillo al Piso, Que Mal es Querer, Te Vuelve un Dengue, Un Cachito Pa Mi, Parece Bobo, Porfiando el Gallo Muere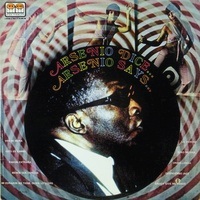 Arsenio Rodriguez: Arsenio Dice.../Arsenio Says...; Roulette/Tico LP-1175; 1968; cutout N-/E+ $200 -- SMC may be rarer in general, but not always; Arsenio's two 12" LPs on Tico are among the most prized, hip, best, and difficult to land; magnificent shape; Mi Corazon No Tiene Quien lo Llore, Menos Que Cenizas, Estos es Yambu, Passion Extrana, Ven Mi Mora, Kiko Medina, Daddy Give Me Candy, Orgullesida, La Verdad, Quiendembo Jazz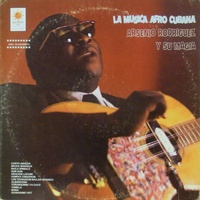 Arsenio Rodriguez y su Magia: La Musica Afro Cubana; CBS/Caliente CLT-7049; 1973/1963 (reissues rarer Epic) E-/N S $100 -- "Quindembo--Afro Magic"; his most exciting work, combining a lifetime of mastery w/modern production values; roots music (folkloric w/exciting singing & other vocals) amped up considerably for the demands of the times--really wild!; Canto Abacoa, Bruca Manigua, Baila Simbale, Hun Hun, Oracion Lucumi, Compay Cimarron, Los Teenagers Bailan Changui, Albanciosa, Torongombe Ya Cayo, Yimbila, Mona, Quindembo Hot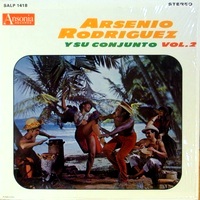 Arsenio Rodriguez y su Conjunto Vol. 2; Ansonia SALP-1418; 1966; N/N- shrink [E]S $70 -- harder to find than volume one but just as good; Necesito Una Mujer Cocinera, Quien Soy, Papa Upa, Maldita Droga, Jugando al Silo, Cuba Llora, Sueltala, Lo Que le Pasó a Luisita, La Realidad, Quiero Mucho a Mi Suegra, No He Visto a Caridad, Adios Carmelina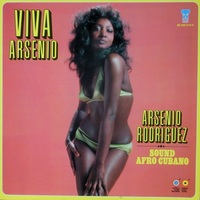 Arsenio Rodriguez & the Afro-Cuban Sound: Viva Arsenio; Pink Elephant PE-855-019-H; 1972 (licensed original Dutch issue of US Bang LP); N-/N S $60 -- "Hang on Sloopy" is about as close as you get to Arsenio boogaloo but the other ten tracks are both the Arsenio you expect and a more contemporary sound; anyway, this was long a major collectors find (still is, for those who avoid reissues), and the Euro version is a great mix of original sound and different jacket art (good as a sole copy or in conjunction with US reissue); Hang On Sloopy, La Yuca, Baila con Migo, Que No Llegue la Noche y la Pared, La Bamba, Tres Marias, Cielito Lindo, Para Bailar el Montuno, Randy, El Elemento del Bronx, Vaya P'al Monte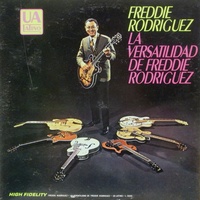 Freddie Rodriguez: La Versatilidad de Freddie Rodriguez; UA Latino L-31001; 1967; 1st press E/E+ $80 -- Latin soul; rare, great one on super thick vinyl!; prod. by Joe Cain w/plenty of dance-floor-packing smokers for DJs!; Freddie plays a La Playa-style guitar (nice touch & unusual!) but the sound generally is like the best on Cotique or Musicor, with flute & far-out horns going descarga behind the mod beat; Lolypop (INFECTIOUS--"Sweet, sweet lollipop"), Guajira Borincana, Don't Cry, No Me Pertenece, New York is Boss, Banana Baby (YUM), Going Nowhere (FANTASTIC), Esta's en Nada, Lu-Lu Boogaloo (MOVER), Anoche Son, Swing Para Ti Parts 1 & 2 (great descarga that COOKS--very Arsenio)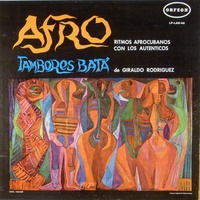 Giraldo Rodriguez y sus Tambores Bata: Afro--Ritmos Afro-Cubanos Tambores Bata; Orfeon LP-LAB-08; gatefold black label E/E+ $100 (or non-gatefold US tan/red label N-/E- $80, specify) (or silver-label gatefold stereo V+/V S $40, specify) -- Afro-Cuban/Santero/Bata; "Ritmos AfroCubanos con los autenticos tambores bata de Giraldo Rodriguez" (one of the first and greatest bata groups--they recorded on Panart); this and the LP by Grupo Afro-Cubana (Afro-Frenetic/Hi-Fi Cuban Drums) are the two most significant LPs of this type--both rare, essential, and in high demand by collectors; great jacket art, liners, 12 tunes (partly vocal/chant) and incredible authentic drumming; Eleggua (Entrada), Oggun, Ochosi, Drume Negrita, Obbantala, Yemaya, Chango, Olla, Babalu Aye, Obba, Ochum, Eleggua (Salida)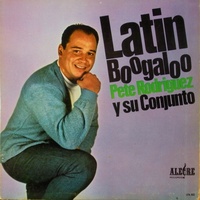 Pete Rodriguez y su Conjunto: Latin Boogaloo; Alegre LPA-852; 1966; E+/E $90 -- Latin soul/Latin; his first for the label has 8 great tunes, all boogaloo/guajira or descarga or both; awesome stuff; Pete's Boogaloo, Chancletero, Do the Boogaloo, Ya Llego, Guagaloo, Organizate, Juliana, Aburañao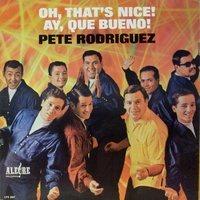 Pete Rodriguez: Oh, That's Nice/Ay, Que Bueno!; Alegre LPA-860; 1967; promo N-/N $75 -- Latin soul; one of his essential good records; impeccable advance copy!; Oh That's Nice, Bobby, Let's Get Together, Que Mania, Asi Asi, Fango, Borinquen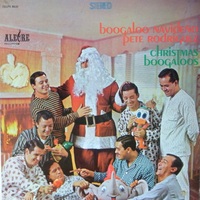 Pete Rodriguez: Boogaloo Navideno/Christmas Boogaloos; Alegre SLPA-8610; 1967 or '68; cutout N-/N- S $75 -- Latin soul/Christmas; every bit as good as the non-Christmas boogaloo LPs of the same time and label but rarer!; De las Montañas, Aguinaldo Antillado, Pueblos de Borinquen, Pena Penita, Felicidades, Asalto en tu Casa, Boogaloo Navideño, Potpourri Navideño, Contentos Estan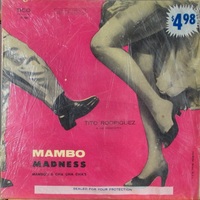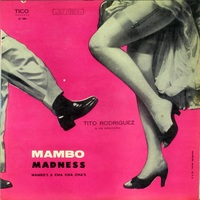 Tito Rodriguez: Mambo Madness; Tico LP-1004; deep groove N-/E "shrink" $75 -- back when both of the "two Titos" were vying for the title of "Mambo King" at the Palladium, records were usually singles, frequently passed around, and often worn out; it's always an event when one of the early Tico LPs (even 12") from before the Roulette takeover turns up, and the original recording in its original sound is to be coveted; this is one of the best of the early Tito Rodriguez LPs, with a provocative jacket no less; La Enganadora, Mambo Manila, Harlem Nightmare, Mambo La Libertad, Chen-Cher-En-Guma, Chiqui-Bop, Donde Estabas Tu, Joe Lustig Mambo, Besame La Bembita, Tremendo Cumban, Esto Es Felicidad, Piel Canela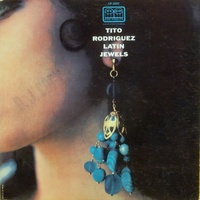 Tito Rodriguez: Latin Jewels; Roulette/Tico LP-1047; promo E/E $30 -- basic instrumental Latin but lovely jacket & very scarce (nearly all pre-UA Tito Rodriguez is, & you need the original pressings); Granada, Ojos Verdes, Quiereme Mucho, Frenesi, Duerme, Noche de Ronda, Quizas Quizas Quizas, Amapola, Piruli, Martha, Cuando Vuelva a tu Lado, El Manicero (Peanut Vendor)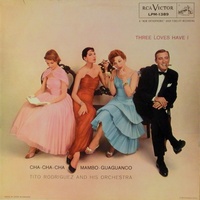 Tito Rodriguez: Three Loves Have I (cha cha cha-mambo-guaganco); RCA Victor LPM-1389; 1957; all copies are 1st press (1s), 1st jacket (pink background) N-/N $75 (or E+/N- $60, specify) (or with clear tape on jacket E/N- $50, specify) (or E-/E $35, specify) -- his most smoking album of the Victor/Tico days (heyday of the Two Titos battle) & seriously rare collector's item (as are all his Victor LPs, but this one's by far THE BEST); The Sweetness of You, Yambere, Asi...Asi, My Tobi's Blues, A Llegado el Guaguanco, This is Mambo (Esto es Mambo), Violets & Violins (Mon couer est un violin), Barito, Baranga, Cha Cha Cha Para Ti, Sabroso Mambo, Guaguanco Bonito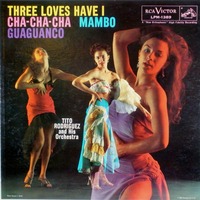 Tito Rodriguez: Three Loves Have I (cha cha cha-mambo-guaganco); RCA Victor LPM-1389; 1958/1957; 2nd jacket (dark background)/1st press N/N $100 -- the 2nd jacket is far rarer and more appropriate for the content, but this was still before TR found a wide audience and big sales; just remind us it's in our own collection, if you would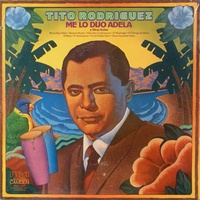 Tito Rodriguez: Me Lo Dijo Adela y Otros Exitos; RCA Camden ACL1-0196(e); 1973/1954-55; sealed cutout ES $40 -- rare, remastered, post-mortem compilation w/liners by Geraldo Rivera features Victor tracks from the era of "two Titos" battling to be mambo king at the Palladium; you'll be very hard-pressed to find the originals (those 1st 2 LPs are deadly scarce), never mind land them in top shape; Me Lo Dijo Adela, El Baion, Besame Mucho, El Mujeriego, Abarriba Cumbiaremos, Desarrecuestate Nene, Ya Lo Puedes Decir, El Chango de Maria, El Jamaiquino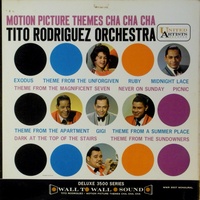 Tito Rodriguez: Motion Picture Themes Cha Cha Cha; United Artists WWR-3507; 1960; cutout (staple holes) E+/N- $30 -- in the "Deluxe 3500 Series" featuring "Wall to Wall Sound" it's one of his scarcer titles (particularly among the UA LPs); film hits, cha cha cha style: Exodus, Unforgiven, Ruby, Midnight Lace, Magnificent Seven, Never on Sunday, Picnic, Apartment, Gigi, A Summer Place, Dark at the Top of the Stairs, Sundowners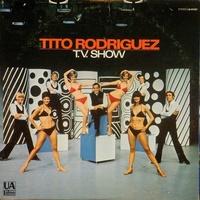 Tito Rodriguez: Tito Rodriguez T.V. Show; United Artists UA Latino LS-61057; E+/N S $25 -- Latin/bolero/bossa; recorded in Puerto Rico for his TV show, it's one of his best singing showcases (mod, swinging) and hard to find to boot (this is clean stereo); a few bikinis on the jacket don't hurt, either; Don Fulano, Definicion, Nuestra Intimidad, Te Felicito, Uno Año Mas, Regresse, Voy a Inventar, Nos Tendremos, Mi Mundo, Yo Te Tengo a Ti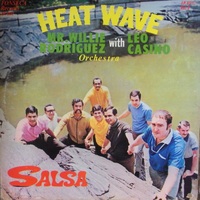 Mr. Willie Rodriguez with Leo Casino Orchestra: Pussycat; Fonseca LP-1117 (jacket: Heat Wave--Salsa); black deep groove E+/E+ $150 -- Latin soul; his second boogaloo LP for the label is the better one, and of course to get a hot Fonseca title in top shape is a major score; stylistically it's as exciting and forward-looking as Cotique and Speed, but with the accomplishment of the more seasoned players of Fania and Alegre (the ideal you want but don't always get in Latin soul); this one smokes!; Pussycat Bugaloo, Simon, Golden Boogaloo, Chickies Choice, Goza Mi Guaguanco, Mi Bomba Es, A Mi Negra, Dig It, Tremendo Guaguanco, Descarga D.J.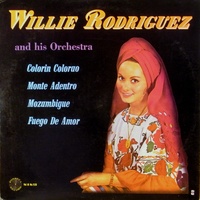 Willie Rodriguez Orchestra; Fonseca LP-1120; black label N-/E+ $200 -- Latin; Adalberto Santiago sings with what's really Ricardo Ray's orchestra (as with most Fonseca--it's why you need not just all the Fonseca but just about all the other Richie Ray/Bobby Cruz you can get!) plus the great Willie Rodriguez on his rare third LP for the label; salsa, not Latin soul, but a great one nonetheless, and in supreme condition which is always the hardest part with super-rare Fonseca; Colorin Colorao, El Ritmo Lo Traigo Yo, Sueltate La Lengua, Fuego de Amor, Monte Adentro, Mi Montuno, Mozambique, Cimarron
Tito Rodriguez: Original 45s/EPs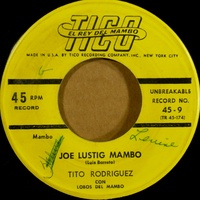 Tito Rodriguez con los Lobos del Mambo: Joe Lustig Mambo/Besame La Bembita; Tico 9(!); V+ $15
© Hip Wax