Latin subpage: Pete Terrace & Ray Terrace LPs & 45s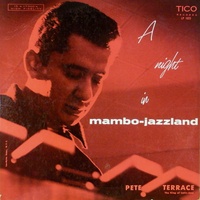 The Word: Pete Terrace the mambo star versus Pete Terrace the boogaloo phenomenon--which is better? Well, at least in boogaloo he's joined by his brother Ray. Pete on Tico is fantastic, from the earliest sets under Joe Loco's wing to the handful of LPs under his own name, as leader. The Alshire LP is perhaps the classic, best-selling boogaloo LP ever from a mainstream label (not limited to NYC distribution). And then Pete started his own label, Mio, where things really took off.
Ray Terrace made three LPs and not a one is to be taken for granted.
As always, in Latin only the originals give you the sound of the original masters.
Further below: Pete Terrace 45s
Links: are to artists bio/discog pages in the Hyp Records guide:

Images: accurately represent items but are not always the exact copy listed/purchased
Discount: ALWAYS try to buy more than one item at a time
---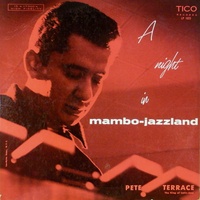 Pete Terrace: A Night in Mambo-Jazzland; Tico LP-1023; 1956; black/deep groove E/V+ $25 (or orange E/V+ $25, specify) -- Latin jazz/vibes; 1 side arranged with Charlie Palmieri; classic, beautiful record and wrapper (worth it just for the jacket, which in this case is the preferable second version--with liner notes and photos (including one of George Goldner--Cotique producer and original Tico owner); mild wear and plays with noise but priced accordingly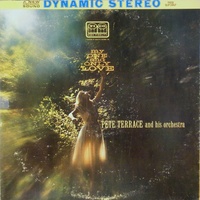 Pete Terrace: My One & Only Love; Roulette/Tico SLP-1057; 1959; black deep groove V+/E+ S $25 -- Latin jazz/vibes; terrific set that looks like it would be all romantic sleepers, but no, it has uptempo smokers too!; all his early stuff on Tico is wonderful, always some hot mambo-jazz; Chanchullo, Muchacha, Guaguanco in New York, Domitila..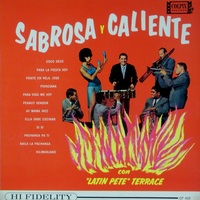 Pete Terrace: Sabrosa y Caliente (Hot & Spicy); Colpix CP-430; 1962; deep groove E+/E+ $50 -- rare first of a pair for the label (most Colpix is hard to find); Ella Sabe Cocinar, Ay Mama Inez, Para La Fiesta Voy, Coco Seco, Kilimanjaro, Si Si, Ponte en Vela Jose, Poinciana, Baila La Pachanga, Para Vigo Me Voy, Peanut Vendor, Pachanga Pa Ti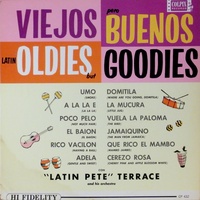 Pete Terrace: Viejos pero Buenos (Oldies but Goodies); Colpix CP-432; 1963; 1st press N-/N- $50 -- rare second of a pair for the label; mainly standards (big hits by Perez Prado, artists on Mardi Gras, etc.) but with some exciting cuts ("Umo/Smoke" and "A La La E)" that are more typical of both his best mambo jazz for Tico and some of the best hits by others on the smaller Fiesta label; La Mucura (Little Jug), Adela (Sweet & Gentle), Umo (Smoke), El Jamaiquino (The Man from Jamaica), Que Rico el Mambo (Mambo Jambo), Peco Pelo (Not Much Hair), Rico Vacilon, La Paloma (The Dove), El Baion, Domitila, Cerezo Rosa (Cherry Pink & Apple Blossom White), A La La e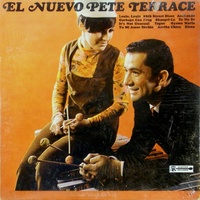 Pete Terrace: El Nuevo; Scepter S-539; 1965; N/N- shrink $150 -- Latin soul/Latin/vibes; rare/top shape/mono (there is no true stereo)!; his first boogaloo LP, from before Latin soul really took off; Louie Louie, It's Not Unusual, 88th St. Blues, Acabando, Garbage Can Frug, Shangri-La, Yo No Se, Yague, Oyeme Maria, Arriba Chico..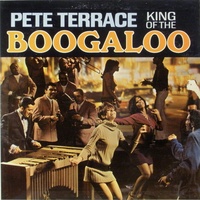 Pete Terrace: King of the Boogaloo; Alshire/Somerset SF-31400; 1967; N-/E+ S $75 (or E/E S $50, specify) -- Latin soul/Latin boogaloo/breakbeats; very exciting, live (and how!) boogaloo set and a major party album; also loved for the mod, discotheque jacket scene!; except as noted, tunes are originals by the surefire combination of Pete Terrace-Marty Sheller-Marty Wilson; El Pito (Joe Cuba-Sabater), Bang Bang (Joe Cuba), You're Looking Good, Boogaloo Lou, Oh Yeah (Sabater), Do the Boogaloo, No! No! No!, At the Party (Hector Rivera!), It's Boogaloo Time, D.M. Boogaloo, I'm Gonna Make It, Here Comes Pete
Pete Terrace: Original 45s/EPs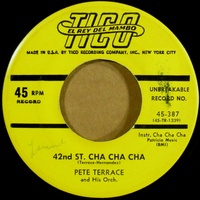 Pete Terrace: Cha Cha Cha in New York/42nd St. Cha Cha Cha; Tico 45-387 E+ $15 -- rare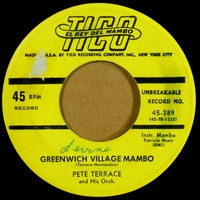 Pete Terrace: Greenwich Village Mambo/Broadway Mambo; Tico 45-389 E $15 -- great mambos, rare
© Hip Wax