Latin Compilation LPs
Various-Artist Anthologies (& Uncredited) Latin & Cuban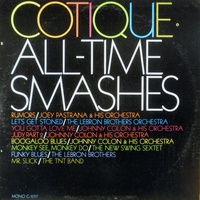 The Word: Compilations are always a great way to get rare records in top shape at a better price. And in original New York pressings of the very best Latin and Cuban recordings, it's imperative to get the real thing from the [in almost all cases] lost original master.
Note that some, particularly on Mardi Gras, are "shared" by three or so artists rather than more people. The Cotique and Tico compilations are as rare as the original unique LPs, so they really represent a great value. And some offer unique recordings not available on other, individual-artist LPs or singles.
So much Latin:
Links: are to artists bio/discog pages in the Hyp Records guide:

Images: accurately represent items but are not always the exact copy listed/purchased
Discount: ALWAYS try to buy more than one item at a time
---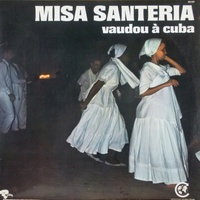 Uncredited: Misa Santeria-Vaudou a Cuba/Voodoo in Cuba; Riviera 521.107; import N-/N- S $30 -- Santero; rare French import (you'll have to excuse the "voodoo" label for santeria, but that was common marketing practice) recorded and produced by Maurice Bitter; Urulua, Obatala, Oya, Chant Congo, Chant du Rite Congo, Yevaya, Baba Lou Aye, Chant Congo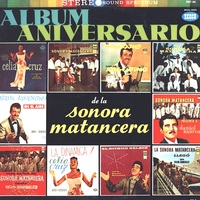 Various: Album Aniversario de la Sonora Matancera; Seeco SST-30; silver deep groove E+/N- S $20 -- Latin/bolero/Afro mambo, etc.; compilation of Seeco album tracks featuring singers recorded with La Sonora Matancera; Celia Cruz: El Congo, Celio Gonzalez: Sin Reproche, Carlos Argentino: Por tu Puerta no Paso Mas, Bienvenido Granda: Sonando Contigo, Nelson Pinedo: Eres El Motivo, Vicentico Valdes: Lo Anoro, Celio Gonzalez: Es mi Suplica, Carlos Argentino: El Amor No Existe Daniel Santos: Como Me da la Gana, Celia Cruz: Tamborilero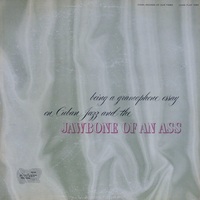 Various: [Being a Gramophone Essay on Cuban Jazz & the] Jawbone of an Ass; Cook LP-1083; brown vinyl E-/E- $40 -- Cuban; "Santiago de Cuba--Cradle of Conga"; Emory Cook does his "Cook's Tour" thing once again but this time right where you want it, with a panorama of priceless street recordings in decent fidelity, and this title is quite rare/wanted!; El Rancho Night Club Band, Trio Lissabet, Roving Carnival Band, Street Trio, Conjunto Siboney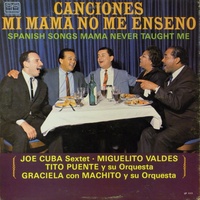 Various: Canciones Mi Mama No Me Enseno/Spanish Songs Mama Never Taught Me; Roulette/Tico SLP-1111; N-/N- $50 -- Latin; some of the rarest music by Tico's top artists: Joe Cuba Sextet, Miguelito Valdes, Tito Puente, Machito, Graciela; collectors take note: "Si Si No No" is the ONLY cut drawn from another LP!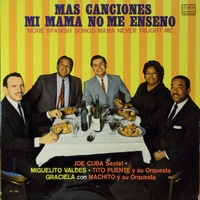 Various: Mas Canciones Mi Mama No Me Enseno/More Spanish Songs Mama Never Taught Me; Roulette/Tico SLP-1120; N-/N- $50 (or E+/N- $40, specify) -- Latin; some of the rarest music by Tico's top artists: Joe Cuba Sextet, Miguelito Valdes, Tito Puente, Machito, Graciela; collectors take note: none of these cuts appears on any other LP!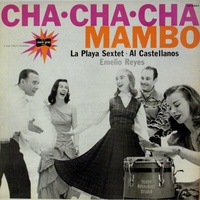 La Playa Sextet/Al Castellanos/Emilio Reyes: Cha Cha Cha-Mambo; Mardi-Gras LP-5003; red-label Puerto Rican pressing E/E $40 -- one of the essential, great, earliest LPs on the classic NY label; 10 cuts by La Playa Sextet (Laughing Cha Cha, Mambo Batiri, Teasing Cha Cha, My Cuban Sombrero), Al Castellanos (Together 1-2-3, Merengue Ta Ka Ta), and the scarce but wonderful Emilio Reyes (Delightful Cha Cha, Occasional Man, Cha Cha Bar, Cafe Mambo); loved for the goofy, '50s party-scene jacket as much as the music; super-rare, vintage Puerto Rican version identical to NY pressing except blank jacket back (no liners or photos on the NY version anyway)--top shape!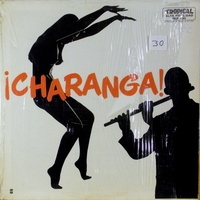 Various: Charanga; Seeco/Tropical TRLP-5182; N-/N- shrink $30 -- Cuban; Orq. America, Estrellas Cubanas, Celia Cruz, Hermanos Ferreira, Celio Gonzalez, Carlos Argentino; as if the rare music weren't enough, jacket art features a sensational nude dancing to a flautist in silhouette!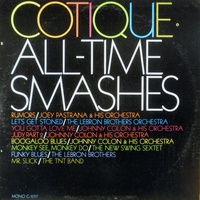 Various: Cotique All Time Smashes [Vol. 1]; Cotique C-1017; 1968/1966-68 cutout E+/N- $60 (or E-/V+ $30, specify) -- Latin soul; compilation of the top artists' hip, funky, Latin-soul killers from the label's prime: Johnny Colon-You Gotta Love Me, Judy Part 2, Boogaloo Blues; New Swing Sextette-Monkey See Monkey Do; TnT Boys-Mr.s Slick; Lebron Bros.-Funky Blues, Let's Get Stoned; Joey Pastrana-Riki Chi, Rumors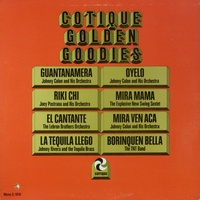 Various: Cotique Golden Goodies [Vol. 1]; Cotique C-1016; 1968/1966-68 cutout E/E $60 -- Latin soul; compilation--early & rarer than many of the individual LPs; unlike the "Cotique All-Time Smashes" comps which feature English titles, here it's 8 superior, hot, rare, GREAT titles in Spanish; Johnny Colon-Oyelo/Mira Ven Aca/Guantanamera, New Swing Sextette-Mira Mama, Johnny Rivera-La Tequila Llego, TnT Boys-Borinquen Bella, Lebron Bros.-El Cantante, Joey Pastrana-Riki Chi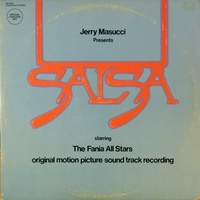 Various/The Fania All Stars: Salsa ST; Fania JM-481; 1976; 2-LP gatefold E-/N S $25 -- with Manu DiBango and others from the historic Yankee Stadium set (Ricardo Ray, Bobby Cruz, Celia Cruz, Cheo Feliciano, Ismael Quintano, Hevtor Lavoe, Santos Colon, Mongo Santamaria, Ray Barretto, Willie Colon, Harlow, Pacheco, Roberto Roena, Bobby Valentin..); here the film "Salsa" also compiles old Latin music (Desi Arnaz, Carmen Miranda..) and adds original interviews/speech and music covering the history/scope of Latin music; Babarabatiri, Congo Bongo (both NYC & PR versions!), Soul Makossa (both NYC & PR versions!), Bemba Colora, El Raton..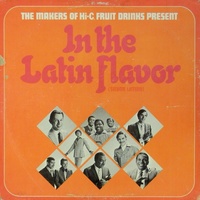 Various: Hi-C Presents the Cotique All Stars Associated Artists; Cotique Hi-C 1; 1968; (jacket: "The Makers of Hi-C Fruit Drinks Present 'In the Latin Flavor/Sabor Latino'") V+/E- S $60 -- Latin soul; George Goldner did a few promo deals & this is the most glorious--probably the best original Latin-soul compilation ever & an ideal introduction to the great Cotique label (essential also for Cotique completists--jacket features rare photos of the all stars); drawn from rare, early LPs, several of which are impossible to find now; Machito (Ahora Si--stereo!), Johnny Colon (Boogaloo Blues--2:50 version), TnT Boys (The Meditation, Sabre Olvidar), Joey Pastrana (Bien Dulce), New Swing Sextette (Vente Pa Ya), Johnny Rivera (La Tequila Llego), Lebron Bros. (Summertime Blues, Jala Jala Otra Vez, Borinquen Bella), Chollo Rivera (I Could Never Hurt You Girl)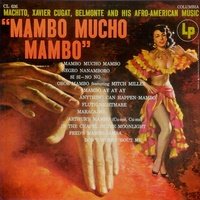 Various: Mambo Mucho Mambo; Columbia CL-626; N-/E- $20 -- Afro-Cuban/Latin; even a Latin LP on a major label can become rare, if it's that good and old (this is from the '50s); Machito, Xavier Cugat, & Belmonte & his Afro-American Music split a diabolical dozen we consider essential, not to mention fun; we find 3 of the 4 Cugat cuts on his LPs but you'll have a hard time finding the rest elsewhere (possibly singles only or otherwise unreleased); in any case, it's a righteous old heavy-vinyl LP in a fetching jacket with seriously smoking tunes (uptempo, loud, exotic, swinging); Mambo Mucho Mambo, Negro Nanamboro, Si Si No No (not the Tico version, of course), Oboe Mambo, Arthur's Mambo, Fred's Mambo-Samba, Flute Nightmare (the exotic rumba "Jungle Flute" without the animal cries), Maracaibo..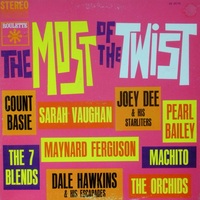 Various: The Most of the Twist; Roulette SR-25176 E-/N S $15 -- twist/Latin twist; there are some great twist singles collected here (One Mint Julep done by Sarah Vaughan, for instance), but we've listed with Latin for one simple reason: "Twist Changa" by Machito; we find it nowhere else but a scarce 45; here you have it abridged but clean and stereo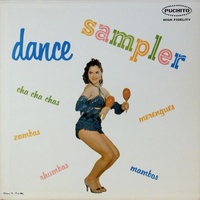 Various: Puchito Dance Sampler; Montilla/Puchito H8-OP-4700; blue deep groove N-/E+ $30 -- classic compilation/sampler of the Cuban greats; the individual LPs are incredibly rare; while this original comp is less scarce, just try to find a comparable copy at this price--top shape!; Orq. Riverside, Armando Orefiche, Chappotin (Arsenio's cohort), Napoleon, Bola Sete, Orq. Melodias del 40, Orq. Loyola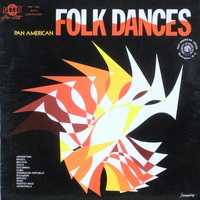 Various: Pan American Folk Dances; SMC/Pro-Arte; N-/N- $30 (or V-/E- $25, specify) -- Latin/Cuban -- subtitled "Recorded in their country (sic) of origin, by Gabriel Oller..." although that's a little hard to believe; under the auspices of DC's Pan American Union (OAS), it's a musical tour of 12 countries, including Brasil, curiously in alphabetical order; you can expect the highest quality and clarity (clean hi-fi SMC 12" LP, woo-hoo!) but we'll single out the Cuban selection ("La Campina Cubana"--guajira) with tres guitar as the reason any Latin collector should be excited (other than just that it's super-rare SMC); $30 copy: top shape although there is no printed jacket back--either the printed page [was] peeled off the cardboard or it never was there in the first place; $25: has back liners & lyrics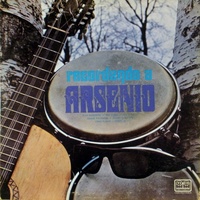 Various: Recordando a Arsenio; Tico LP-1231; E/E+ S $40 -- excellent and hard-to-find tribute to the master, Arsenio Rodriguez (biggest influence on the entire NY Latin world) with your favorite Tico All Stars: Eddie Palmieri, Ray Barretto, Joe Cuba, Jimmy Sabater, Cortijo, Celia Cruz, Tony Pabon; a scarce and very special record--no excuse for it still being here--get it now!
Various: Rumbas--Perfect for Dancing; RCA Victor LPM-1069; 1955; 6s N-/N- $40 -- great one in the rare (and sought-after) "Fred Astaire logo" series, always featuring prized acts and recordings you won't find elsewhere (not even on other RCA LPs in most cases), and clearly vying with Arthur Murray to have the most authentic music and top acts; Jose Curbelo (Rumba Rumbero, Mary Ann Calypso), Jose Morand (Dream Mist, Tru-Cu-Tu-Son), Tito Puente (Arinanara, Lagrimas Negras), Miguelito Valdes (Jungle Drums, Always in My Heart, La Comparsa, Say Si Si, The Breeze and I-Andalucia), Tito Rodriguez (Ya lo Puedes Decir)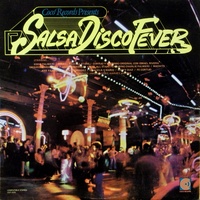 Various: [Coco Records Presents] Salsa Disco Fever; Coco 152X; 1978; N-/N S $25 -- Latin/salsa; despite the unfortunate title (smacking of late-'70s desperation), it is in fact a very straightforward but rare item: a compilation of good tunes from equally rare Coco & related LPs, most of which we've never seen, such as the Machito "Fireworks" LP; Coco LPs drawn from: 109 (Eddie Palmieri), 110 (Cesta All Stars), 113 (Cortijo), 117 (Cortijo), 126 (Orq. Broadway), 131 (Machito), 134 (Raffy Diaz), 137 (Graciela y Mario), 141 (Fajardo), & Fama LP-001 by the Puerto Rico All Stars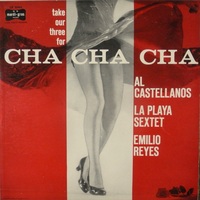 Various: Take Our Three; Mardi-Gras LP-5005; red-label Puerto Rican pressing E/E+ $25 -- Latin; early one, solid, three great acts, the rarest and most prized being probably Emilio Reyes (there's only one LP of him alone on Mardi Gras, and it's so rare that comp/shared LPs such as this may be your only chance); Al Castellanos (5 O'Clock Mambo, Atlantic Beach Mambo); La Playa Sextet (Bon Bon Cha, Bilongo, Running Running Cha Cha, Choo Choo Cha Cha); Emilio Reyes (Cha Chareando, Guess Who Does the Cha Cha, Dansero Cha Cha, Marguerita Mambo)
Wanted Latin LPs:

Joe Acosta on SMC/Pro-Arte

Alfredito Plays Mambos for Dancing 10"; Rainbow LP 721 (or 45/EP equivalent)

Hugo Blanco: Bailables No. 6,8,9 and a few others (inquire)

The Brooklyn Sounds; Salsa

Serafin Cortez y su Orquesta; Fonseca LP-1127 (possibly as Serafin Cortes)

Mike Ensenat LP (Cotique or Remo)

Jose Estevez: Concerto for Percussion; SMC Pro-Arte SMC-100

Chico O'Farrill: Mambo Dance Session 10"; Norgran MG-N-27

Papo Felix (w/Ray Rodriguez); Ghetto

Chaguin Garcia; Hopes 873

Rulie Garcia/Johnny Chingas (any LP & some 45s)

Ghetto label (inquire)

The Ghetto Brothers; Salsa

Gilberto Sextet: Ponganse Duros; Ansonia

Kent Gomez [Fonseca LP]

Nico Gomez (possibly; inquire)

Kenny Graham & his Afro-Cubists: Bongo Rock

Kenny Graham & his Afro-Cubists: Caribbean Suite, others (UK/Europe)

The Hi-Latins: Meet the Hi-Latins; Josie (or Montilla) & El Tramposo; Premio 915

Pepe Jaramillo (UK, some, inquire)

Eartha Kitt Goes Latin EP; Seeco EP-11 (or any Eartha single on Seeco)

The Latin Dimension: It's a Turned-On World; Columbia EX-5226

Eddie Lebron; Ghetto

Machito & his Afro-Cubans w/Miguelito Valdes: Afro-Cuban Music 10"; Decca DL-5281

Machito Plays the Cha Cha Cha 10"; Tico LP-138; 1955 (track list at least)

Malon (Juan Carlos Caceres) [their Brasilian LP]

Gina Martin; Panart LP-2023 (& possibly others)

Johnny "Chano" Martinez [LP on Hollywood or other California label]

La New Breed Orq.; Fonseca 1118

Tommy Olivencia: Jala Jala & Boogaloo; Tioly or Inca

Lou Perez: Chocolate Bonbons

Perez Prado: Perez Prado '70; Orfeon LP-12-726; 1970 (titles wanted)

Perez Prado: Perez Prado '72; Fontana 63-85-003; 1972 (titles wanted)

Perez Prado; Philips FDX-32 (Japan; titles wanted)

Perez Prado '72; Philips SFX-5006; 1972 (Japan; titles wanted)

Tito Rodriguez: Mambo Styles; SMC Pro-Arte SMC-504 (& Tico 10" LPs)

Arsenio Rodriguez [some in Carino & Cubitas series; inquire]

Willie Rodriguez on SMC Pro-Arte

Pablo Beltran Ruiz: Twist [&] Surf Al Rojo Vivo [&] 12 Ritmos Bailables (RCA Mexicana)

Ray Terrace: Oye El Cuchy Frito Man; Jubilee 7002; 1965

Miguelito Valdes; SMC Pro-Arte SMC-503

Johnny Zamot: La Guerra; 7-11; 1970

[EP versions of some of the above]
LPs A-M | LPs N-Z | compilation LPs (above)| 45s | 78s | wants (above)
© Hip Wax